Best Steppenwolf Songs: 20 Essentials By Rock's Easy Riders
A deep dive into the singles and albums catalog of the bestselling Los Angeles rockers who were born to be wild.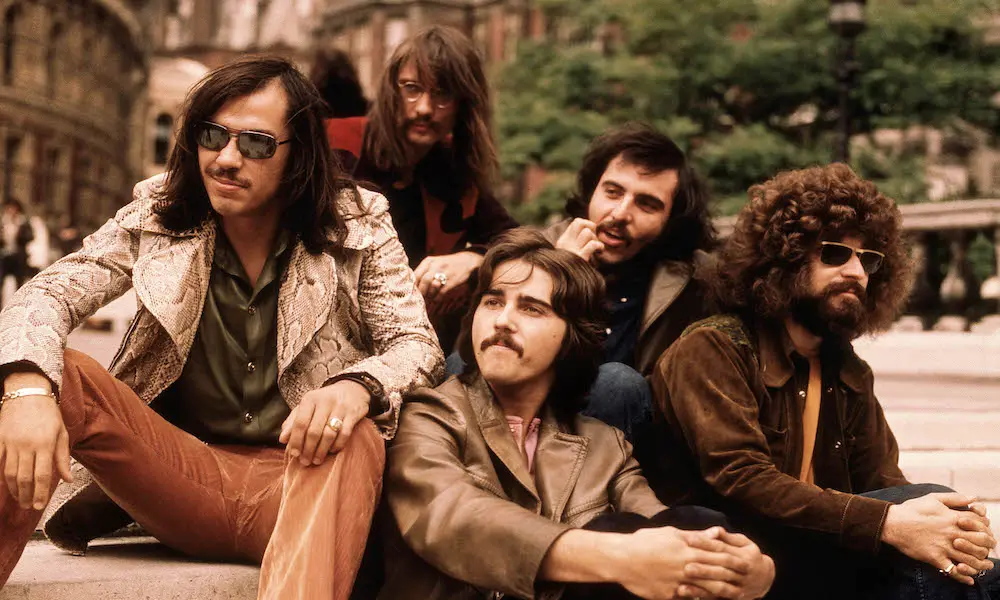 The plain facts about the remarkable late 1960s and early 70s ride enjoyed by Steppenwolf tell of 25 million record sales, eight gold albums and a trio of singles that carried their names worldwide. But the Los Angeles rockers created a catalog that continues to deserve deep exploration, which we offer in this …In 20 Songs feature. It's drawn, for the most part, from six studio albums, and one live set, released in their hectic tenure at ABC-Dunhill Records in just three years between 1968 and 1971.
20. Screaming Night Hog (Steppenwolf Gold, 1971)
This was the only single from the compilation Gold: Their Greatest Hits, released towards the end of that helter-skelter heyday. The typically guitar-fuelled song by frontman John Kay, born April 12, 1944, became a mid-chart item on Billboard's Hot 100 in the summer of 1970, ahead of the retrospective the following March, which served as an ideal primer for Steppenwolf's glory years and duly turned gold.
19. Sookie Sookie (Steppenwolf Live, 1970)
One of many examples in our Top 20 of how the hard rock outfit either wore their influences with pride, or actually covered them. "Sookie Sookie" was a soul composition by Don Covay and Steve Cropper that resided on Covay's See-Saw album of early 1966, and was covered a few times before Steppenwolf put their version on their self-titled debut album. It then proved its pedigree by appearing again on Steppenwolf Live, the Gold compilation and another best-of, 16 Greatest Hits, released just two years later in 1973.
Sookie Sookie (Live / 1970)
18. Ride With Me (For Ladies Only, 1971)
A No.52 single in the States in 1971 written by one Dennis McCrohan, better known as guitarist Mars Bonfire, for the band's sixth studio LP For Ladies Only. Bonfire was the brother of Steppenwolf drummer Jerry Edmonton, and the song originated on Bonfire's self-titled album of 1968.
17. It's Never Too Late (At Your Birthday Party, 1969)
Kay wrote this track with bassist and Summer of Love scenemaker Nick St. Nicholas, aka German-born Klaus Karl Kassbaum. It's one of so many fine examples of the cohesiveness that made Steppenwolf such a force to be reckoned with both in the studio and on stage, with Jerry Edmonton's drumming particularly dynamic.
16. Who Needs Ya (Steppenwolf 7, 1970)
Another mid-chart single, this time the lead release from Steppenwolf 7. Like much of the set, Kay wrote it with Larry Byrom, now in the band as the replacement for Monarch, but only briefly, as it went. But his lead guitar lines and a goodtime sound somewhat reminiscent of the UK's Faces made it a winner.
15. Berry Rides Again (Steppenwolf, 1968)
An unashamed tribute to one of the artists that shaped not just Steppenwolf but most of their generation. Kay's song namechecks a good half dozen Chuck Berry classics, including "Maybellene," "Johnny B. Goode," and "Nadine," and Monarch's guitar echoes of the master are accompanied by Goldy McJohn's best Johnnie Johnson impression on the piano.
14. Hootchie Coochie Man (Steppenwolf, 1968) 
…and from one huge influence to another, on the same record, as the band sing Willie Dixon. The 150-odd versions of the tune were led by Muddy Waters' original; even by thr time Steppenwolf tackled it, the song had been covered by the likes of Hoyt Axton – remember that name – Long John Baldry, British bands like the Nashville Teens and Wayne Fontana and the Mindbenders, as well as Billy Preston and Tim Hardin.
13. The Pusher (Steppenwolf, 1968)
It was Axton, the Oklahoman singer-songwriter and son of rock'n'roll composer Mae Boren Axton, who, er, supplied Steppenwolf with this number for their first album, and later a chart song that we will meet next. The song made a forceful differentiation between supposedly soft and hard drugs, and it was immortalized in the opening scene of the 1969 film Easy Rider, which would be so inextricably linked with the band's own rise.
12. Snow Blind Friend (Steppenwolf 7, 1970)
Axton returned to offer up this song for Steppenwolf 7, also a single. Whereas he hadn't recorded "The Pusher" himself at the time the band inherited it, the original of "Snow Blind Friend" was on Axton's 1969 album My Griffin Is Gone, in what was essentially an acoustic folk style. Steppenwolf set aside their usual hard-edged style to mirror that approach on a song with a strongly anti-drug message.
11. Jupiter's Child (At Your Birthday Party, 1969)
With a three-way credit for Kay, Edmonton, and Monarch, and some Hendrix-esque guitar by Monarch, this track from their third album had the band in interplanetary territory. Lyrics included: "The one who reads the stars has told me why you're not like everyone/Your father is a fiery wizard, he travels all around the sun."
10. A Girl I Knew (Steppenwolf, 1968)
A song with a special place in Steppenwolf history, as their first-ever single release in 1967. It was co-written by John Kay with the Hollywood-born Morgan Cavett, who later wrote for films and for his protegés the Captain and Tennille. "A Girl I Knew" begins with a baroque-pop introduction before kicking into rockier territory, but still in keeping with the flower-power era in which it emerged. The song failed to muster any national sales activity, but was then included on the band's eponymous LP debut in January 1968.
9. Hey Lawdy Mama (Steppenwolf Live, 1970)
At the other end of their singles chart story, this was their last Top 40 entry of the ABC Dunhill years. It was a new studio recording that opened Side 4 of the double LP. Billboard's review noted: "Following up their recent Hot 100 rider 'Monster,' the band comes on strong with another rocking item that should prove even more successful. Powerful performance and material." The prediction proved accurate, as the single peaked four places higher than its predecessor, at No.35.
8. Don't Step on the Grass, Sam (The Second, 1968)
Kay's drug ode, which featured some especially fine organ work by Goldy McJohn around Michael Monarch's lead guitar, was on the band's sophomore LP The Second, which arrived just nine months after their breakthrough debut. It returned on the Live album, which was recorded primarily at the Santa Monica Civic Auditorium.
7. For Ladies Only (For Ladies Only, 1971)
The title track, and second single, from the album that heralded an important change in personnel. Kent Henry, from the band Blues Image – best known for their 1970 US Top 5 hit "Ride Captain Ride" – was drafted in to replace Larry Byrom on lead guitar, and added nimble, economical lines to this track, also underpinned by Goldy McJohn's Hammond. Henry went on to contribute to John Kay's first solo album, 1972's Forgotten Songs and Unsung Heroes.
6. Monster/Suicide/America (Monster, 1969)
Edited down for radio to just shy of four minutes as "Monster," this is the full, episodic, nine-minute song that opened the album of that name. It typified the LP's politically committed lyricism, which Rolling Stone described as their "continuing campaign for social justice, soil conservation, and sexual freedom."
5. Straight Shootin' Woman (Slow Flux, 1974)
The band's final hurrah in Top 40 terms, and a retooled version of the line-up at that: this Top 30 US hit was released when the band picked up tools again, for only two years as it turned out. Bobby Cochran was now on lead guitar and George Biondo on bass, augmenting the reunited Kay, McJohn, and Edmonton, who had harmoniously agreed to the "temporary retirement" of the band in 1971. "We've seen a lot of groups stay on top as long as possible while they fight back the inner conflicts and tensions," Kay told Billboard in the April story announcing their revival. "Then they have agiant explosion and break up, hating each other too much to get back together for a long time, if ever again."
4. Move Over (Monster, 1969)
One of the singles that kept Steppenwolf on AM as well as FM radio, written by Kay with regular band producer Gabriel Mekler. This time, the frontman was railing against the way that the experience and wisdom of the older generation was being discarded in America's fast-moving society. "Yesterday's glory won't help us today," he wrote. "You wanna retire? Get out of the way."
3. Rock Me (At Your Birthday Party, 1969)
Moving into the holy trinity of Steppenwolf's three US Top 10 hits, "Rock Me" was an infectious shaker with an exciting percussive section towards the end. Before its release, it had been featured in the 1968 sex farce Candy, the idiosyncratic cast of which included Charles Aznavour, Marlon Brando, Richard Burton, Walter Matthau, and Ringo Starr.
2. Magic Carpet Ride (The Second, 1968)
Each of the band's first three studio albums contained a US Top 10 hit, and the winning entry on The Second was another drug-referencing anthem. Kay later told Songfacts that it came to life surprisingly easily. "I wrote the lyrics and melody in 20 minutes," he said, "went and overdubbed the vocal, and then we did some more work on the track with instrument overdubs and the like, and 'Magic Carpet Ride' evolved from that."
1. Born To Be Wild (Steppenwolf, 1968)
No surprises in our top track since the band will always be most closely associated with this first hit, a generational symbol and a prototype for the emerging heavy metal scene of 1968. Written by Mars Bonfire, and the centerpiece of the group's first LP, it will forever be linked with the totemic Easy Rider movie it featured in. "When you first hear the first album, a few things stick in your mind," Kay told Hullabaloo in 1969. "It has more of an immediate impact. It's loud, overpowering, and very catchy in parts." "Born To Be Wild" was emphatically one of those parts, and the ultimate calling card for a legacy that lives on.
Buy or stream Steppenwolf.