Capitol Records, EMI's US owned label were slow off the mark with The Beatles, initially turning them down, which is why the Fab Four ended up on the Vee Jay label, a company started by a husband and wife in Gary, Indiana that specialised in black R & B music. Vee Jay released 'Please Please Me' followed by 'From Me To You', but the company had financial problems which is how come 'She Loves You' came out on Swan Records; again Capitol had refused the opportunity to release it.
Finally Capitol woke up to the possibilities of The Beatles and released 'I Want To Hold Your Hand' the day after Christmas 1963. Three weeks later it entered the Billboard chart and on 1 February 1964 it made No.1 where it stayed for seven weeks, only to be replaced by Swan Records' 'She Loves You', which held on to the top spot for two weeks and, it's said, kept the company going a lot longer than many of its independent rivals. But we're getting ahead of ourselves.
In the run up to Christmas, Capitol Records had already begun a promotional campaign, spending an unheard of $50,000 in the New York area alone announcing, 'The Beatles are coming'. Come they did; first on the Jack Paar Program and then on Ed Sullivan's TV show.
Capitol eager to make up for lost time also rush released the Beatles first American album, at least that's what it said on the cover, on 20 January 1964. It was the first Capitol Records Beatles album. Meet the Beatles! reached the number one spot on Billboard album charts starting on 15 February 1964, staying there for 11 weeks before being replaced by The Beatles' Second Album; it was the first time that an artist replaced one of its own records at the number one album position on the US charts.
The reason why it was not the first Beatles album release was that ten days prior to Meet the Beatles! coming out, Vee-Jay Records released their, Introducing... The Beatles album. According to Calvin Carter, the brother of Vee Jay's owner, "We put the album out, and EMI, through Capitol, sued us to cease and desist. They got an injunction against us seemingly every week. They would get an injunction against us on Monday, and we would get it off on Friday, then we'd press over the weekend and ship on Monday; we were pressing records all the time on the weekends."
Introducing... The Beatles made No.2 on the charts and stayed there for nine weeks. Not content with releasing an album, Vee Jay decided to re-release their singles, which they still had the rights so to do. On 30 January 1964, Vee Jay released 'Please Please Me' backed by 'From Me To You', as VJ 581. Some promotional copies had a special picture sleeve saying "The record that started Beatlemania" advertised the Beatles appearance on The Ed Sullivan show.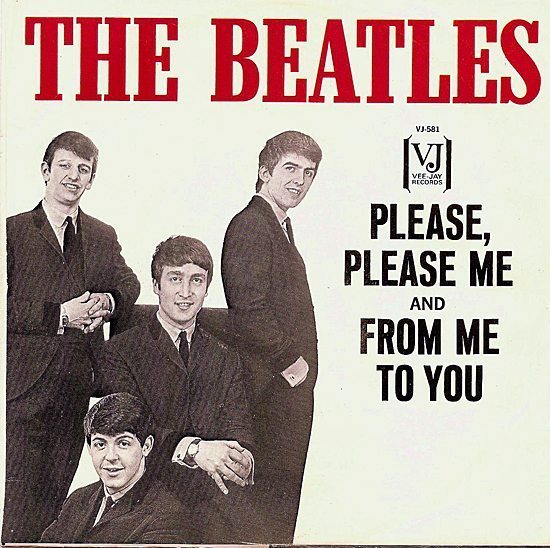 In January The Beatles had appeared in France for a three week booking at L'Olympia Theatre in Paris. Arriving back in London they had a day to prepare before leaving for America on 7 February 1964. The Beatles left London's Heathrow Airport on-board a Pan Am Boeing 707 for New York's JFK Airport, where upon arrival they held a press conference. The American press unsure what to make of the four boys from Liverpool and tried everything from sarcasm to open mouthed incredulity.
The British invasion was well and truly underway…
The Beatles 1s celebrates their mighty achievements