The Beatles US Invasion Begins With 'Please Please Me'
The Beatles US invasion slowly began following the release of 'Please Please Me' on Vee Jay Records on 25 February 1963 and the rest is history.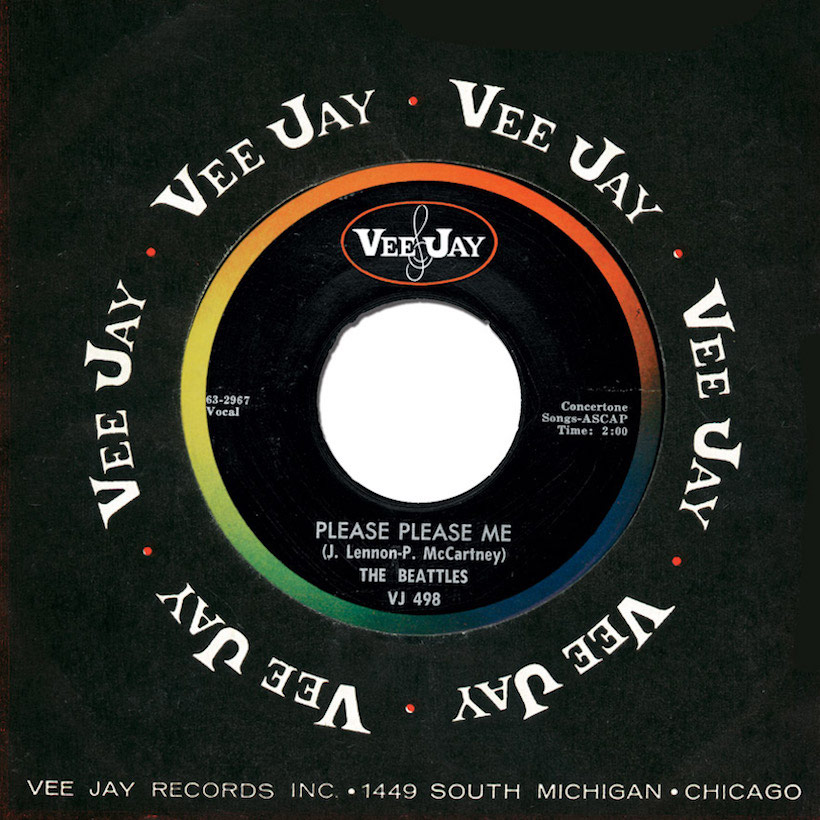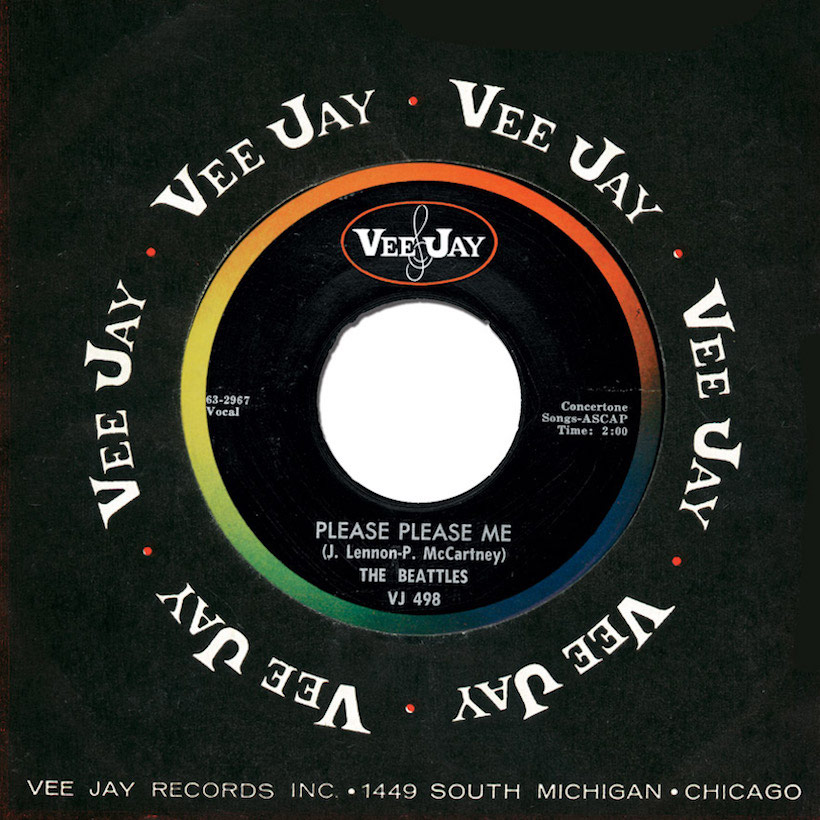 Following The Beatles meteoric rise to popularity in Britain, Parlophone was anxious to take advantage of their new asset and contacted their sister label in America, Capitol Records that was owned by EMI. Capitol was underwhelmed by the Beatles records and so decided against releasing any of their records. In Canada things were very different. Capitol (Canada) could better see the potential and released 'Love Me Do', the version on which Ringo plays the drums, although it was not a hit.
Parlophone turned to a small US label called Vee Jay, a company started by a husband and wife in Gary, Indiana that specialised in R&B music. It was an irony probably not lost on the Beatles who loved the music. Vee Jay had recently signed The Four Seasons, their first non-black act and it's said that they were keener on another EMI act they had signed, Frank Ifield.
Listen to Please Please Me right now.
Vee Jay released 'Please Please Me' in the US on 25 February 1963 as VJ 498 and it did get some airplay from the major Chicago top 40 radio station WLS and even made their own chart for a couple of weeks but nothing happened nationally on the Billboard charts. Not helping the band's chances of success was the fact that Vee Jay managed to miss-spell their name on the record as "Beattles".
Back in Britain their third single, 'From Me To You'  came out in late April and then proceeded to top the British singles' chart for seven weeks, There really was no stopping the Beatles, except in America things really were not working out.  With the Beatles at No.1 in Britain Vee Jay released 'From Me To You' /'Thank You Girl' as VJ 522 on 27 May 1963. The single was made 'Pick Of the Week' by Cash Box magazine, and looked reasonably certain to chart.
In Canada Capitol released the singles that were hits in Britain, 'Please, Please Me' in early April, 'From Me To You' in June and then 'She Loves You' in October. 'Please Please Me' charted on some local radio charts, CFGP, the 'sound of the Inland Empire' had it at No. 27, but there was no national chart as such in Canada at the time, unlike Billboard or Cashbox in America. Given the close links between Britain and Canada it does appear that Canada was quicker off the mark in embracing the Fab Four than those south of the border!
According to Paul White, the Capitol Records Canada executive in charge of the selling the Beatles it was an inauspicious start. "For my efforts,'Love Me Do' sold 170 copies, I tried for another record, 'Please Please Me', and that sold about 280. The third record, 'From Me to You', sold 300, and then 'She Loves You' was released and went berserk. Love Me Do' ended up selling close to 100,000 copies".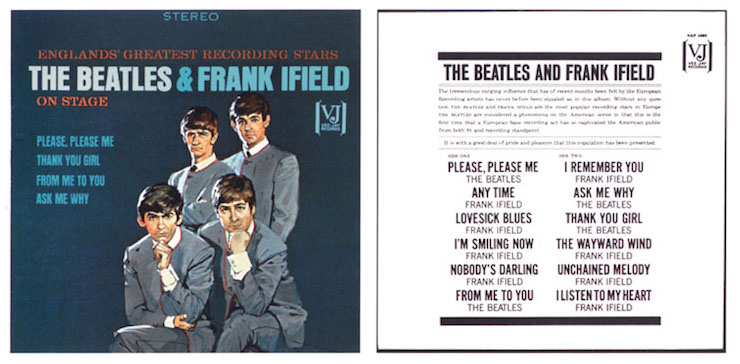 Enter Del Shannon who had played with The Beatles on a show in London's Royal Albert Hall and heard them perform their new single, 'From Me To You.' Shannon returned home and immediately recorded his version of the song and despite not doing that well it has the distinction of being the first Lennon and McCartney song to have charted in America. Despite only making No.77 on the Billboard American chart it undermined the Beatles and their own version failed to make the Hot 100, peaking at No.116; helped there it has to be said by strong sales in the Los Angeles area.
Undaunted and with severe management and financial problems Vee Jay decided to release a Beatles album. 'Introducing The Beatles', VJLP 1062, but because they had so many problems they decided at the last minute not to release it, because The Beatles just did not sell very well.
With all the problems at Vee Jay, The Beatles next single, 'She Loves You', that had spent four weeks at No.1 in Britain in September 1963, was leased by EMI to a small Philadelphia label called Swan Records. Capitol had again refused to release it. Swan put it out at the end of September where it gained very little interest with record buyers, mainly because so few radio stations played it they were unaware of its existence. It was only when NBC's, The Jack Paar Program screened footage of The Beatles performing 'She Loves You' in January that anyone really became aware. By which time The Beatles really were on a roll.
In October The Beatles went to Stockholm for a tour of Sweden, their first overseas gigs since becoming famous; the scenes at the airport were chaotic but nothing compared to their return a week later. Ed Sullivan, TV presenter and tastemaker for America's young was leaving London at the same time and is amazed; so much so that he booked them for his US TV show.
On 1 November, The Beatles began first tour as undisputed headliners. The venue is the Odeon Cinema Cheltenham, and the sedate town in the West of England had never seen anything like it – so much so that one newspaperman coined the phrase 'Beatlemania' in an attempt to describe it.
By mid-November America was cottoning on to what was happening in Britain and all three of the major US TV networks dispatched crews to interview the band; they do so backstage at Bournemouth's Winter Gardens. Just time for the anticipated Christmas market Parlophone rushed out The Beatles second album – With The Beatles. They follow this with the band's new single – 'I Want To Hold Your Hand/This Boy' for which they have advance sales of over 1 million.
Capitol finally woke up to the possibilities of The Beatles and released 'I Want To Hold Your Hand' the day after Christmas 1963. Three weeks later it entered the Billboard chart and on 1 February 1964, it made No. 1 where it stayed for seven weeks, only to be replaced by Swan Records' 'She Loves You', which held on to the top spot for two weeks and, it's said, kept the company going a lot longer than many of its independent rivals. But we're getting ahead of ourselves.
Pre Christmas, Capitol Records had already begun a promotional campaign, spending an unheard of $50,000 in the New York area alone to announce: 'The Beatles are coming'. Come they did; first on the Jack Paar Program and then on Ed Sullivan's show.
Capitol eager to make up for lost time also rush released The Beatles first American album, at least that's what it said on the cover, on 20 January 1964. It was the first Capitol Records Beatles album. Meet the Beatles! reached the No.1 spot on Billboard album charts starting on 15 February 1964, staying there for 11 weeks before being replaced by The Beatles' Second Album; it was the first time that an artist replaced one of its own records at the number one album position on the US charts.
The reason why it was not the first Beatles album release was, because ten days prior to Meet the Beatles! coming out, Vee-Jay Records released their album, Introducing… The Beatles. According to Calvin Carter, the brother of Vee Jay's owner, "We put the album out, and EMI, through Capitol, sued us to cease and desist. They got an injunction against us seemingly every week. They would get an injunction against us on Monday, and we would get it off on Friday, then we'd press over the weekend and ship on Monday; we were pressing records all the time on the weekends."
Introducing… The Beatles made No.2 on the charts and stayed there for nine weeks. Not content with releasing an album, Vee Jay decided to re-release their singles, which they still had the rights for. On 30 January 1964, Vee Jay released 'Please Please Me' / 'From Me To You', as VJ 581. Promotional copes with a special picture sleeve known saying "The record that started Beatlemania", advertised The Beatles appearance on the Ed Sullivan show.
In January, The Beatles had appeared in France for a three week booking at L'Olympia Theatre in Paris. Arriving back in London they had a day to prepare before leaving for America on 7 February. The Beatles left London's Heathrow Airport on-board a Pan Am Boeing 707 for New York's JFK Airport where upon arrival they held a press conference. The American press unsure what to make of the four boys from Liverpool and tried everything from sarcasm to open mouthed incredulity.
The following day, after a press-call in a cold and snowy Central Park the band rehearsed for their appearance on The Ed Sullivan Show, but they were without George who was feeling unwell. Fortunately by the following day George was better and at 8 pm the band appeared before an audience of 73 million people – exactly a year earlier they had been playing to a few thousand at a cinema in Sunderland in the north of England as a lowly support act to Helen Shapiro.
The day after appearing on Ed Sullivan's show, and taping another segment, The Beatles held a press conference at which Capital's President, Alan Livingstone, the man who eventually signed them, gave them a gold record for sales of a million copies of 'I Want To Hold Your Hand' and another for a million dollars worth of sales for their LP, Meet the Beatles! The next day the band took the train to Washington DC because a snowstorm had hit the East Coast and all flights were cancelled to play their first ever American concert in the capital's Washington Coliseum. Performing "in the round", meant that between numbers Ringo's kit had to be moved around so he could face different sections of the audience. Later that evening the band attended a cocktail party at the British Embassy. The following day it was back to New York City for a sell out concert at Carnegie Hall before flying to Miami to record yet another Ed Sullivan segment that was broadcast from sea to shining sea on 16 February.
Five days later, Swan Records release of 'She Loves You' made No.1 on the US charts before The Beatles flew home to London, arriving the following morning – exhausted but ecstatic. Despite their hectic schedule there was no let up with the band – they taped an appearance on a TV show the next day. On 25 February, George celebrated his 21st birthday and the band recorded 'Can't Buy Me Love' at Abbey Road – it was all in a hard day's work for the band.
After two weeks at No.1 in America it was 'Can't Buy Me Love' that was the record that replaced it on the top spot where it stayed for five weeks. It was on the 9 May that the Beatles incredible run of chart topping singles came to an end, the man to replace them was none other than Satchmo, Louis Armstrong, whose record of Hello Dolly spent just a week at No.1. Forever after he reveled in saying "I'm the man who knocked the Beatles off the top spot."
While all this was going on The Beatles started work on their first feature film on 2 March. It included location filming at a beach resort, Minehead in Somerset, in the west of England, which also involved additional scenes being shot on a train journey. Much of the interior scenes were done in Twickenham Film Studios, to the west of London, while a concert sequence was shot at the end of the month at the Scala Theatre in London's West End.
In America to go along with all the Capitol releases there were other record companies cashing on their Beatles records. MGM leased the Tony Sheridan recording with the Beatles as backing band of 'My Bonnie' and it made No.26 on the US chart. Atco licensed the Tony Sheridan single, 'Ain't She Sweet' and that made No.19 and to round things off Vee-Jay Records through their subsidiary the Tollie label, put out 'Twist and Shout', which was on their first, album and it reached No.2 on 4 April 1964.
In something unprecedented it meant that during the week of 4 April that the top five places on the chart were all Beatles singles. 'Twist and Shout' only failed to make No.1 because the Beatles 'Can't Buy Me Love' stopped it! By the beginning of May with 'Can't Buy Me Love', 'Twist ands Shout' and a new single, 'Do You want To Know A Secret' in the top three spots there was the Dave Clark Five, another British group with two songs in the Top 10. The British Invasion was in full swing.
In early May, John, Cynthia, George and Patti Boyd, George's new girlfriend, flew to Honolulu and then on to Tahiti on holiday; Paul. Jane Asher, Ringo and Maureen went to the Caribbean. Back from vacation at the end of May the band got the news that 'Love Me Do' had made No.1 on the American charts.
The Beatles' Please Please Me can be bought here.
Listen to the best of The Beatles on Apple Music and Spotify.
Format:
UK English