'We Believed In Ourselves' Charlotte Caffey On 'The Go-Go's' Documentary
Guitarist and songwriter Charlotte Caffey talks getting candid on-screen and her role in the revelatory new Showtime documentary, 'The Go-Go's'.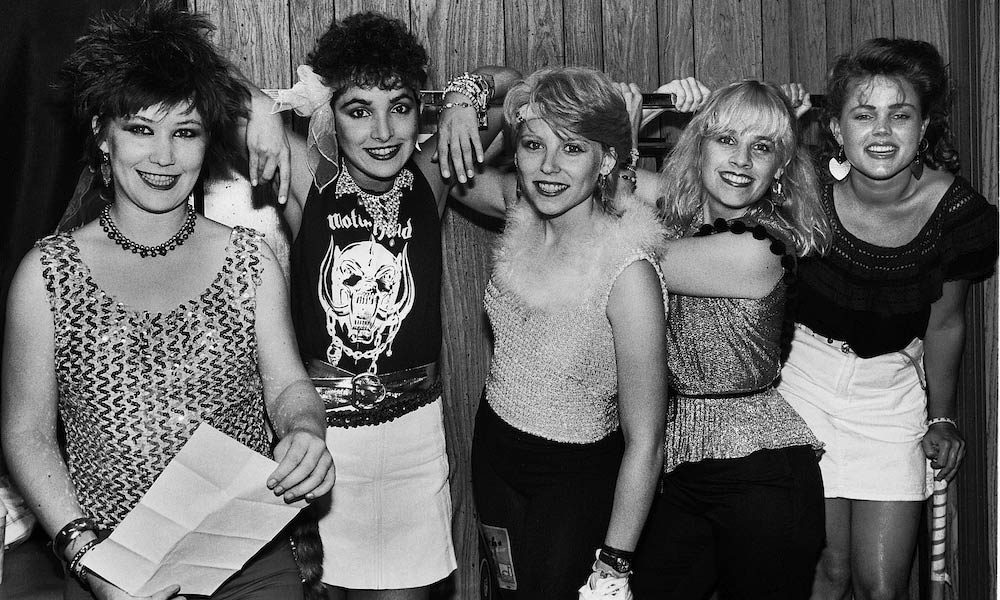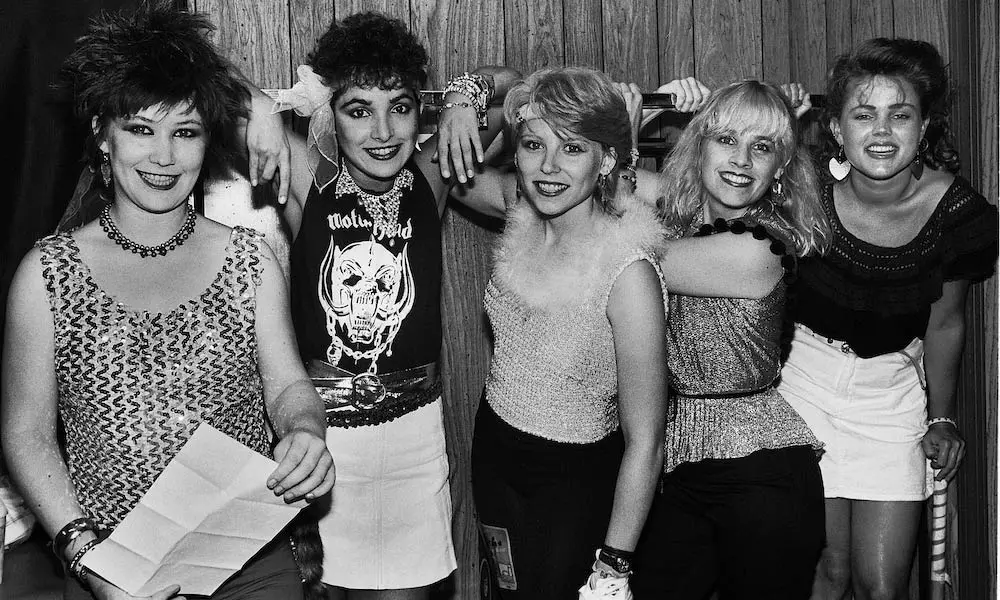 The best music documentaries do more than dust off celluloid memories, they rectify history, as is the case with the new film, The Go-Go's, now streaming on Showtime.
Beyond their bubbly valley girl image and power-pop hits, "Vacation," "We Got the Beat," and "Our Lips Are Sealed," The Go-Go's were a bunch of misfit punks who rose out of the L.A. punk scene to become the most successful all-female band of all time. To this day, The Go-Go's are still the only all-female rock band to write their own songs, play their own instruments, and debut an album at No.1 on Billboard – a feat that has still not earned them a proper place in rock history.
The Go-Go's debauchery was well-documented, but their punk bona fides, pop songcraft, and impressive musicianship is captured in a new documentary directed by Alison Ellwood (Laurel Canyon: A Place in Time, History of The Eagles).
The story of The Go-Go's is primarily told through interviews with the five core members – rhythm guitarist Jane Wiedlin, lead singer Belinda Carlisle, guitarist Charlotte Caffey, bassist Kathy Valentine, and drummer Gina Schock, along with a wealth of archival footage that chronicles their meteoric rise, fall, and revival.
The film contains all of the familiar rock doc beats: early origins, breakthrough moment, infighting, and reconciliation, but it's most notable for what doesn't end up on the cutting room floor: candid stories of queer artists, mental health, substance issues and the complicated road to recovery. Most of all, it's a story about a remarkable group of women, told by women, that's still a rarity in the mainstream film world.
Following the film's premiere on Showtime, Go-Go's guitarist and songwriter Charlotte Caffey spoke to uDiscover Music about the filmmaking process, getting candid on-screen, and her role in the trailblazing 80s new wave band.
This interview has been lightly edited and condensed.
The Go-Go's (2020) Official Trailer | SHOWTIME Documentary Film
How do you feel now that the film is out?
We were so nervous about it and we dragged our feet, because we didn't know how someone else would interpret our story. All I can say is that Alison Ellwood did the most fabulous job, because she weaves this entire story from 1978 until now.
We [the band] have lived this for 40 years. We understand all the ups and downs, everything we've been through individually and collectively, and yet each of us had the exact same experience when we watched it. It was amazing to take myself out of it, as if I had never lived it, and just watch the story unfold. I'm really excited for people to see this, because there are a lot of people that don't know our story.
The documentary makes the case of how influential The Go-Go's were. Looking back, does it feel like the band is finally getting its due respect?
I feel like people will get to see how we organically formed ourselves and no one was telling us what to do. We briefly had these two managers that wrote a song we played live for a couple of months, and they were trying to infuse their ideas about us. They were telling us, "Hey, if you don't go with us, you're never going to go anywhere." Literally the next day, we told them to "f__k off." We believed in ourselves.
The DIY mentality of all of the members also comes across in the film. From Kathy learning all of the Go-Go's songs in one evening to you teaching yourself guitar, there's certainly a recurring theme of when the band hits an obstacle, you just figure out a way around it.
Even when Belinda worked at a magazine publishing company, she would book all our gigs in the early days. Everything we did was DIY, as was the whole Hollywood punk rock movement. It was a movement of self-expression. We were expressing ourselves in the way we wanted to, which was doing it with all females. We had the female roadies, a female lawyer, and a female manager. That was just the way it was. That's what made us feel comfortable and connected.
That seemed like such a rarity in those days. You all were forward-thinking, even when it came to things like fighting for your publishing rights.
Our manager Ginger [Canzoneri] gets all the credit for that. As the story goes, prior to going to London, we made a four-song demo. Dave Robinson, who ran Stiff Records, wanted "We Got the Beat" as a single. He tells Ginger, "Hey, I'll take publishing on these songs, and you can have some money." Then Ginger just tells him, "I'll get back to you," because she didn't know what publishing was. She read up on it and said, "F_ k no, we're not giving up publishing." We were still scrounging when we were in England for two months with Madness and The Specials. We were not living the life – that's for sure – but it was such a f__king great adventure.
In the film, you call England "Mecca," since it was where all your punk idols came from. How was that experience playing overseas for the first time?
It was really daunting, especially the skinheads. They were pretty hardcore and did not want to see us at all. They would spit and throw things at us on stage so then we thought, "We'll show those f__kers, we'll play harder!" But when we'd get offstage, we would cry our eyes out because it was so hard. But The Specials boys were like our big brothers and Madness was fun to play with too. It was just an adventure. We were like a wild pack of animals that were unleashed onto the world.
At that time, we didn't have money for anything, we couldn't even go out. So, we bought cough syrup and cider, and mixed it. It was like being at a really twisted slumber party, because we were all in pajamas. I don't know if we actually got drunk or high, but it felt like it, so it was good enough. [laughs]
You were basically robotripping, as the kids call it.
[Laughs] That was it.
A twisted slumber party is a great metaphor for The Go-Go's. You all looked like you were having so much fun. When you all talk about going to Palm Springs for Gina's (potentially) last hurrah, there's such an immediate camaraderie between all of you. Especially when so much of the presiding narrative around the band was shaped by the drama that came later.
That was all real. Of course, we were worried about Gina, but we just thought, "We're going to have the most fun ever in case something bad happens." I remember we were a little bit solemn when we got there, and I broke the ice by saying something like, "Gina, if you die, can I have your Corvette?" Then we just started howling. It was our nature to have fun. Why do it if you can't have fun? Of course, that became a little problematic for some of us, including me.
I appreciated how forthright you were in the film about your past substance abuse. When Alison approached the band about the film, was it something you and she discussed, or did it just come out in interviews?
Oh, no, I've very open about it. I'm 35 years sober now, so I can talk about it. I'm hoping that people can see you really can recover from drug addiction. You've got to work at it though, man. As for the later drama, we [the band] didn't want to focus on the fights we had and all that bullsh_t, because that was just immaturity and whatever we were going through at the time. We didn't want it [the doc] to turn into something like Behind The Music.
The film doesn't sugarcoat anything, but it also doesn't dwell on it too much. It was part of the story, but not the emphasis.
That's her way. Alison has such a way of telling the story that was just so brilliant.
There's an astonishing amount of archival footage and photos in the film. What was it like to dig through everything and revisit these memories?
Well, Gina is the archivist of the band, so she had a lot of stuff to pull from. When Alison sent us the link to watch the documentary for the first time, she told us, "Please watch this in one sitting without going back and rewinding to see a part. Just take it all in as one piece." I followed that direction, and I couldn't believe how I felt afterward, because I've had many feelings over the years, but I was filled up with love for the girls and for our experience.
After the film played at Sundance and there was a standing ovation, we were so surprised. Because we had gotten used to being overlooked for a lot of things, from the Rock and Roll Hall of Fame, to just our general place in history. To have that kind of reception and to have this documentary, it's life-affirming.
What's great about the film is not only does it focus on your early beginnings, but it also comes back around full circle with The Go-Go's reuniting and making new music. Did you ever think that the band would be making new music together and back on the road?
We had a few reunions and made a record in 2000, but to write a whole new song like "Club Zero" was an interesting process, because we hadn't done that in a really long time. People were pairing up with different people, and writing on certain songs, while others collaborated separately, as per usual when we would write a record. But it was really great, because I love what we came up with, and it's the perfect song for right now. We take a stand in the song. We haven't written a lot of topical songs. It's the right time to do that, and hopefully people will love it.
In the film, you talk about how songwriting is your identity and a safe place for you. Do you still feel that way?
Definitely. From when I first saw The Beatles perform at Dodger Stadium when I was 10 or 11, I wasn't screaming, I was watching and, in my mind, there was a little tiny seed of a thought like, "Wow, I wish I could do that." Growing up in Hollywood, I got to see everyone, from Modern Lovers, Mott the Hoople, Big Star, and Patti Smith, it changed my life. Never once did I think, "Oh, I'm a girl. I can't do that."
These days though, I haven't written anything since quarantine started. I just have no desire. It doesn't freak me out though. What I have been doing though is gardening and weed whacking. I love it because you're destroying something, and you have control over it. Because there's no control over anything, right? All this sh_t that's going on.
There's a lot of pressure on artists to be creative during this time, just because there's time to pause.
I would be happy if we just got to play our music, but that's not a possibility. It's also the first time in 40 years I've not had to work, so I'm like, "Oh, this isn't so bad." [laughs]
40 years ago, the band released its landmark debut album, Beauty and The Beat, which was just reissued. What was it like to revisit that album decades later?
It still sounds great, no gimmicks, just all pure songs. Our producer Richard Gottehrer did a brilliant job. As you saw in the documentary, we were very rough sounding, but he was able to make us sound like a unit. We hated the way it sounded at first, but then it all made sense when the radio started playing it, which was our ultimate goal (at least for me). And the way it's lasted all these years, it's very organic sounding without the usual big 80s synthesizers and gated reverb. It's very classic and timeless, in my opinion.
The Go-Go's - Our Lips Are Sealed
After Beauty and The Beat came out, Rolling Stone put you and the band on the cover in your underwear with the headline, 'The Go-Go's Put Out,' which the film delves into. What was it like to experience that kind of milestone, but under those circumstances?
Rolling Stone actually sent us an apology. But honestly, when the magazine came out, we were in New York and it was plastered on every single newsstand. It was really exciting, but at the same time, the headline was so f__king lame. We just had to move on, you know?
The media did kind of crown us, calling us things like 'America's Sweethearts.' And we were more like America's Sweethearts From Hell. [laughs] We got so much fan mail, kids would write things like, "Beauty and The Beat saved my life," and you start feeling responsible. We tried to be role models in a way, which was really ridiculous because, because oh lord, there was a lot of partying going on, but we did try for those kids.
A lot of the band has expressed in interviews that they would love to do a part two to the film. Do you feel like there was anything left out of the film?
I mean, there's so much more to tell, but I feel like each individual girl has their own story. I'm just excited for people to see our beginnings because it's such a great story. It's going to really uplift a lot of people, and that makes me really happy.
The Go-Go's is out now on Showtime, watch it here.
Beauty and the Beat can be bought here.
Listen to the best of The Go-Go's on Apple Music and Spotify.