The Punk And The Godfather: Chuck Berry On Ramones, Sex Pistols And More
Chuck's review of new music for the punk fanzine 'Jet Lag' in 1980 read like a fascinating bridge between cultures.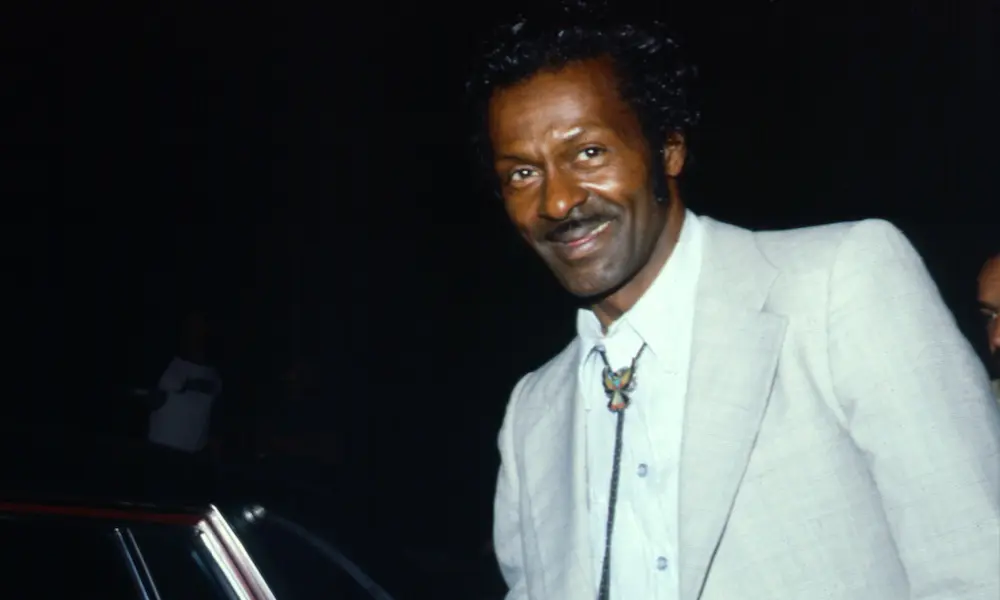 A fascinating interview given by Chuck Berry to the punk fanzine Jet Lag in 1980 read like a bridge between cultures. In those days of the new wave, it reveals his opinions on recordings by such important artists in their own right as The Clash and Wire – and that while he wasn't sure about the Sex Pistols and Joy Division, he had plenty of time for Talking Heads and the Ramones. 
The rock'n'roll pioneer was played a number of recent releases by the magazine and, as a spokesman for teens of a previous generation, asked his opinion on some key recent releases. Berry made comparisons between some of these young guns and earlier, time-honored work by himself and others. 
Sex Pistols- God Save The Queen (Audio)
Listening to the Pistols' punk staple "God Save The Queen," for example, he asked: "What's this guy [Johnny Rotten/John Lydon] so angry about anyway? Guitar work and progression is like mine. Good backbeat. Can't understand most of the vocals. If you're going to be mad at least let the people know what you're mad about."
Considering Wire's "I Am the Fly" and the Joy Division album Unknown Pleasures, Chuck ruled: "So this is the so-called new stuff. It's nothing I ain't heard before. It sounds like an old blues jam that BB [King] and Muddy [Waters] would carry on backstage at the old amphitheatre in Chicago. The instruments may be different, but the experiment's the same."
'I only knew three chords too'
Of the Clash's "Complete Control," Berry referred back to the Pistols by saying: "Sounds like the first one. The rhythm and chording work well together. Did this guy have a sore throat when he sang the vocals?"
Listen to uDiscover Music's Chuck Berry Best Of playlist.
His greatest enthusiasm was reserved for the Ramones' "Sheena is a Punk Rocker" ("A good little jump number. These guys remind me of myself when I first started, I only knew three chords too") and Talking Heads. Of their "Psycho Killer," he said: "A funky little number, that's for sure. I like the bass [by Tina Weymouth] a lot. Good mixture and a real good flow. The singer [David Byrne] sounds like he has a bad case of stage fright."
Buy or stream Chuck Berry's The Great Twenty-Eight compilation.