'Used Future': The Shackles Were Off For The Sword's Sixth Album
'Used Future,' The Sword's sixth album, was dystopian in vision and wide-ranging in scope, setting the group on a brand new trajectory.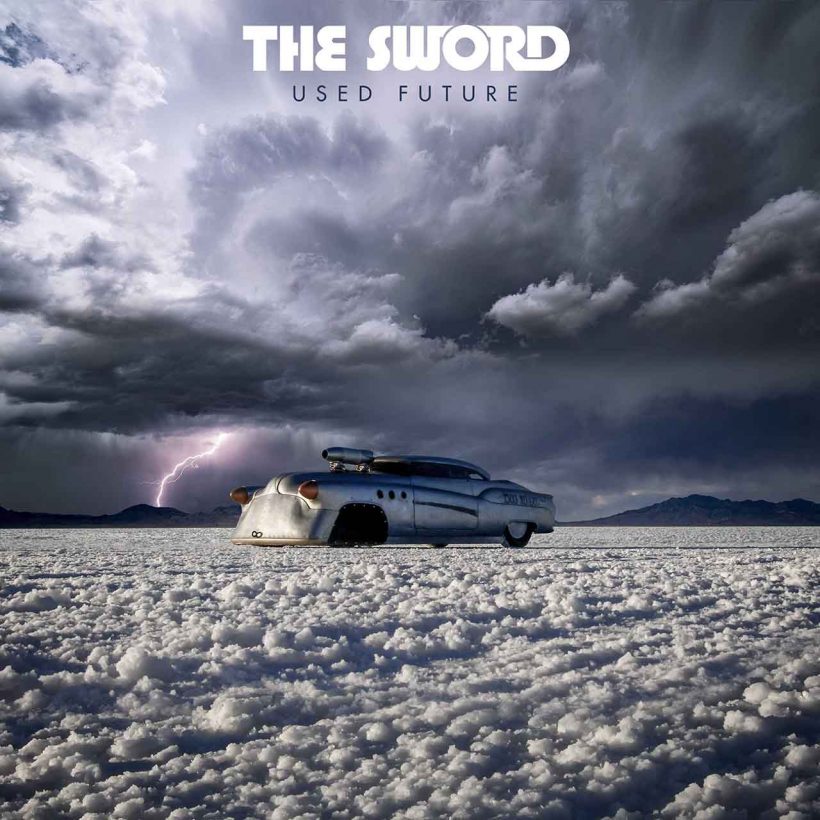 Austin, Texas, quartet The Sword have been chained to the doom metal tag by critics in the past, but the shackles were well and truly off for their sublime sixth album, Used Future.
Listen to Used Future on Apple Music and Spotify.
Led by guitarist/vocalist and primary songwriter John Cronise, the band's mission statement has been to "cut out boundaries since day one." They've never concealed their love of pioneering metal forbears such as Black Sabbath and Blue Cheer, yet they significantly broadened their palette on 2015's High Country: a record which placed a far greater emphasis on keyboards and vocal harmonies, and even found The Sword eschewing some of their trademark downtuned guitars.
Not that their desire to stretch blunted The Sword's edge. Indeed, after the brief, scene-setting "Prelude," Used Future kicks off purposefully with "Deadly Nightshade." A menacing ode to arcane poisoning methods, built around looming riffs and Bryan Richie's fuzzy, Geezer Butler-esque bass motifs, it's the first of a generous spread of sterling old-skool hard rockers also including "Book Of Thoth" and the dynamic "Twilight Sunrise," which is redolent of the Dio-helmed Sabbath.
Elsewhere, the confident Texan combo gamely pursue their muse wherever it decides to roam. Lyrically, both the cautionary "Don't Get Too Comfortable" and the technological overload envisaged by the album's titular song ("Robots riddled with rust, circuits gathering dust") reflect a dread-fuelled, dystopian modern world, yet the former wallows in an irresistibly swampy groove and the album's title track bowls along with the infectious economy of Free at their most imperious. The band's native Lone Star state, meanwhile, looms large over "Sea Of Green," wherein a plangent, semi-acoustic intro gradually morphs into a sturdy, ZZ Top-esque workout.
The Sword - Twilight Sunrise (Official Lyric Video)
As they did with High Country, The Sword again effectively temper Used Future's best tracks with impressive vocal harmonies, and they also strategically deploy synthesizers on "Twilight Sunrise" and the record's all-instrumental twin peaks, "The Wild Sky" and the grandiose, "Kashmir"-esque "Brown Mountain." Cronise and company's evocative catalogue has previously earned them high-profile syncs in movies such as Jennifer's Body and Jonas Åkerlund's Horsemen, and it would be surprising if at least one discerning director doesn't pick up on Used Future's "Nocturne": a slice of film noir-esque chill reminiscent of early 80s Tangerine Dream, which underlines the fact that these guys have far more to offer than simple brute force and metallic KO.
Having risen to challenges ranging from sharing stages with metal titans Metallica and Opeth, through to cutting acoustic versions of their High Country songs, it seems there's little The Sword can't achieve. With Used Future they again fashioned a record imbued with steel and subtlety which anticipates tomorrow's landscape, yet sounds utterly thrilling today.