'Weasels Ripped My Flesh': Frank Zappa's Farewell To The Mothers Of Invention
Compiled after the band split, the album is a fitting epitaph.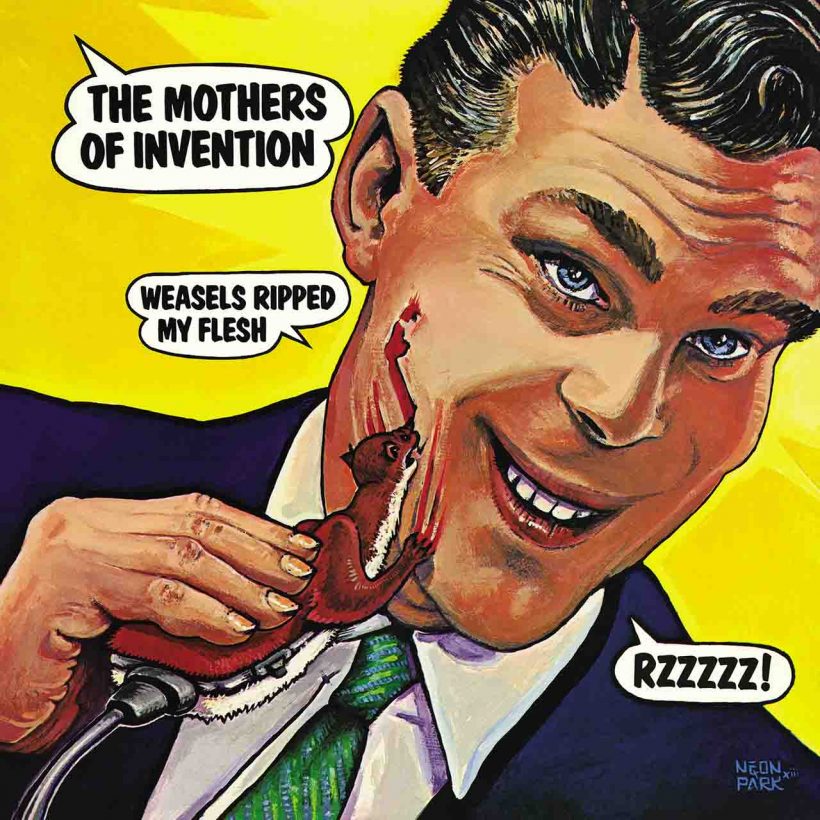 Released on August 10, 1970, Weasels Ripped My Flesh was the final album to feature the original line-up of The Mothers Of Invention, whom Frank Zappa had disbanded the previous year. It was compiled by Zappa from recordings made between 1967-69 and painstakingly edited into an original and vital album that showcases what the Mothers were capable of.
Zappa later claimed that he started to think about breaking the Mothers up after they'd appeared at the Charlotte Jazz Festival, at the Coliseum, Charlotte, North Carolina on June 28, 1969. The Mothers were sharing a bill with Duke Ellington, among others. In The Real Frank Zappa Book (1989), Zappa said, "Before we went on, I saw Duke Ellington begging, pleading for a 10-dollar advance. It was really depressing." Reasoning that if a colossus of jazz such as Ellington had to lower himself with such a request, it was unbecoming of him to appear with a 10-piece band, Zappa told the Mothers, "That's it, we're breaking the band up." They would have their last gig a few months later.
Listen to Weasels Ripped My Flesh now.
It's a typically provocative claim from Zappa, especially considering the exalted status that Ellington enjoyed at that point. It's also likely that, for Zappa, the Mothers had run their course. He'd complained in a Downbeat interview shortly before the break-up that the audiences at their shows didn't appreciate the music, saying, "The best responses we get from an audience are when we do our worst material."
Zappa soon began planning an archival set, telling Rolling Stone in August 1969 that it'd be a 10LP set called No Commercial Potential. By October, it had expanded to a 12LP set, and he was referring to it as The Mothers Of Invention Record Club. The logistics of such an enormous release were daunting, to say the least, and a single album of outtakes took its place. As he told Jazz & Pop in August 1970, "What I wanted to do is put out a 12-record set. Then we did a cost breakdown on doing that, and in order to press 10,000 each of the 12 records, plus coverage – it would have come to about a quarter of a million dollars… So we just tossed that one into the garbage can.
"What I've been doing is ripping up the 12 albums, which were already edited – I had them ready to go. Chopping them up and I put together a new album called Weasels Ripped My Flesh."
The title of the album came from the cover story of the September 1956 issue of Man's Life magazine. The article featured the strapline, "Many claws tore at my skin, putting razor sharp teeth in easy reach of my flesh. The furry animals came from all directions – chewing, gnarling, turning the water red with my blood." It was sensational stuff and illustrated by an equally out-there cover by Will Husley, featuring a muscle-bound hunk waist-high in water, writhing in agony as he's set upon by a multitude of weasels. It's easy to see why it stuck in Zappa's memory. He showed artist Neon Park the magazine and asked, "What can you do that's worse than this?"
Neon Park delivered a pop art-inspired illustration that was modeled on a Schick electric razor advertisement that appeared in the Saturday Evening Post in 1953, replacing the razor with a weasel dragging its claws across the face of an all-American man.
The music contained within is every bit as witty and uncompromising, making it a perfect entry into the imaginative and unhinged world of the Mothers. Opening track "Didja Get Any Onya?" plunges the listener straight into the deep end with a cacophony of wailing horns and sinister organ over shifting time signatures before Lowell George (later the creative dynamo behind Little Feat) takes the mic to deliver a rambling and fictional monologue about his childhood in Germany in a thick accent. So far, so Zappa.
Didja Get Any Onya? (Live At Philadelphia Arena, 3/2/69)
"Directly From My Heart To You" shows another side of the Mothers, a cover of the 1953 Little Richard track that the Mothers recorded during the Hot Rats sessions in late July 1969. Don "Sugarcane" Harris delivers a heartfelt vocal and adds violin to a slow and simmering blues groove. "Prelude To The Afternoon Of A Sexually Aroused Gas Mask" meanwhile, is comprised of disparate performances, expertly edited by Zappa to create a unique and unsettling sound collage.
The first section of "Toads Of The Short Forest" is another offcut from the Hot Rats sessions, with Zappa playing acoustic guitar through a wah-wah pedal on a brisk, light passage of music. Around the minute mark, though, the mood shifts to a riot of discordant noise as Zappa informs the audience of the time signature each member of the band is playing in. "Get A Little" changes the mood again, the Mothers laying down a slow and luxuriant cosmic funk groove.
Toads Of The Short Forest
Side Two kicked off with "The Eric Dolphy Memorial Barbecue," an exploratory marvel steered by Art Tripp's masterful percussion, which nimbly steers the ship as the Mothers' improvisations take the track to ever-more wild places. "Dwarf Nebula Processional March & Dwarf Nebula" begins as a piece of electric chamber music before shifting into a piece of distorted glitch.
Dwarf Nebula Processional March & Dwarf Nebula
"My Guitar Wants To Kill Your Mama" is one of the few conventional songs here, a soulful, riff-heavy rock track with a lyric that speaks of teenage rebellion delivered deadpan by Zappa. "Oh No" follows, sung brilliantly by Ray Collins. It's a revamp of a theme from Lumpy Gravy given lyrics that could read as a rebuttal of The Beatles' "Within You, Without You" and "All You Need Is Love" ("Oh no, I don't believe it/You say that you think you know, the meaning of love/You say love is all we need/You say with your love you can change/All of the fools, all of the hate"). It segues brilliantly into "The Orange County Lumber Truck," a showcase for Zappa's dazzling, questing guitar playing. The title track closes proceedings with a minute-and-a-half of coruscating feedback before a "Good night, boys and girls" from Zappa and applause.
My Guitar Wants To Kill Your Mama
It's a typically contrary way to end an album that sums up what made the first line-up of the Mothers so special – a musically dextrous and adventurous unit who gave life to Zappa's early ideas, however out-there and ambitious they may have been.