They Were The Champions: The Majestic Rock Of Queen In The 70s
There was no bigger rock band than Queen in the 70s. "Always wanting to do things bigger and better", the group's music dominated the decade.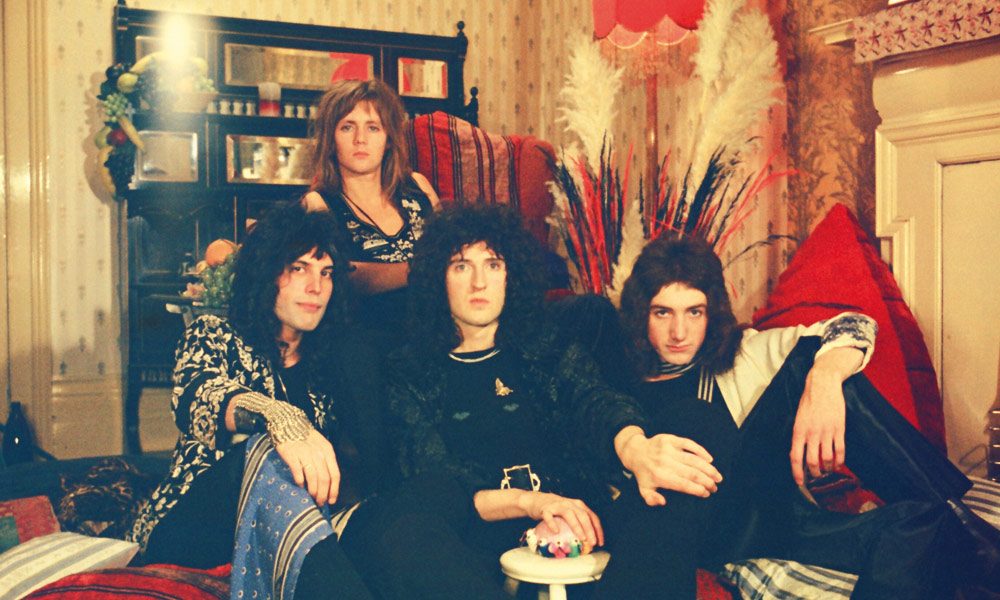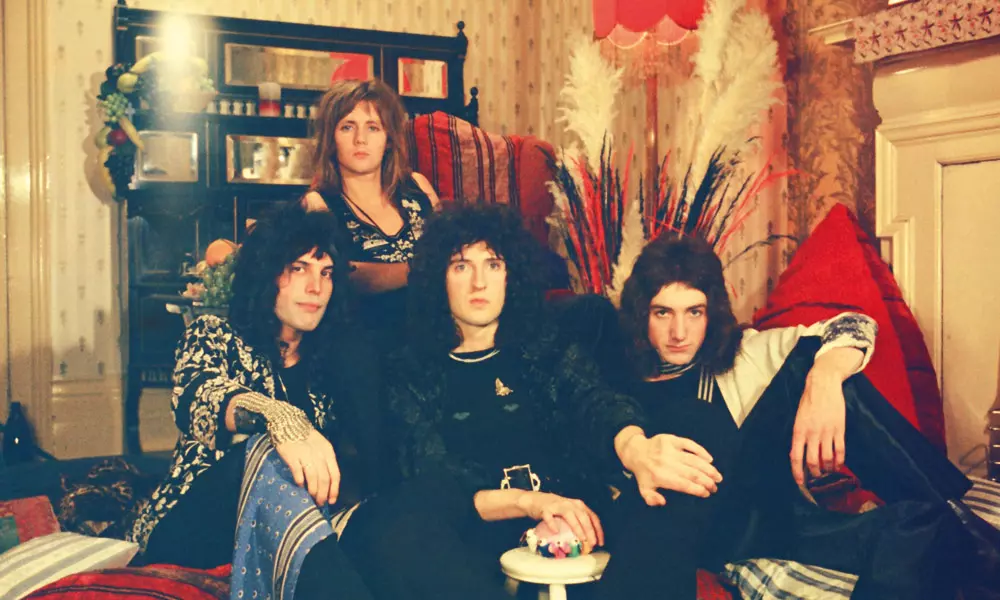 The celebrated boast that Queen aimed to be "the Cecil B DeMille of rock, always wanting to do things bigger and bigger" – a quote that has been attributed to both Freddie Mercury and Roger Taylor – was something either could have claimed to have achieved. As a unit, Queen in the 70s built a reputation as one of the boldest and most successful bands the world has seen, and their music dominated the decade.
Listen to the best of Queen on Apple Music and Spotify.
It began inauspiciously, however. The band's origins lay in Smile, formed in 1967 by guitarist Brian May. After singer Tim Staffell left the group in 1970, Freddie Mercury, who had been part of a heavy metal band called Wreckage, teamed up for a new project with with May and drummer Taylor, eventually calling themselves Queen. Mercury, who was 24 at the time, said: "I thought up the name Queen. It's just a name, but it's very regal obviously, and it sounds splendid, very universal and immediate. It had a lot of visual potential and was open to all sorts of interpretations."
"We didn't want to be treated like an ordinary band"
Queen tried out different bassists in the next year, taking time to finalise the final member of the band that would go on to achieve world fame. Their first gig as the quartet that would perform together live for the next 15 years took place on 2 July 1971, with John Deacon, who had been working towards his electronics BSc, joining on bass. Queen were an erudite band, with Deacon joining art and graphics diploma graduate Mercury, biology graduate Taylor and guitarist May, who had a degree in physics and astronomy. They were united by their love of rock'n'roll, glam and glitter, prog rock and comedy.
Their first gig together was reportedly at the West Surrey College Of Art And Design near Guildford, and it was clear to the 70-strong audience that the band's sound, matched with Mercury's showmanship and distinctive vocals, marked them out as something special. Queen then set off on their first tour – an 11-day trip around Cornwall.
During the next two years, the band took their time securing a record deal. Mercury said that as soon as they made their first demo they "were aware of the sharks", and the band were careful not to rush into anything. "Literally, we went to about every company before we finally settled. We didn't want to be treated like an ordinary band," he said.
In 1973, they signed a deal with Trident/EMI, and in July that year they released their eponymous debut album, which was produced by John Anthony and Roy Thomas Baker. It contained the May virtuoso guitar track 'Keep Yourself Alive' as well as a brief instrumental "sketch", which was written by Mercury, called 'Seven Seas Of Rhye'.
Queen - Keep Yourself Alive (Official Video)
They returned to that tune on their second album, Queen II, and the expansive sound, with intricate vocal harmonies on new lyrics – which ended with a snippet of 'I Do Like To Be Beside The Seaside' – brought them their first UK chart success when 'Seven Seas Of Rhye' entered the list on 9 March 1974, eventually reaching No.10.
Taking rock and pop away from the normal path
The band had a bigger return with the closely-harmonised 'Killer Queen' (a flamboyant and innovative song about a high-class prostitute) from their next album, Sheer Heart Attack. The single reached No.2 in October 1974 and gave the band their first US hit. The track possessed all the energy for which Queen soon became celebrated. "You almost expect Noël Coward to sing it." joked Mercury, who was pictured on the album cover with chest-wig hair. May thought the album marked a "turning point" in discovering the sound they wanted.
Sheer Heart Attack also showed the band's painstaking attention to detail. May, who was recovering from an arm infection, spent three days alone working on the multi-layered guitar part for 'Killer Queen', which included 12 overdubs. The melodic 'Lily Of The Valley' and grungy 'Stone Cold Crazy' were two other highlights, while 'Bring Back That Leroy Brown', featuring jangle piano and ukulele-banjo, showed the band's versatility.
Queen - Killer Queen (Top Of The Pops, 1974)
After a successful period of touring, they recorded the excellent album A Night At The Opera, which opens with 'Death On Two Legs (Dedicated To…)', Mercury's lacerating song about Queen's former manager. This album, the most expensive ever at the time, and named after a Marx Brothers film the band had watched together, was recorded at five different studios, including Olympic, during the summer and early autumn of 1975.
Though the George Formby pastiche 'Good Company' is entertaining, the album's masterpiece is the six-minute epic 'Bohemian Rhapsody', written by Mercury. He sings with real verve, overdubbing his voice until it sounded like a choir, with the words "Mama mia", "Galileo" and "Figaro" bouncing up and down the octaves. Björn Ulvaeus of ABBA said: "I was green with envy when I heard 'Bohemian Rhapsody'. It was a piece of sheer originality that took rock and pop away from the normal path."
The band also hired director Bruce Gowers to shoot a groundbreaking video for the song. The promo, which cost £3,500 to make in just three hours, was a superb piece of rock marketing, celebrated for its eye-catching multi-angle shots and a generally trippy vibe showing off Mercury in his favourite Marlene Dietrich pose. The band had fun making the video, and Gowers recalled: "We started at seven-thirty, finished at ten-thirty and were in the pub 15 minutes later."
Queen – Bohemian Rhapsody (Official Video Remastered)
Though the record company were initially reluctant to issue 'Bohemian Rhapsody' as a single, the band were united in insisting that it was the right choice. They were helped by radio DJ Kenny Everett, who played it 14 times in one weekend and started the buzz that eventually ended with the single going to No.1 on the UK charts and staying there for a record-breaking nine weeks. The B-side was Taylor's less grandiose 'I'm In Love With My Car', which resurfaced 40 years later in a Jaguar car advertising campaign.
We will rock you
Everything Queen were now doing was on a grand Cecil B DeMille scale. In the summer of 1976 they played to 150,000 people in London's Hyde Park and followed this with the December release of their album A Day At The Races, whose title was taken from another Marx Brothers film. The album, which was launched with a promotion at Kempton Park racecourse, provided a massive hit with 'Somebody To Love'. The song, inspired by the late Aretha Franklin, was ambitious – the band multi-tracked their voices to create a gospel-style choir. The public loved it, sending it to No.2 in the charts.
Meanwhile, the band themselves were delighted by a letter they received from America. Styling himself as Dr Hugh Z Hackenbush, a character in the movie, Groucho Marx wrote to say that he thought their success was down to their "sage choice of album titles". Queen later met Groucho on a visit to America, presented him with a framed gold album and played him their song '39', using one of the guitars he owned.
As punk began to take hold in the UK, Queen went for a harder rock sound with their 1977 release News Of The World. The album, co-produced by Mike Stone, featured the rock anthems 'We Will Rock You' and 'We Are the Champions'. Queen were by now the rulers of stadium rock, making lucrative global tours and iconic videos, and record sales flowed in tandem with the band's popularity as a live act. David Bowie paid tribute to Mercury's stage presence, saying, "Of all the more theatrical rock performers, Freddie took it further than the rest… he took it over the edge. And of course, I always admired a man who wears tights. I only saw him in concert once and, as they say, he was definitely a man who could hold an audience in the palm of his hand."
Queen - We Will Rock You (Official Video)
Queen's final studio album of the decade was 1978's Jazz, which was recorded in France. The singles 'Fat Bottomed Girls' and 'Don't Stop Me Now' provided two of their biggest hits in Europe, while the album's comic highlight came in the shape of 'Bicycle Race', which showed the band were still trying to be musically innovative (the song features a guitar "race"). Written by Mercury after watching the Tour De France, 'Bicycle' also contains a jokey reference to the movie Star Wars.
Before going on to re-invent themselves in the next decade, Queen released one final album in the 70s: their first concert album. Live Killers, which was recorded during the European leg of their 1979 tour and went double-platinum in America, added to the group's reputation as one of the world's greatest live rock bands.
Queen - Love Of My Life (Live, 1979)
By the end of the 70s, the band had relocated to Germany to work on The Game, and they moved into the 80s full of new ideas and hope. They would discover an adroit way of surviving punk and disco by adapting their sound; hits such as 'Another One Bites the Dust' and 'Crazy Little Thing Called Love', the highs of Live Aid and the lows of Mercury's illness and eventual death lay ahead.
But the 70s was a golden decade for Queen. A band so quirky, inventive and talented, they had forged an image of playful decadence while creating some of the late 20th Century's most memorable and original music.
The career-spanning Freddie Mercury box set, Never Boring, is out now. Order it here.
Format:
UK English