When Status Quo Rocked The World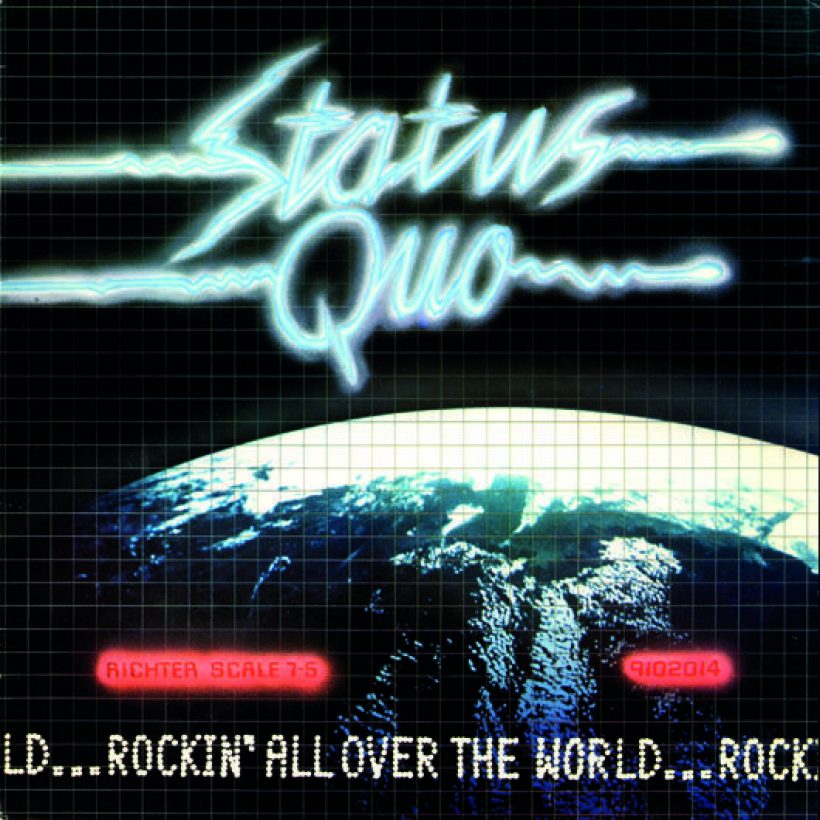 Status Quo's sixth album was rather aptly titled, popping up at the top of the UK charts with a sprightly Hello!. It had taken five years since the release of their debut, but Quo were finally at the No.1 spot – and also tasting their biggest singles success to date with 'Caroline', the No.5 release from that same album.
Thirty-two years on from its release, what's clear is that Hello! built upon its predecessor, Piledriver, at the beginning of the era when Quo had worked out how best to capitalise on their patented brand of denim rock. Though closer 'Forty-Five Hundred Times' clocks in at just under 10 minutes (it's since become a live favourite on which the band stretch out in concert – and also marks keyboardist Alan Bown's first appearance on a Quo record), the remainder of the record whizzes by in a breakneck 33 minutes, during which Quo dispense with nine songs. The likes of 'Caroline' and 'Roll Over Lay Down' see them having fully refined their trademark boogie, but the group ease back a little on 'Claudie', a surprisingly delicate number (given its surroundings) that, in its way, owes more to the group's late 60s roots than it does 70s boogie rock.
Hello! also marked Quo's finest international chart performance to date, entering the Top 10 in five territories and, in doing so, laying the groundwork for another aptly titled release, 1977's Rockin' All Over The World. Four albums and as many years later, little had changed in Quo's approach, but, coming off the back of the 1977 live album, Live!, they did bring in an outside producer for the first time since 1972. Pip Williams gave Rockin' All Over The World a radio-friendly sheen – perhaps somewhat perversely: their rawer early sound might have made a better fit in the punk-led Summer Of Hate; but then Quo were nothing if not doggedly loyal to their sound. There's a nod to The Beatles' 'Drive My Car' on album opener 'Hard Time', and, of course, the world-conquering title track, but it was on the stage that much of Rockin' All Over The World came alive, with the likes of 'Dirty Water', 'Hold You Back' and 'Can't Give You More' finding regular rotation in live setlists.
Which leaves the group's 1974 outing, Quo, as something of the anomaly among these three reissues, for no other reason that it's the one on which they flirted – but only flirted – with changing the formula. The album's single, 'Break The Rules', stays true to the template, but opener 'Backwater' has a twin guitar intro that melts into delicate picking, teasing out the moment when Quo unleash the boogie that fans came for. Elsewhere, 'Fine Fine Fine' is a country-tinged rocker, and, on the eight-minute closer 'Slow Train', the group break out in a Celtic jig for seemingly no other reason than they could.
Which just goes to show how good Status Quo had become as musicians at this point in their career. They may have found their niche, but it took skill to keep it sounding fresh. With a host of demos and live recordings scattered across the deluxe editions of Hello!, Quo and Rockin' All Over The World (including two very different 1971 demos of 'Caroline', along with an archival concert recorded at the Paris L'Olympia), these reissues go deeper into the life – and afterlife – of three of the Quo's finest moments.
Format:
UK English