The Bad, The Bad And The Ugly: The Worst Album Covers Of All Time
For every classic album artwork there are thousands of eyesores that should be consigned to the bin. uDiscover salutes the worst album covers of all time.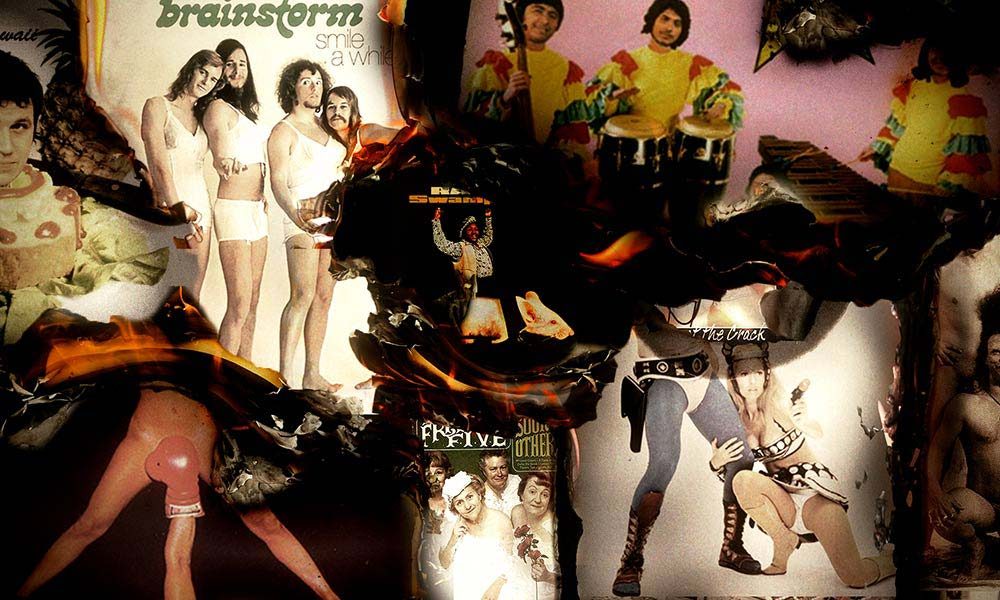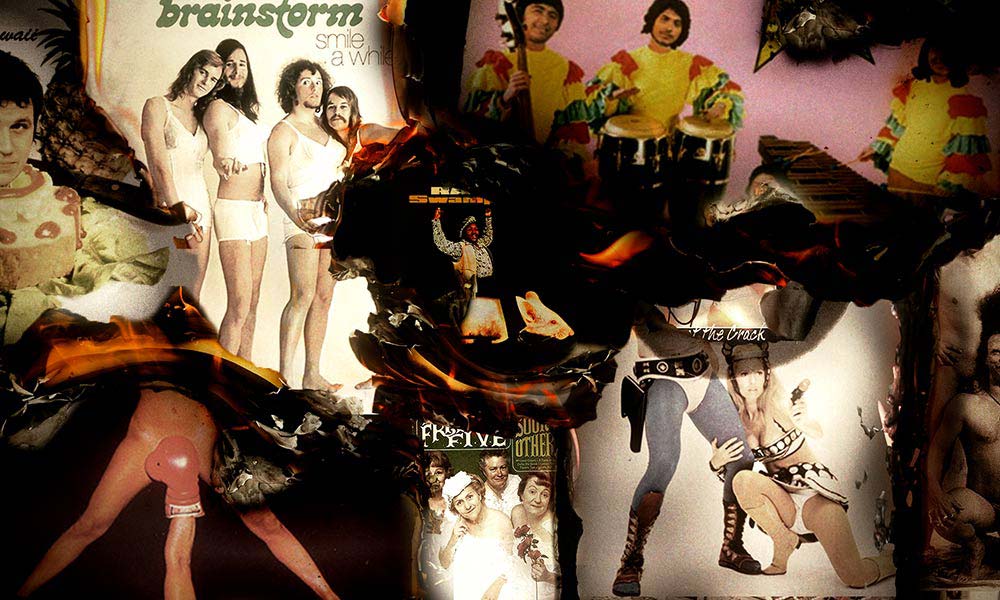 As the artwork housing albums as diverse as The Beatles' Sgt Pepper's Lonely Hearts Club Band and Sex Pistols' Never Mind The Bollocks… Here's The Sex Pistols bears out, the quality of a record can often be matched by the timelessness of its sleeve, regardless of its genre. Unfortunately, though, for every award-winning graphic, there are thousands that should have been consigned to the design studio's bin. Here, uDiscover salute 20 monumentally epic fails as we reveal the worst album covers of all time.
Tino Fernandez: Por Primera Vez
Discussing the design of their immortal Smell The Glove album cover, a confused Spinal Tap member posed the question: "What's wrong with being sexy?" The answer to that is provided by the sleeve to this 1983 album by Spanish heartthrob Tino Fernandez. Nice shorts, though.
Boxer: Below The Belt
Ever wondered why punk needed to happen? Look no further than the sleeve of this 1975 album, which – even by the standards of those less-than-PC times – beggars belief. In mitigation, Boxer's Ollie Halsall (aka Ollie Haircut) was also in ace pop parodists The Rutles.
CJ & Co: Devil's Gun
This innuendo-laden funk-soul monstrosity came straight outta Detroit in 1977. Decades later, its double entendre potential remains boundless.
The Frivolous Five: Sour Cream & Other Delights
This album of Tijuana-flavored, Herb Alpert-esque pop pastiche from 1966 includes a track called "Whipped Cream." On seeing this, it would appear the record label's design team had a collective light-bulb moment. The application of any other logic here, frankly, is too scary to countenance.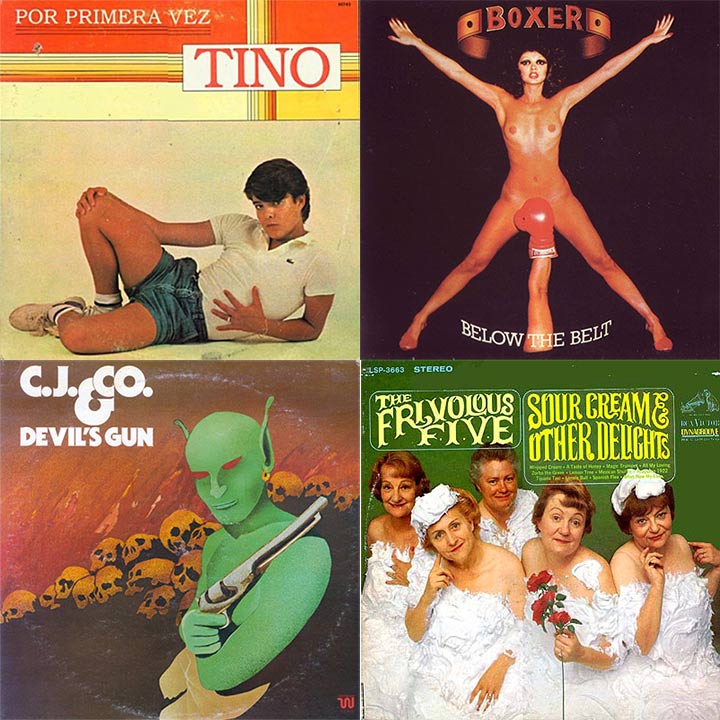 The Singing Postman: The Best Of The Singing Postman
Yes, the sleeve is unfeasibly bad, but there's a backstory. Allan Smethurst really was a Norfolk postman who hummed tunes on his round and (with help from EMI) later recorded them. He even won an Ivor Novello Award in 1966 for the novelty song "Hev Yew Gotta Loight, Boy?"
Señor Coconut: El Baile Alemán
Some of the worst album covers are married to some of the worst album concepts. Fancy some delightful, Latin-inspired reinventions of classic Kraftwerk numbers from the 70s and 80s, such as "Showroom Dummies (Cha-Cha-Cha)" and "Autobahn (Cumbia Merengue)," as performed by what appears to be the cruise ship cabaret band from hell? No, me neither, now you come to mention it.
Boned: Up At The Crack
If the laughably phallic sleeve art doesn't drop heavy hints that Boned are/were a metal-tinged pub-rock outfit, then love-pump-lickin' titles such as "Loaded On Love" and the delightful "Ain't No Talkin' With Your Mouth Full" (ahem) ram the point home. One for those mourning the demise of The Macc Lads.

Johnny Janot: Expose Yourself To Cajun Music & Johnny Janot
This (cough) lively collection of Cajun, gospel, and world music from the early 80s was sponsored by Swallow Records and features a track called "We Did It To One Another." If the cumulative effect of these double entendres, the sleeve design, and all-round appalling taste didn't conspire to kill off Johnny's career, we can only assume his unfortunate follow-up single, "My Dog, Sex," probably did.
Swamp Dogg: Rat On!
Proof that the worst album covers don't necessarily house the worst music: it's a damn shame this utterly ridiculous sleeve houses Rat On!, for in reality, it's a great lost album, originally issued by Elektra in 1971. If you're resilient enough to get past the heinous visuals, you'll be rewarded with a fab soul and funk record, featuring a terrific cover of Bee Gees' "Got To Get A Message To You."
Gerhard Polt: Leberkäs' Hawaii
If the wince-worthy artwork doesn't succeed in alienating the would-be consumer, the fact this German album's title translates as "Liver Cheese Hawaii" eliminates any lingering hopes that this 1981 comedy album may have harbored that all-important crossover success.

Li'l Wally: Polka A-Go-Go
Chicago-born entertainer Li'l Wally struggled to introduce the polka to the masses, despite a spate of albums during the 60s, including Polish Sex and the hopefully-titled Li'l Wally's Greatest 15 Hits Vol.1. Then again, his lack of creative visual control probably helped speed his beloved genre's premature consignment to the bargain bins.
Orion: Reborn
Many have suggested that the voice of James Hughes Bell (aka Orion) was indistinguishable from Elvis Presley, and his record company did little to refute the idea that some of his recordings were actually Elvis'. But then, they also tried marketing him as Roy Orbison with a Venetian mask fetish on the cover of the German edition of 1979's Reborn.
The Faith Tones: Jesus Use Me
There's big hair and then there are gargantuan hair helmets, such as those sported by this religiously-inclined Southern gospel harmony trio in the mid-60s. Even allowing for the fact that they were very different times, the mind cannot fail to boggle.

The Handsome Beasts: Beastiality
New Wave Of British Heavy Metal-era hard rock band The Handsome Beasts hailed from Nuneaton and hooked up with cult UK label Heavy Metal Records to release this unfortunately-titled (and worryingly collectible) album in 1981. Apparently the, erm, concept related to mankind evolving from pigs rather than monkeys. Potentially quite a cogent argument, until you actually see the sleeve… Not only one of the worst album covers of all time, but one of the worst album titles, too.
Dr. George Milstein: Music To Grow Plants By
A 1970 easy listening album which came with a packet of seeds and dossier-length sleevenotes on how to cultivate green fingers. Judging by the cover, the good doc had clearly taken his own advice as he appears to be trapped in an outtake from The Day Of The Triffids.
Die Angefahrenen Schulkinder: 15 Jahre Schrag
It's a brave man – or woman – who would dare try to explain the concept behind the cover of this 1997 indie-rock album. Seriously, what were they thinking?
Brainstorm: Smile A While
An unmitigated disaster among the wide range of disastrous decisions that have fed into the world's worst album covers. This West German jazz-prog quartet initially went by the name Fashion Prick. Explains it all, really.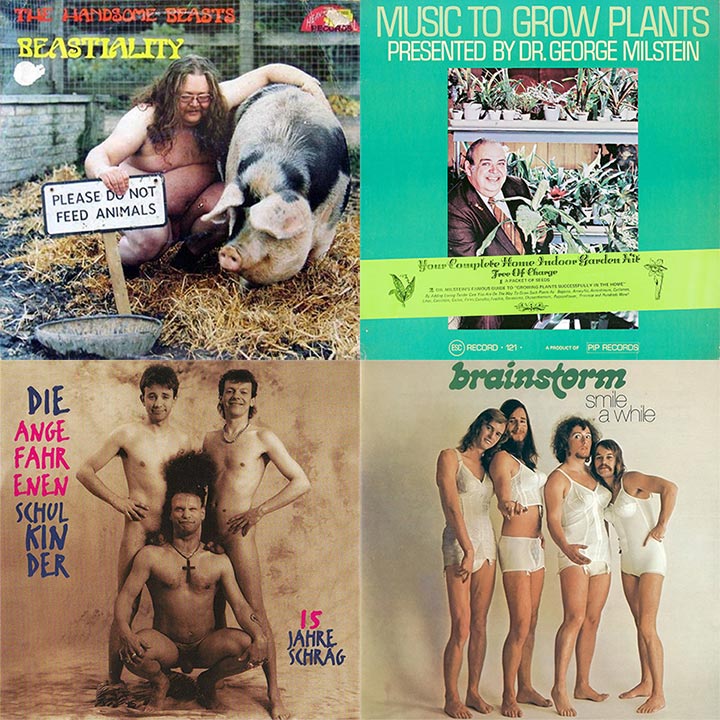 Windy Tuckus & The Brownsville Gospelaires Quartet: Blow Ye Horn
Another one laden down with double entendre potential. We have it on reliable authority, however, that Windy Tuckus did actually exist and wasn't just a euphemism for flatulence.
Country Church: Country Church
Motörhead may not have needed religion, but Oklahoma gospel outfit Country Church patently did. We wonder, however, if the rest of their local congregation donned hideous tank tops and Rupert The Bear-esque check trousers with such evangelical zeal?
Vienna State Orchestra: The Planets
An attempt to bring classical to a rock audience in the early 70s? A New Avengers audition gone horribly wrong? Whatever chemicals this label's PR team was on, we can only hope they have long since been taken off the market.

Wojciech Gassowski: Love Me Tender
Something of a hero behind the Iron Curtain, Warsaw-born singer, guitarist, and composer Wojciech Gassowski rose to prominence during the 60s as a jazz singer and then formed his own band, Test, during the 70s. Still celebrated at home, he released an album as recently as 2010's I Wish You Love. Released in 1981, his first solo album, Love Me Tender, appeared on Polish label Wifon, which went bankrupt in 1995. With art direction of this caliber, that's hardly surprising.
Edgar Winter Group: They Only Come Out At Night
No quibbles about the quality of the music contained herein. Issued by Epic in 1972, the debut album by this talented blues-rock outfit included chestnuts such as "Free Ride" and "Frankenstein," and it went to No. 3 on the Billboard 200, where it remained for 80 weeks straight. 'Nuff respect and all that, but suffice to say it's a very different story where the cover's concerned.
Pooh-Man: Funky As I Wanna Be
Somehow, Funky As I Wanna Be – issued by Jive in 1992 – became the only one of Californian gangsta rapper Pooh-Man's albums to crack the Billboard 200. Quite an achievement bearing in mind it's housed in a cover that appears to take a literal view of the rapper's name. These days, the album's also mind-bogglingly collectible, though it didn't yield fame, fortune or even notoriety for Pooh-Man, who was sentenced to seven years for armed robbery in 2000.

NOFX: Heavy Petting Zoo
You gotta give it up for veteran US punks NOFX, who have sold close on 10 million albums even though they never signed a major label deal – unlike their contemporaries Green Day, Bad Religion, and The Offspring. The widely-respected Epitaph label released 1996's Heavy Petting Zoo, and it charted at No. 63 on the Billboard 200 despite its bizarre cover art, which was banned in Germany. The band remains unrepentant, with bassist/vocalist Fat Mike later saying, "I like the cover, though, I think it sold well in Belgium."
Snatch: If The Party's In Your Mouth… We're Comin'
A 1985 EP with which these puerile posers from Long Island commit long, slow, flash metal suicide. All four songs are about rampant hedonism, the EP title is a double entendre-lover's wet dream, and the music makes Mötley Crüe seem subtle by comparison. Next.
Breakwater: Splashdown
Breakwater was a proficient enough disco-funk outfit from Philadelphia, who formed in 1971 and released two albums, including 1980's Splashdown, for Arista. They split shortly after, possibly due to image problems – which are all too apparent here. The concept could well have been to present them as a slick, Shalamar-esque outfit, but instead, their matching outfits make them look like a team of pest controllers, quite probably waiting to de-roach an especially ghastly communal shower. Perhaps music's loss was ultimately Rentokil's gain?

You haven't seen the worst of it yet… Check out the most controversial album covers of all time.
Or, if you need to give your eyes a break from such horrors, have a look at the most iconic album covers of all time.