The Who In '82 Coming To DVD
The Who's performance at Shea Stadium in October 1982, in support of their then-new album 'It's Hard,' is coming to DVD and Blu-ray. Eagle Rock Entertainment will release the concert, on DVD, standard-definition Blu-ray and digital video on June 29 (and June 30 in North America). As a preview, here's the version of 'Love Reign O'er Me' from that show.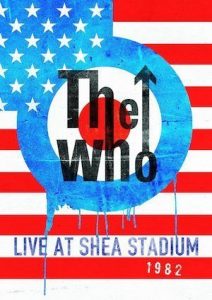 The package will feature newly-restored footage and newly mixed audio of an epic, 25-song show by the already legendary band. Among the track listing is a closing version of 'Twist and Shout.' performed by The Who in acknowledgement of the Beatles' famed shows at the location.
The North American tour, of which the Shea performance was part, marked the last North American tour to feature Kenney Jones, who had been The Who's drummer since the death of Keith Moon in 1978.
The full track listing for 'Live At Shea Stadium 1982' is as follows:
'Substitute'
'I Can't Explain'
'Dangerous'
'Sister Disco'
'The Quiet One'
'It's Hard'
'Eminence Front'
'Behind Blue Eyes'
'Baba O'Riley'
'I'm One'
'The Punk and the Godfather'
'Drowned'
'Tattoo'
'Cry if You Want'
'Who Are You'
'Pinball Wizard'
'See Me Feel Me'
'Love Reign O'er Me'
'Long Live Rock'
'Won't Get Fooled Again'
'Young Man Blues'
'Naked Eye'
'I Saw Her Standing There'
'Summertime Blues'
'Twist and Shout'
Format:
UK English