Steven Tyler
The Boston singer and songwriter has released a solo album alongside his career fronting legendary rock band Aerosmith.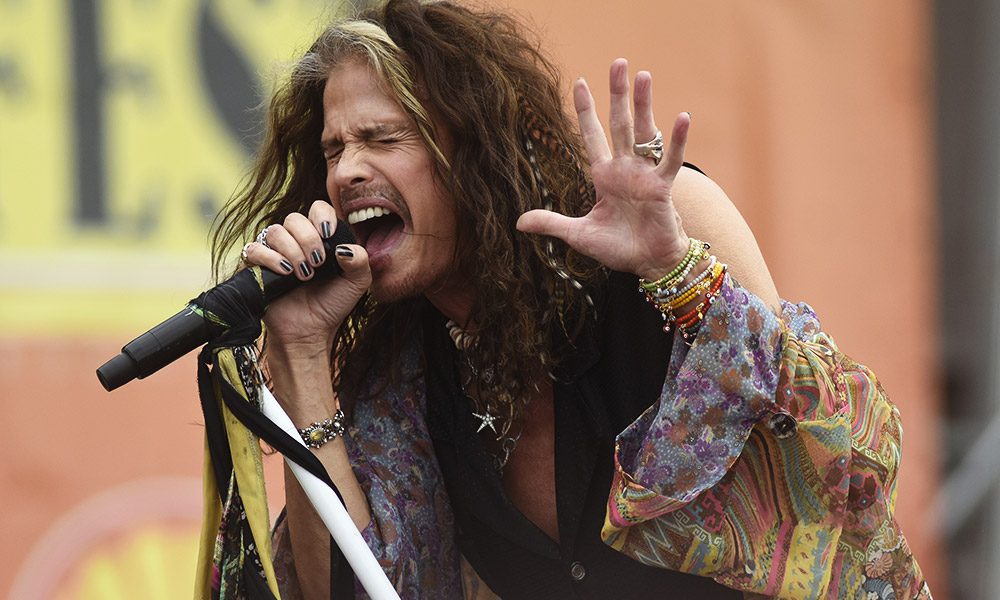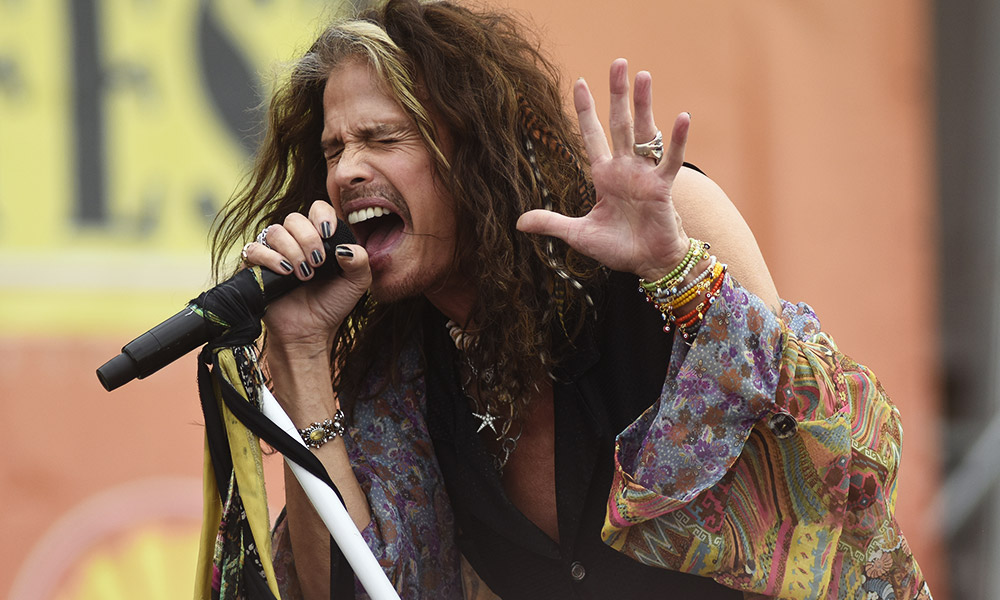 New York-born singer Steven Tyler is synonymous with the great Boston-based Aerosmith, that most heralded and awards-decorated outfit whose position at the forefront of best-selling American hard rock artists of all time – over 150 million records worldwide – sets them apart from the rest. Their four Grammy gongs are matched by six American Music Awards, four Billboard Music Awards, a brace of People's Choice accolades, 16 Boston Music Awards and induction into the Rock And Roll Hall Of Fame, in 2001. Regular Platinum-sellers whose classic albums include Rocks, Draw The Line, Pump and their most recent outing, Music From Another Dimension, Aerosmith are the proverbial bad boys who became part of the national fabric.
Given that Tyler's frontman credentials placed him centre-stage, his own legend as one of the hardest-working, hardest-living dudes in badass rock history is assured. But Tyler is also a natural-born survivor. As he drops his brand new solo debut, We're All Somebody From Somewhere, the buzz is palpable.
When news broke that Tyler was recording a country album, some may have stared in disbelief, but it makes perfect sense. As an artist, Tyler has seldom sat still: consider his work with Joe Perry on Run-DMC's cover of 'Walk This Way'; his collaborations with Alice Cooper and Santana; and then fast-forward to his liaisons with Chris Botti, Keith Anderson and the Australian singer-songwriter Orianthi. There is always rich melody amid the metal.
Musical achievements aside, Tyler is also an actor and, famously, a talent judge for American Idol, on which his wit and taste shine through. A man with so many skill sets and itchy feet was never going to limit himself to any one genre. Superstardom brings certain rewards for sure – like the opportunity to design for Dirico Motorcycles (he's an avowed enthusiast of two-wheel transport) – but Tyler also gives plenty back via charitable and consciousness-raising programmes, many on behalf of neglected or abused children. He may be known as one-half of The Toxic Twins (with Perry), but he's definitely one of the good guys: a family man and a genuine enthusiast for life and music in general.
Born Steven Victor Tallarico, in Manhattan, 1946, Tyler is a city boy who happened to be in the right place during the 60s, when pop music exploded. During a spell living in the buzzing Greenwich Village, Tyler queued up to catch a Rolling Stones show and, of course, managed to sneak backstage. That was kismet since once Aerosmith landed in 1973 with their brilliant eponymous debut, they were feted as America's own version of the Stones, breaking into the mainstream with 'Dream On' (an older Tyler composition), 'Sweet Emotion' and the original screeching 'Walk This Way', the song that became a hard rock epiphany.
The ups and downs that ensued are well documented, but the former prevailed once Get A Grip rehabilitated the group in 1993. The No.1 smash 'I Don't Want To Miss a Thing' followed in 1998: a real statement of healthy intent since Tyler took Diane Warren's lyric to heart and made it work perfectly for both him and the group.
As his own career path continued on an upward trajectory, it came as a pleasant surprise to find Tyler appear at Nashville's Grand Ole Opry in 2015 – during which time he took the opportunity to announce his country solo debut. A long-time lover of The Everly Brothers, Buddy Holly, Patsy Cline, Dan Hicks And His Hot Licks, Johnny Horton and Janis Joplin, Tyler's new move was a perfect fit. Collaborating with Eric Paslay, Hillary Lindsey, Cary Barlowe, Nathan Barlowe and Lindsey Lee Taylor, the endeavour was cloaked in secrecy for a time, until Tyler was ready to burst out the traps.
When asked if he was serious about the project, Tyler replied, "Like a heart attack." Even before sessions were completed for We're All Somebody From Somewhere, with T-Bone Burnett at the helm, the main man was delighted to talk up his love for Nashville. "I mean the vibe here in Nashville is ridiculous," he said. "The passion, the soul. There's still a big soul beating here, whereas in a lot of other places… it's kind of dead because business took over. Here, it's still alive, and the passion fuels that, and I'm right stuck in the middle of it. So, I'm loving it, and I can't wait to get on the tour with my country band, if you will."
The first single, 'Love Is Your Name', signalled that intent with its use of the autoharp (think both The Carter Family and The Lovin' Spoonful), and Steven Tyler continued to extol his love for the music. "Country, to me, has always been oversimplified, by an accent, a truck, cowboy boots, a dirt road, a back porch," he asserted. "But I think it's more about freedom and pride and hard work and the girl. And knowing everybody's first name in town, you know? There were 1,200 people in my town when I grew up. That, to me, is country." He added, "Country music is the new rock'n'roll. It's not just about porches, dogs and kicking your boots up. It's a whole lot more. It's about being real. And nothing is more real than understanding we're all somebody from somewhere."
T-Bone aside, Tyler also worked with Dann Huff, Marti Frederiksen and Jaren Johnston from the fantastic Cadillac Three, and has kept his rock credentials in the mix with a wonderfully realised remake of Aerosmith's Pump gem, 1989's 'Janie's Got a Gun'. It's one of many highlights on an album flooded with them. We love 'Sweet Louisiana' for that smoky Southern drawl, while the most recent singles, the title track and 'Red, White And You' (well fingered by Taste Of Country as "an unapologetic slice of good-time commercial country, slickly produced and with a lyric aimed squarely at the work-hard, play-hard values of country's core audience"), made significant inroads into a plethora of charts.
Elsewhere, the acoustic insight of 'My Own Worst Enemy' recalls classic Exile On Main St-era Stones, while 'Gypsy Girl' is so down-home authentic you could hitch it to saloon doors. For something more barn-storming, however, stomp all over 'The Good, The Bad The Ugly & Me' – it's vintage Tyler with a wailing blues lurch that raises the roof.
The album closes on a genuinely affectionate tip o' the Stetson to Janis, with a glorious interpretation of the Ragavoy & Burns number 'Piece Of My Heart' – though, this being Tyler in soul mood, he's as aware of the Erma Franklin cut as he is the Big Brother & The Holding Company blueprint. Few would have had the audacity to try a song this well known, but Tyler pulls it off the as only he can ably abetted by his grand six-piece country outfit, The Loving Mary Band (which includes long-time Aerosmith friend Fredericksen).
On the title cut, Steven Tyler nails his colours to the mast, referencing "Seattle coffee", "Memphis Blues", "fine red wine" and "cheap brown whiskey". Attaboy. It's a modern American travelogue that's bound to induce wanderlust.
While no one could accuse Tyler of late development, it's intriguing to note that this is his first truly solo project. So what if he took his time? It was well worth the wait.
Format:
UK English