Virgin: The Eclectic Years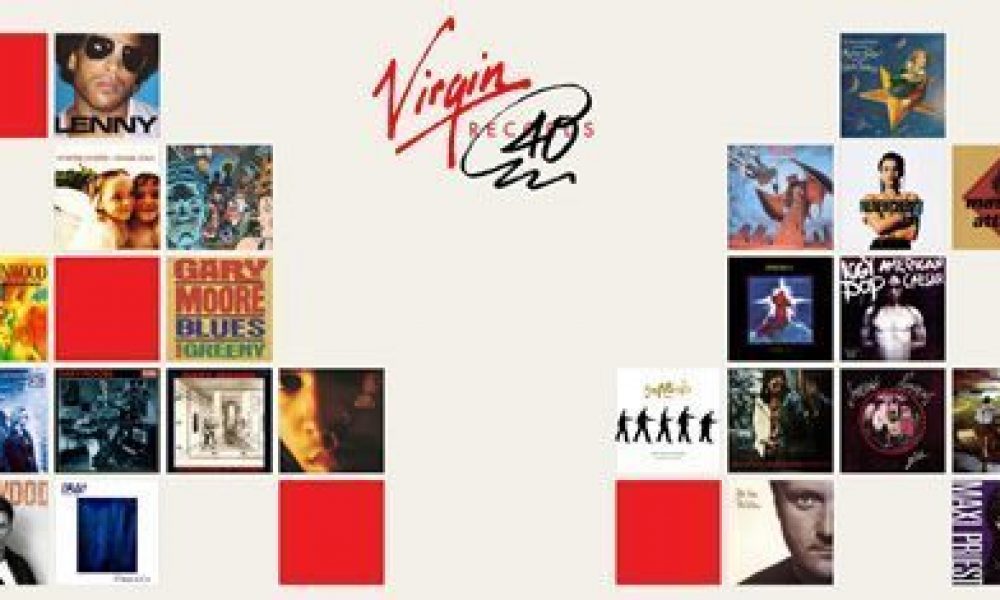 Virgin Records began life as a very independent-minded label in the 1970s, one with a definite sound and idiosyncratic direction. As the company expanded in the 1980s, by nurturing some great new talent, it released some of the best records of the decade. By the 1990s music was entering a very different phase – there were diversity issues  – popular music was increasingly made up of many different styles with no dominant sound.
There was everything from the reggae of Maxi Priest to Punk prince Iggy Pop, the blue-eyed soulful rock of Steve Winwood to the urban soul of Soul II Soul, and not forgetting Lenny Kravitz whose music incorporated just about every style into a unique blend of rock, soul, and funk. Gary Moore's blues-rock was released alongside the Pop-Prog of It Bites and the alternative rock of the Smashing Pumpkins. While Meat Loaf had been around for a decade and more his signing to Virgin in 1993 showed he still had the audience in the palm of his hand. From the new cool school that came along in the 90s there is Neneh Cherry and Massive Attack, musically very different but both were hugely successful. And then there's the enigma that is Enigma. No one could quite define their music, but they were a worldwide phenomenon that became the kind of international success that no one could have predicted
Enigma completely defied classification – much like Virgin records in the 1990s. The Eclectic Years is a celebration of how one label can be so many different things, to so many people, through a range of music that is a mirror of popular culture.
When Virgin was bought by EMI in 1992 it could all have been very different. Virgin could have lost its identity, instead, it was allowed to maintain its spirit of independence and flourish anew. This was what helped make Virgin the exciting label it has become; It had the ethos of an independent with the muscle of a powerful major behind it.
Virgin was able to attract the kind of acts that it might previously have struggled to appeal to; it was helped in this by the spread of the label to become a global brand. Virgin's eclecticism is no better illustrated than with the artists that are featured in this, the third in our features to celebrate the 40th anniversary of Virgin Records.
By 1993 it was one of the most successful labels in the UK, with 6 No.1s on the album charts, Meat Loaf's Bat out of Hell II, Genesis – Live The Way We Walk, Lenny Kravitz ­- Are You Gonna Go My Way, Janet Jackson – Janet, UB40 – Promises and Lies and Phil Collins' Both Sides.
Throughout the decade Virgin had hit after hit. Virgin both reflected the state of music in the 1990s and also set the pace, creating the music scene through its very divergent roster.
There were probably some people that thought when Virgin signed Meat Loaf his career was all but over. It had been close to seven years since his last album, one that performed poorly, and so it was on the cards that Bat out of Hell II would do little better. Instead, it topped the UK and US charts and become one of the best selling albums of the 90s. It was helped by the huge success of 'I'd Do Anything for Love (But I Won't Do That)' a duet with Lorraine Crosby, billed as Mrs. Loud, that went to No.1 in well over a dozen countries around the world.
Lenny Kravitz's debut for Virgin was in 1989, the super Let Love Rule, which became a modest hit in America and the UK. It was his third album, Are You Gonna Go My Way that took the multi-instrumentalist, singer and producer onto another level. Sales were fuelled by the album's title track, which was a No.1 single in the UK and reached No.2 in America.
If Meat Loaf was an unusual signing then Iggy Pop took the concept to a whole new level. Having fronted the Stooges since the late 1960s Iggy recorded his solo debut in 1977 and released another five solo albums before recording his A&M debut, Blah, Blah, Blah, in 1986. Four years later along came his Virgin debut, the eclectic and brilliant Brick by Brick, produced by Don Was. It spent almost a year on the Billboard charts, helped by several tracks getting strong radio play, including the wonderful 'Livin' On the Edge of the Night', which featured in the movie Black Rain, and 'Candy', which made the US top.30; it was not something that Iggy was used to doing – it was his only solo single ever to chart in America. For many his follow up album, 1993's American Caesar, was one of the strongest of his career.
Like Iggy Pop, Steve Winwood made his solo album in 1977; his was for the Island label, having fronted the Spencer Davis Group, before forming Blind Faith with Eric Clapton and then Traffic. Unlike Iggy, Steve was a regular on the charts with four of his solo albums making the UK bestseller list, including the brilliant, Talking Back To The Night. Steve signed to Virgin and released his debut, Roll With It, in 1988. The single of the same name topped the Billboard chart and helped the album make the top in America and No.4 in the UK.
As if to prove the point conclusively that Virgin was eclectic then Neneh Cherry's debut, Raw like Sushi, is perfect. The Swedish born stepdaughter of American trumpeter Don Cherry combined rap with jazz and rock overtones to produce something entirely different. The lead single 'Buffalo Stance', which included samples from Rock Steady Crew's 'Are You Ready?' and sax break Miami's 1974 song 'Chicken Yellow', was a massive hit, making No.3 in both America and the UK.
Released a few weeks before Neneh Cherry's album, Britain's Soul II Soul's debut, Club Classics Vol. One, was exactly that. It featured the hit singles 'Keep on Movin' and 'Back to Life (However Do You Want Me)'; the latter made No.1 on the UK charts and became the 5th biggest selling single on 1989. The album made No.1 and the band's follow-up a year later, Vol. II: 1990, A New Decade, also made No.1. Founded by Jazzie B. the band created a unique British urban soul palate that has inspired many of Britain's Black teenagers over the past three decades.
Londoner Max Elliot, who adopted the name Maxi Priest, was the child of Jamaican's who had moved to the UK and so it was inevitable that his music was influenced by reggae. Hisself-titled album in 1988 proved to be his breakthrough with its cover of Cat Stevens's 'Wild World', which became a UK hit driving sales. The album Bonafide became his biggest seller with the rapping reggae sound of 'Close To You' a constant presence on radio during the summer of 1990.
Evidence of Virgin's growing international reputation was their signing of Chicago's the Smashing Pumpkins, the alternative rock band who first came to attention with their 1991 debut, Gish. By the time of their third studio album, 1995's wittily titled double CD, triple LP, Mellon Collie and the Infinite Sadness, they were topping the US album charts, helped in no small way by the lead single, the amazingly catchy 'Bullet with Butterfly Wings', which entered the Billboard chart at No.1 – hooks are what make great singles.
If the Smashing Pumpkins were new school then Gary Moore was very definitely old school. Steeped in the blues the brilliant guitar playing Moore worked with Thin Lizzy before releasing his debut album, Grinding Stone. Moore's Virgin debut was Corridors Of Power in 1982. Having been mentored by Fleetwood Mac's Peter Green, Moore released the excellent Blues For Greeny (1995) on which he played his hero's 1959 Gibson Les Paul.
It was his 1990 album, Still Got The Blues, with its hit single title track that helped Gary become a blues great. To hear just what a sensitive blues guitar player sounds like, check out 'As The Years Go Passing By' from the same album… White men can play the blues. Gary Moore passed away in 2011, aged 58; we lost a great.
It Bites were very definitely their own school. The Cumbrian band led by singer and guitarist Francis Dunnery were a revelation when they released their debut, The Big Lad In the Windmill (1986). Their sound has been described as everything from metal to art rock to pop to prog, truth is they had their own unique music; Pop-Prog may well be a better way of describing what they did. Prog Rock is not music generally associated with catchy melodies but It Bites' debut is full of wonderful hooks. It's no better illustrated than their debut hit, 'Calling All The Heroes', which made the UK top.10, but just listen to 'You'll Never Go To Heaven', a ballad, or their second single, 'Whole New World'.
Some bands are impossible to categorise as they invent their own category. They have been called 'the progenitors of the trip-hop genre'. Massive Attack's debut album Blue Lines, released in 1991, included the single 'Unfinished Sympathy', which is rightly considered as groundbreaking and one of the best singles of the last thirty years. As founder member Grant "Daddy G" Marshall said, "We used to hate that terminology [trip-hop] so bad… As far we were concerned, Massive Attack music was unique, so to put it in a box was to pigeonhole it and to say, 'Right, we know where you guys are coming from.'" Their catalogue of brilliant albums certainly bears him out. Completely unique and massively different.
And then there is the enigma that is Enigma. They have been called 'New Age', but that certainly fails to capture what this unique band which was formed in 1990 by the Romanian-born Michael Cretu is all about. Their debut MCMXC a.D. (1990) was eight months in the making and ended up topping the charts in 41 countries. It was certainly one of the records that made Virgin such an attractive financial proposition for EMI when they decided to buy the label. Almost inevitably their 1993 album The Cross of Changes failed to emulate the colossal success of their debut, but it is arguably a better and more interesting album, which includes the smash hit 'Return To Innocence'.
So there you have it. Virgin Records, in its third decade not resting on its laurels, striving for success and offering a greater diversity of music than any label of comparable size. Indeed throughout the 1990s, it punched above its weight, taking on the major labels and proving that eclectic is beautiful.
For more information on the Virgin 40th Anniversary celebrations please visit: www.virgin40.com
To learn more about the history of Virgin Records check out our features on The Early Years and The Electric 80s.
Format:
UK English