Albert King's Seminal 'Born Under A Bad Sign' For Special Edition Reissues
The vinyl and hi-res digital versions will celebrate the blues master's centennial this year.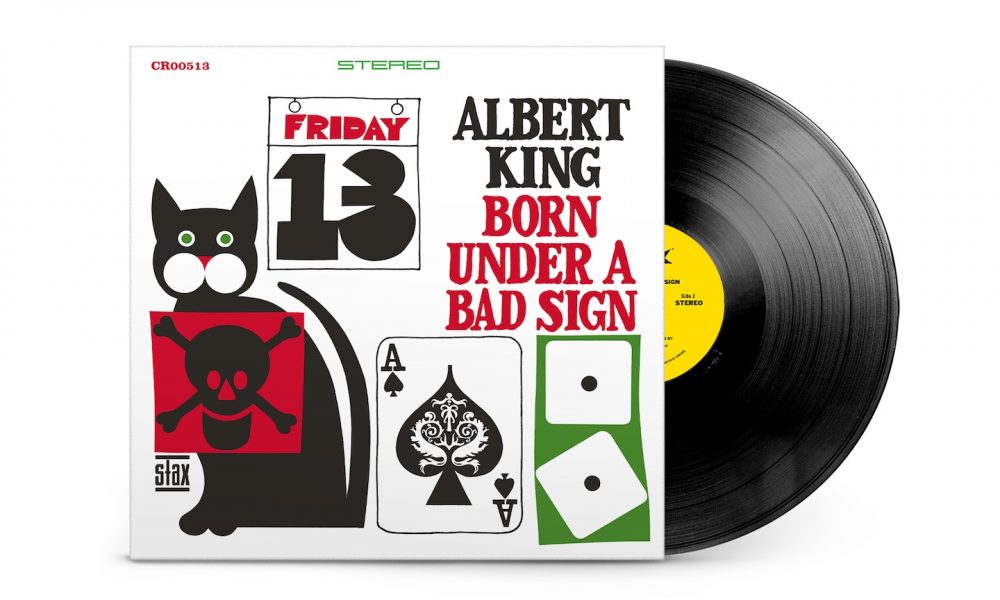 Albert King's seminal Stax Records debut album Born Under a Bad Sign will be reissued in special editions by Craft Recordings on April 21, to celebrate the blues master's centennial this year.
The influential 1967 LP will be available in special vinyl and hi-res digital editions, and will be pressed on 180-gram vinyl with (AAA) lacquers cut from the original stereo tapes by Jeff Powell at Take Out Vinyl. The hi-res digital (192/24 and 96/24) and SACD editions have been mastered from the original stereo tapes by Kevin Gray at Cohearent Audio), exclusive to StaxRecords.com and CraftRecordings.com.
Albert King – Born Under A Bad Sign - 2023 Reissue (Official Trailer)
This staging-post blues release blues featured an all-star line-up of musicians, including Booker T & the M.G.'s and members of the Memphis Horns). Highlights include King's original recording of "Born Under a Bad Sign" as well as enduring favorites such as "Laundromat Blues," "Oh Pretty Woman," and "Crosscut Saw."
King, routinely known as one of the "Three Kings" of the blues alongside his unrelated namesakes Freddie and B.B., Albert King (1923–1992) was one of the most influential artists in the history of the genre. Known both for his dextrous electric style – most often on his Gibson Flying V – and his distinctively husky vocals, King combined an urgent Delta blues style with contemporary soul rhythms that brought the blues to a new generation.
The self-taught artist, born on a cotton plantation in Mississippi, taught himself how to play the guitar upside-down, funding his musical ambitions with various jobs and moving north to Gary, IN, where he recorded his first singles and played alongside kindred blues spirit Jimmy Reed. King then moved again to the St. Louis area, building a club following and releasing his first Top 20 R&B hit, 1961's "Don't Throw Your Love on Me So Strong."
Born Under A Bad Sign (Mono Mix)
Eventually settling back in the south in Memphis, he signed with the mighty Stax, expanding his sound with in-house collaborators including Jones, Steve Cropper, and William Bell. R&B hits ensued such as 1966's "Laundromat Blues," then "Crosscut Saw" and Bell and Jones' composition "Born Under a Bad Sign." The track soon became a blues staple, King's original inspiring versions by Cream, the Paul Butterfield Blues Band, Big Mama Thornton, and Bell's own recording.
The album of the same name included those singles as well as such originals as "The Hunter," written by Booker T. & the M.G.'s, and Carl Wells; "Personal Manager" (by King and David Porter); and King's own composition "Down Don't Bother Me." The LP also featured his readings of such established songs as Leiber & Stoller's "Kansas City" and Ray Noble's "The Very Thought of You."
The album was a huge influence on such blues devotees as Eric Clapton, Led Zeppelin, Jimi Hendrix, and Stevie Ray Vaughan, as King's star rose to the status of playing such venues as the Fillmore West and sharing the stage with major rock names.
Born Under A Bad Sign was inducted into the Grammy Hall of Fame and the Blues Hall of Fame, and added to the Library of Congress's National Recording Registry. It also featured among Rolling Stone's 500 Greatest Albums of All Time, and its title track in the Rock and Roll Hall of Fame's list of "500 Songs That Shaped Rock and Roll."
Pre-order the special editions of Born Under A Bad Sign, which are released on April 21.