The Band To Release 50th Anniversary Edition Of 'Music From Big Pink'
The album draws from the American roots music panoply of country, blues, R&B, gospel, soul, and rockabilly and has been widely acclaimed.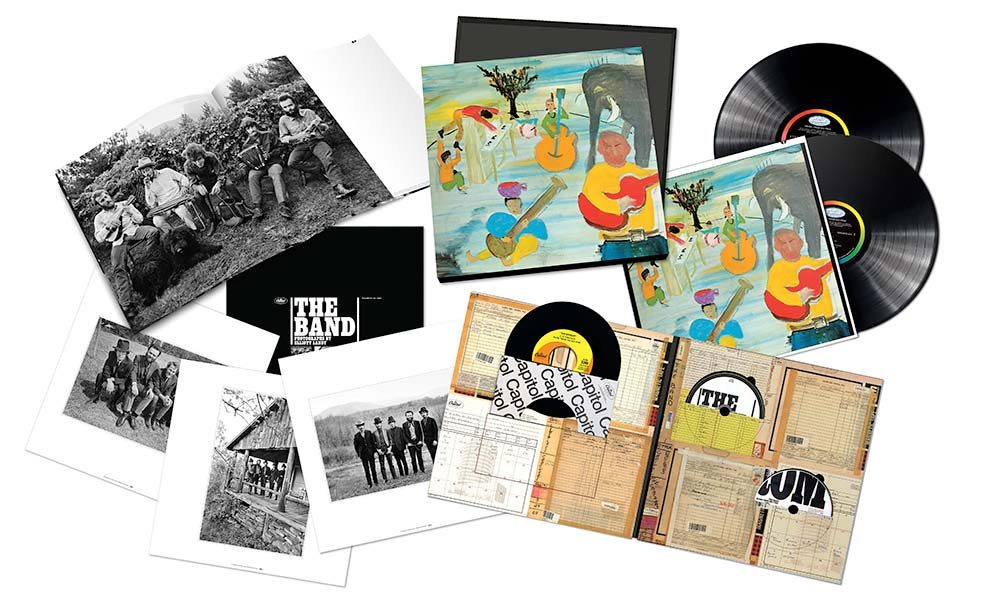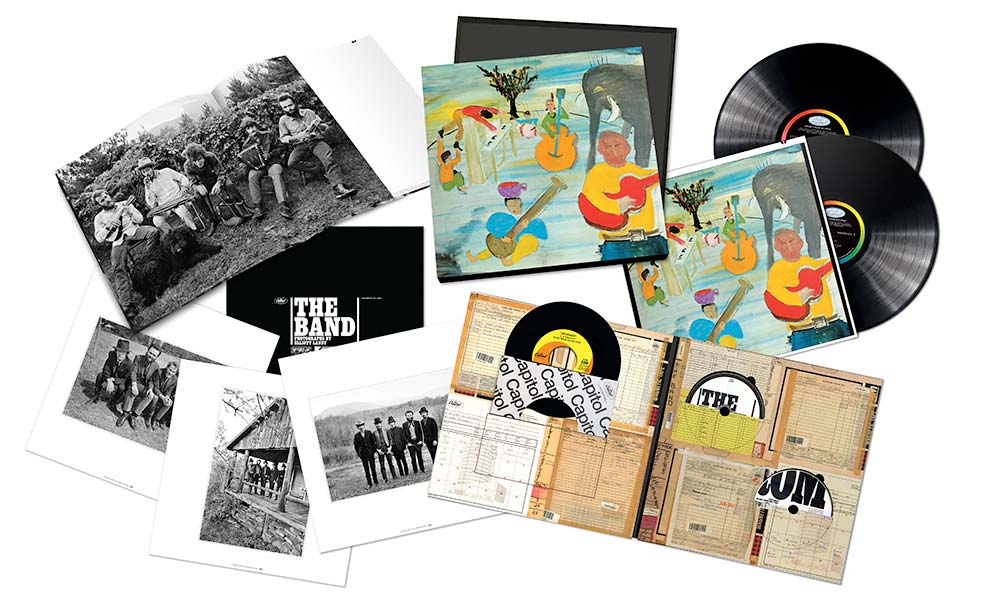 The Band are set to release a newly-remixed and expanded 50th anniversary edition of their landmark debut album Music From Big Pink through Capitol/UMe on 31 August.
The album will be available in a variety of formats including a Super Deluxe CD/Blu-ray/2LP/7-inch vinyl box set with a hardbound book; 1CD, digital, 180-gram 2LP black vinyl, and limited edition 180-gram 2LP pink vinyl packages. All the Anniversary Edition configurations feature a new stereo mix for the album, produced by Bob Clearmountain from the original four-track analog masters, achieving a striking clarity and incorporating some previously unreleased chatter from the studio sessions. The 50th Anniversary Edition's CD, digital, and box set configurations also include five outtakes and alternate recordings from the 'Big Pink' sessions and a previously unreleased a cappella version of "I Shall Be Released.
Exclusively for the box set, Clearmountain has also produced a new 5.1 surround mix for the album and the bonus tracks, presented on Blu-ray with the new stereo mix in high resolution audio (96kHz/24bit). All the new audio mixes have been mastered by Bob Ludwig at Gateway Mastering. The box set also includes an exclusive reproduction of The Band's 1968 7-inch vinyl single for "The Weight" / "I Shall Be Released" in their new stereo mixes and a hardbound book with a new essay by noted music journalist David Fricke and classic photos by Elliott Landy. For the album's new vinyl editions, Chris Bellman cut the vinyl lacquers for the album's new stereo mix at 45rpm at Bernie Grundman Mastering, expanding the album's vinyl footprint from one LP to two. The black and pink vinyl LPs were pressed at GZ Vinyl / Precision.
Originally released on 1 July, 1968, Music From Big Pink, seemed to spring from nowhere and everywhere. Drawing from the American roots music panoply of country, blues, R&B, gospel, soul, rockabilly, the honking tenor sax tradition, hymns, funeral dirges, brass band music, folk, and rock 'n' roll, The Band forged a timeless new style that forever changed the course of popular music. Fifty years later, the mythology surrounding Music from Big Pink lives on through the evocative storytelling of its songs including 'The Weight,' 'This Wheel's On Fire,' 'Tears of Rage,' and 'To Kingdom Come,' its enigmatic cover art painted by Bob Dylan, the salmon-colored upstate New York house – 'Big Pink' – where The Band wrote the songs, and in myriad descendant legends carried forth since the album's arrival.
The Band "Music from Big Pink (50th Anniversary Edition)" Unboxing
Before naming themselves The Band, the group's members shared an extensive collaborative history. Between 1960 and 1962, then-teenaged multi-instrumentalists Levon Helm (drums, vocals, mandolin), Robbie Robertson (guitar, piano, vocals), Rick Danko (bass, vocals, fiddle), Richard Manuel (keyboards, vocals, drums), and Garth Hudson (keyboards, horns) first performed and recorded together as members of Ronnie Hawkins' backing band, the Hawks. In late 1963, the Hawks struck out on their own and became Levon & the Hawks, playing and recording under this name in 1964 and 1965.
In 1965, Robertson met with Bob Dylan in New York, just as Dylan was seeking an electric guitarist for his touring band. All the former Hawks backed Dylan on the road from October 1965 through 1966 as he incensed audiences in the U.S., Australia and Europe, performing electric sets. Disheartened by the vocally disdainful 'folkie purist' audience response to their first plugged-in performances with Dylan, Helm left the group in November 1965.
After the 1966 tour concluded, Robertson, Danko, Manuel, and Hudson woodshedded for the next year at the 'Big Pink' house in West Saugerties, New York, often in the company of Dylan, who lived in nearby Woodstock. Helm re-joined them in October 1967 and The Band was born, as the group wrote new music and prepared to record their first full-length album. Robbie Robertson recalls, "The harmonies started to blossom. The thing just kept growing." 'Big Pink' was a refuge, a creative lair for The Band and for Dylan, who recorded sessions there that were soon bootlegged as "The Basement Tapes."
For Music from Big Pink's recording sessions, The Band traveled to New York's A&R Recording and Los Angeles' iconic Capitol Studios, with some additional session work done at Gold Star Studios in LA. David Fricke sets the scene in his essay for the new box set's book: "The album was made just as The Band wrote and played the songs in that house – in a circle, as if in ceremony…"
Released during a long, turbulent season of war and socio-political unrest, and sandwiched between other culture-shifting 1967-'68 albums by The Beatles (Sgt. Pepper's Lonely Hearts Club Band and 'The White Album'), Jimi Hendrix (Axis: Bold As Love), and The Rolling Stones (Beggars Banquet), Music from Big Pink astonished critics.  Al Kooper reviewed the album for Rolling Stone, writing, "Music from Big Pink is an event and should be treated as one… There are people who will work their lives away in vain and not touch it."
While Music from Big Pink achieved moderate success upon release, peaking at No. 30 on the Billboard 200 chart, it is recognized as one of the most important albums in popular music history. In his 1975 book Mystery Train, Images of America in Rock 'n' Roll Music, Greil Marcus explained, "The richness of 'Big Pink' is in The Band's ability to contain endless combinations of American popular music without imitating any of them. The Band don't refer to their sources any more than we refer to George Washington when we vote, but the connection is there."
In 1989, The Band was inducted into Canada's Juno Hall of Fame and five years later they were accorded the same honor by the Rock and Roll Hall of Fame. In 2008, The Band was honored with The Recording Academy's Lifetime Achievement Award.
The 50th-anniversary edition of Music From Big Pink is released on 31 August. Scroll down to read the full tracklist and pre-order it here.
The Band: Music From Big Pink: 50th Anniversary Edition:
CD, digital: 2018 stereo mix (included in the box set and available individually)
'Tears Of Rage'
'To Kingdom Come'
'In A Station'
'Caledonia Mission'
'The Weight'
'We Can Talk'
'Long Black Veil'
'Chest Fever'
'Lonesome Suzie'
'This Wheel's On Fire'
'I Shall Be Released'
Bonus Tracks:
'Yazoo Street Scandal' (Outtake)
'Tears Of Rage' (Alternate Take)
'Long Distance Operator' (Outtake)
'Lonesome Suzie' (Alternate Take)
'Key To The Highway' (Outtake)
'I Shall Be Released' (A Cappella)
Blu-ray:
Tracklist above in new 5.1 surround mix + 96kHz/24bit high resolution stereo (exclusive to the box set)
'The Weight':
Reproduced 1968 7-inch single (exclusive to the box set)
A: 'The Weight'
B: 'I Shall Be Released'
Format:
UK English