Billie Eilish Stars In First Episode Of 'Billions Club: The Series'
In the episode, Billie prepares a poolside snack for her beloved pitbull, Shark.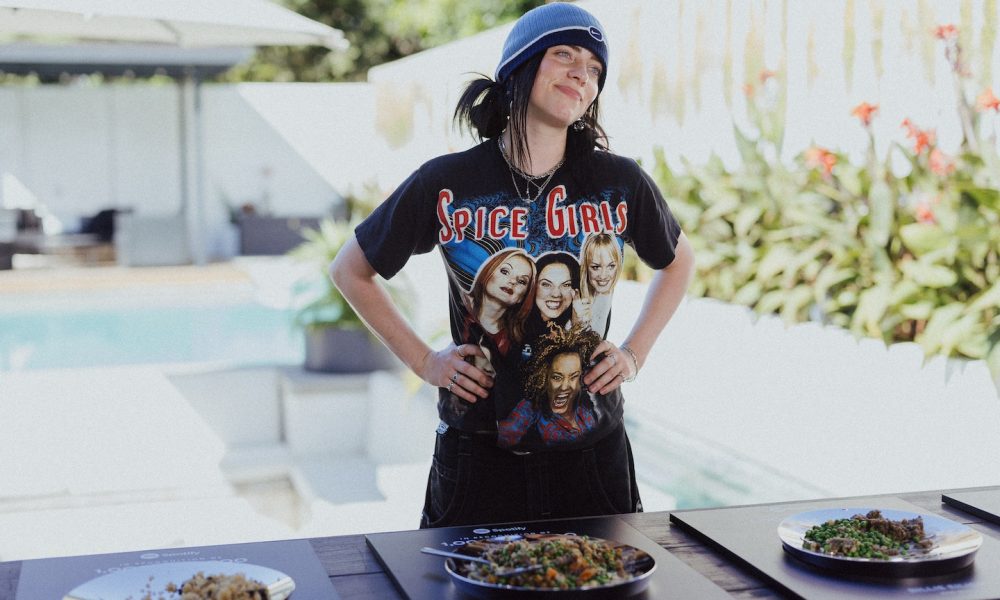 "Billions Club: The Series," from Spotify, features artists celebrating the career milestone of surpassing one billion streams on Spotify. Episode one focuses in on Billie Eilish. Check it out below.
Shop the best of Billie Eilish's discography on vinyl and more.
Just two years after she first released Happier Than Ever, Billie Eilish is kicking off the series to celebrate the album's title track entering into Billions Club. Fans can tune in as Billie prepares a poolside snack for her beloved pitbull, Shark, using all of the Billions Club plaques she's received to date including the ones for her hit tracks "lovely (with Khalid)," "when the party's over," "bad guy," "everything i wanted," and "ocean eyes."
Spotify | Billions Club: The Series featuring Billie Eilish
"People really hear me in that song, and it feels really good. And it's really nice to feel like people relate and feel connected in that way" said Eilish of "Happier Than Ever" reaching one billion streams.
Earlier this week, it was announced that Eilish and her brother Finneas officially received a diamond certified single. On Monday (July 31), the singer took to Instagram to express her excitement of her 2019 smash hit, "Bad Guy," receiving the Recording Industry Association of America's highest honor.
"Bad Guy" went diamond…HUUUUUHHHHHHHHHHHHHHH??????????" she captioned a photo of herself in the all yellow outfit from the track's music video. "Forever and ever grateful for this silly little song man. love you guys so much its stupid @finneas."
Finneas, her brother who produced the single, reposted Eilish's post to his Instagram Stories and added, "This is f_ing crazy actually."
Established in 1999, RIAA diamond certifications are awarded to singles or album that have sold a minimum of 10,000,000 units in its lifetime.
"Bad Guy" stands as Eilish's most successful single to date — the track rose to No. 1 on the Billboard Hot 100 in August of 2019 and spent a total of 49 weeks on the chart. Released as the fifth single from Eilish's debut album, When We All Fall Asleep, Where Do We Go?, the track helped the LP peak at No. 1 on the Billboard 200.
Listen to the best of Billie Eilish on Apple Music and Spotify.