Billy Bragg Says "Americana's Not A Bad Place To Be At 60" In Exclusive Long Road Interview
Billy Bragg has found favour with country and Americana fans since his landmark 'Mermaid Avenue' Wilco collaboration.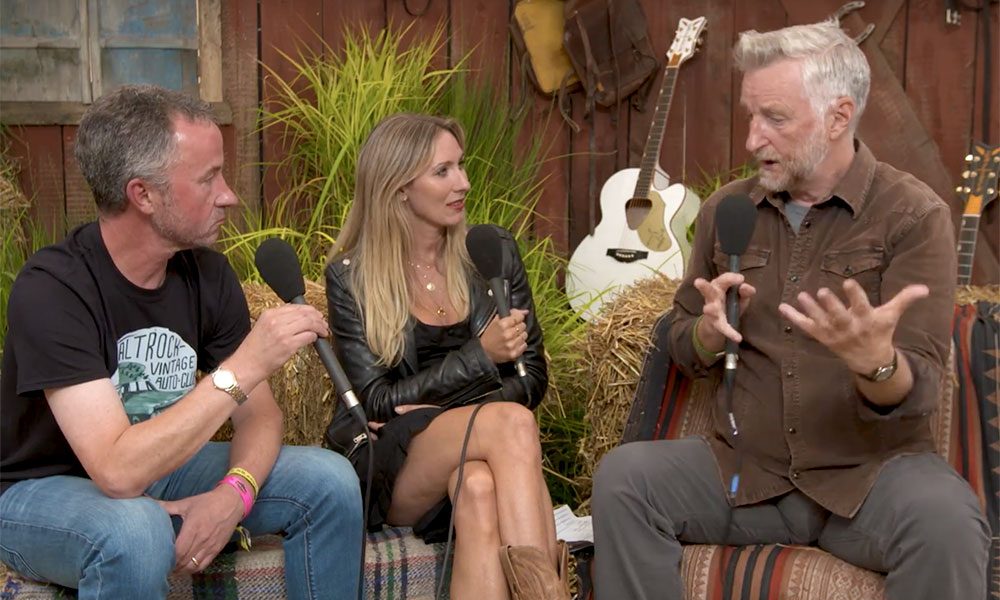 His impassioned blend of pop and politics has ensured Billy Bragg has remained one of Britain's best-loved singer-songwriters over the past four decades. Since he recorded the acclaimed Woody Guthrie tribute Mermaid Avenue with Wilco in 1998, however, he's found favour with Americana fans of all stripes, so he was inevitably one of the biggest draws at the inaugural Long Road Festival in Leicestershire.
As ever, the self-styled Bard of Barking remains one of the most genial of interviewees, so with uDiscover Music's Kylie Olsson and Paul Sexton, he was happy to sit down on the hay bales and discuss a wide range of topics prior to his Sunday night slot, including his own changing role in the 21st Century music scene.
"When I started, I was having feelings about girls, and I found it was very confusing, but I made sense of it by writing songs", he said of his time as a young singer-songwriter learning his craft. "It's exactly the same with politics, I'm just trying to make sense of what's going on. It seems nonsensical. How do you explain Donal Trump or the weird situation we've got into with Brexit? How do you explain it or where we're going?"
"So as I see it, the job of any artist is to offer people a different perspective from whatever they're generally getting", he continued. "Music's still a great way to do that, 'cos you get such a great buzz back. If you're writing a book or making a film, you don't get that immediate fire back that you do from standing on a stage and performing."
Discussing the artists that first fired Billy Bragg up as a performer, Bob Dylan's name inevitably came up.
"He [Dylan] always looms large, but with Woody Guthrie behind him and then Leadbelly", Bragg mused. "Leadbelly is the giant of Americana. Even Woody Guthrie looked at Leadbelly the way Dylan looked at Woody to inspire. [Guthrie] looked at Leadbelly as the nexus from which so much American folk culture came from. To think of Leadbelly as just a blues man's like thinking Louis Armstrong was just a trumpet player!"
In relation to his standing in the country and Americana fraternity, Bragg also described himself as "a late developer."
"I'm really appreciated, not just by the Americana movement in the UK, but also in Nashville, they've been very kind to me, so I'm very pleased to be part of that," he confessed. "I felt very fortunate because of my work with Wilco on Mermaid Avenue and my work with [producer] Joe Henry. Americana's not a bad place to be at 60!"
We're giving away a Gretsch guitar SIGNED by many of the artists that performed at The Long Road Festival! For your chance to win, enter here.
Format:
UK English