The Bocelli Family Announce Deluxe Edition Of 'A Family Christmas'
The new edition, which features six bonus tracks, will arrive on November 10.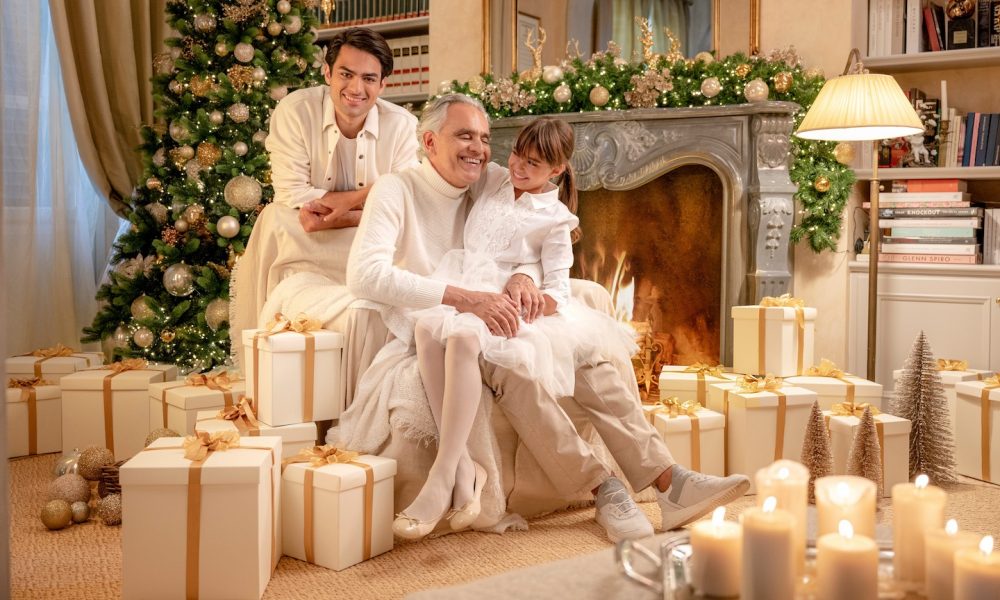 A Family Christmas—the Bocelli Family's first album together—was the best-selling new Christmas album of 2022 in the U.S. This year, internationally renowned tenor Andrea Bocelli teams up with his 26-year-old son Matteo Bocelli and his 11-year-old daughter Virginia Bocelli to unveil four brand new holiday recordings plus six bonus tracks on A Family Christmas (Deluxe Edition), scheduled for release on November 10 via Decca/Capitol Records.
"Let It Snow," the first single, was released today along with the official video, which features Andrea and Virginia performing the beloved holiday song. Check it out below.
Andrea Bocelli, Virginia Bocelli - Let It Snow
A Family Christmas (Deluxe Edition) also features the newly recorded songs "Silver Bells," "E' Natale!," and "Winter Wonderland." The six bonus tracks include "Do You Hear What I Hear," which the Bocelli Family recorded with one of the most innovative, inventive, and inimitable vocal groups of all time, Pentatonix. The album also includes the iconic "Feliz Navidad (with The Simpsons)," taken from the Disney+ short "The Simpsons meet the Bocellis in 'Feliz Navidad'." It also includes an exclusive new version of the enchanting "The Greatest Gift," a song that Andrea wrote with composer and multi-Grammy and Academy Award nominee Stephan Moccio (Celine Dion, The Weeknd, Miley Cyrus, Barbra Streisand), Amy Wadge, and Jonas Myrin. Moccio also produced the album and contributed new arrangements.
For Andrea Bocelli, the most celebrated classical singer in modern history, the chance to work with Matteo and Virginia on this album has been a source of great joy. He explains, "In this album, I rediscover the values that give meaning and strength to my life. Being able to celebrate Holy Christmas singing with my children is a great blessing. Sharing this enriched content is our way of renewing our good wishes to you and symbolically embracing the larger family, of which we are all a part."
The album captures the Bocelli festive spirit in full flow, with new renditions of traditional carols arranged for all three voices. Each of the three Bocelli performers gets a chance to shine on the album with solo tracks, duets, and trios.