Brandee Younger Announces Impulse! Debut, 'Somewhere Different'
The genre-bending harpist and composer's new album is set for release on August 13.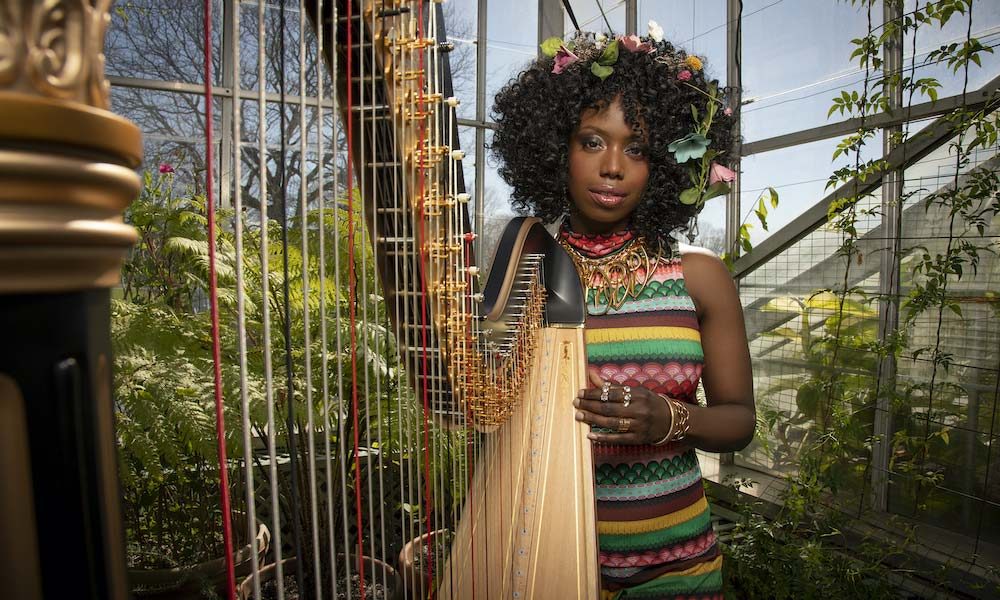 Harpist and Composer Brandee Younger announces her major label debut album, Somewhere Different, set for release August 13 on Impulse! Records. The genre-busting set is a seamless fusion of classical music, R&B, hip-hop, jazz and funk with the new bounce-infused single "Reclamation" out now. You can check the track out below.
Brandee Younger - Reclamation (Visualizer)
Recorded at the legendary Van Gelder Studios and in New York City from November 2020 to February 2021 Somewhere Different expertly showcases Younger's ethos of weaving genres that pay homage to her predecessors while forging new sonic ground. The eight-track collection, Produced by Dezron Douglas, features Allan Mednard on Drums, Rashaan Carter on Bass, Trumpeter Maurice Brown, Tenor Saxophonist Chelsea Baratz, Flutist Anne Drummond, and Drummer & Drum Programming by Marcus Gilmore. The set also features a Special Appearance by legendary Bassist Ron Carter on "Olivia Benson" and "Beautiful is Black", and Guest Vocals from Tarriona "Tank" Ball from Tank and the Bangas on "Pretend."
Overall, the album touches on a vast number of themes without losing focus. The lush soundscapes of the musical tracks encapsulate the contemporary musical hybrid that represents Brandee's newfound artistic liberty. As told to music journalist and author Marcus J. Moore, who wrote the liner notes for the record, Younger states, "I hope it is enjoyable to listen to, not hard to listen to, nothing to be analyzed or over-analyzed, but that people will just enjoy it. Everything has a groove, and that's me."
Widely recognized as a musician who is willing to push boundaries, Brandee Younger has shared the stage with jazz leaders and popular hip-hop and R&B luminaries including Ravi Coltrane, Maxwell, John Legend, Pharoah Sanders, Common, and Lauryn Hill. Her original composition "Hortense" was also featured in the Beyoncé documentary Homecoming. Recently, she was featured on Apple's 2021 unprecedented Juneteenth Album, collaborating with Grammy Award Winning Artist Terrace Martin.
Somewhere Different is out August 13 and can be pre-ordered here.
Somewhere Different track listing:
"Reclamation"
"Spirit U Will"
"Pretend" (feat. Tarriona "Tank" Ball)
"Somewhere Different"
"Love & Struggle"
"Beautiful Is Black"
"Olivia Benson"
"Tickled Pink"