Darius Rucker, Marcus King & More Confirmed For Gibson Garage Fest Week
Shows run from Monday, June 6 TO Sunday, June 12 at the Gibson Garage in downtown Nashville, TN.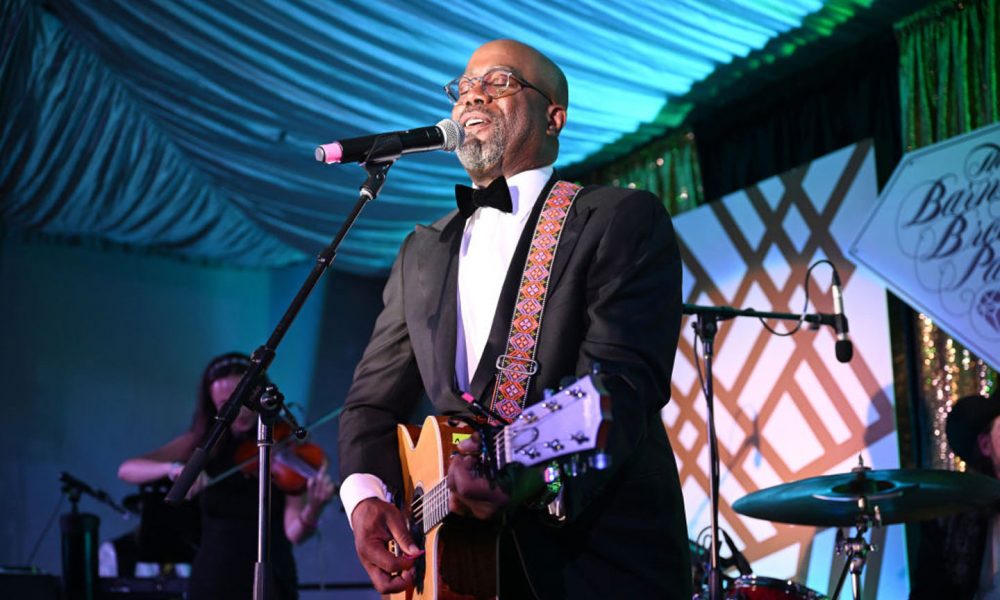 Gibson will launch Gibson Garage Fest Week–a celebration of Gibson's past, present and future of shaping sound through generations and genres of music–from Monday, June 6 – Sunday, June 12 at the Gibson Garage (209 10th Ave. South #209, Nashville, TN) in downtown Nashville, TN.
Falling on the one-year anniversary of the opening of the Gibson Garage – Nashville's newest music experience and must-see destination for guitar lovers – Gibson Garage Fest Week will kick off with live performances from music superstars and the hottest emerging CMA artists.
Gibson Garage Fest Week is open to the public and will feature intimate, live music performances and experiences, daily at the Gibson Garage.
Fans can attend artist Q&A's, participate in guitar-playing lessons with world-renowned experts, and interact with the iconic guitar brand Gibson–as well as its philanthropic arm Gibson Gives, to win one-of-a-kind music prizes, experiences, and support the music community of Music City USA, Nashville.
Gibson Garage Fest Week performances and events kick off at the Gibson Garage on Monday, June 6 with Matt Heafy – frontman and guitarist of Trivium- giving guitar lessons to School Of Rock-Nashville students alongside Gibson's G3 youth players. On Tuesday, June 6, Matt Heafy will launch his new guitar collection at the Garage with a fan Q&A, short demo, and Livestream.
Later that evening, fans can catch an intimate, live performance from Heafy at the "Matt Heafy at the Gibson Garage benefitting Gibson Gives". All proceeds from the performance will go to Gibson Gives, which supports the global music community through its mission to create, develop, and fund non-profit organizations worldwide in their efforts to advance musicians, youth-focused education, music, and health and wellness initiatives.
On Wednesday, June 8 there will be live music on the Garage stage with Gibson G3 players, as well as Brandy Zdan, and powerhouse performance from singer-guitarist Orianthi.
Thursday, June 9–the official one-year anniversary of the opening of the Gibson Garage–features a full day of performances and events starting with Darius Rucker visiting the Garage stage at 9:00am for a special music performance and donation presentation from Gibson Gives to the National Museum of African American Music (NMAAM) fund for music education.
For one-day-only on Thursday, fans will have the chance to win "Gibson Golden Pick" prizes by reaching into the MESA/Boogie amplifier–in the center of the Garage–and grabbing a pick. Many prizes will be awarded at the Garage at 6:00pm, including the ultimate "Golden Pick" Grand Prize which includes: A Gibson Made-to-Measure Custom Guitar; A tour of the Gibson Custom Shop in Nashville and a tour of the Gibson Garage Vault.
Next up at the Garage, will be blues guitarist Kirk Fletcher, followed by Hannah Dasher, Danielle Bradbery, Elvie Shane, Filmore, Cooper Alan, Ernest, and a surprise guest TBA. Also, on Thursday June 9 Gibson will take over the parking lot across from the Garage with the Gibson Truck, Photo Opps, free swag, and the chance to take a spin at the Gibson Gives Wheel and win prizes to support the foundation.
On Friday, June 10 live performances at the Gibson Garage will include Laci Kaye Booth, Callista Clark, country guitar lessons with world-renowned instructor Marty Schwartz, and more music from Tiera, Honey County, and Temecula Road.
Saturday, June 11 will be another full day of music featuring Meghan Linsey, Ashley Cooke, Chip Esten and special guest, Eric Paslay, Phangs, a special set from blues phenomenon Marcus King, and a performance from Stephanie Quayle. Sunday June 12 will feature music from Sean Stemaly, Alana Springsteen, Parmalee, and Love and Theft.
The new Gibson Garage is the place to explore Gibson's past, present, and future. Inside the Gibson Garage, fans can plug in and play all things Gibson, Epiphone, Kramer, MESA/Boogie, Maestro, and KRK, catch their favorite artist on the Garage stage, try out the full line of electric and acoustic guitars, and shop for your favorite guitar, apparel, gear, and accessories. Whether you are a seasoned professional musician, a casual guitar player, a beginner, or simply a music fan, the Gibson Garage is open to all, and the new, must-see destination in Nashville.
Listen to the best of Darius Rucker on Apple Music and Spotify.