Watch The Latest Episode Of Def Leppard's 'Behind The Stadium Tour' Video Diary
The on-going video series follows the band as they travel around North America on their tour in support of 'Diamond Star Halos'.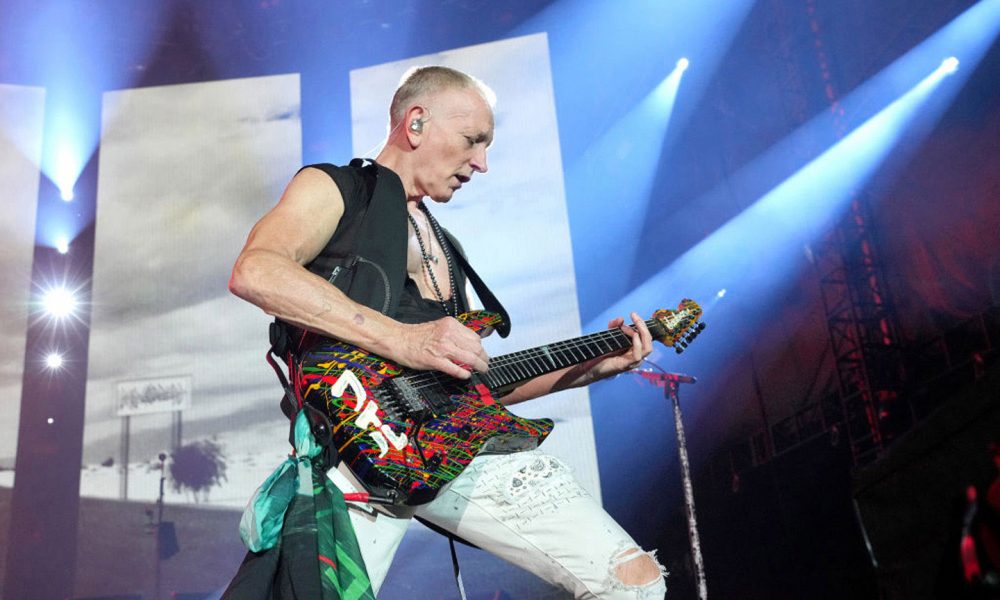 Since embarking on 'The Stadium Tour', their high-profile trek around North American arenas with Motley Crue, Poison and Joan Jett & The Blackhearts, Def Leppard have been sharing their 'Behind The Stadium Tour' video diary via their official YouTube channel.
In the first two episodes, the legendary British rockers reported back on their opening dates in Atlanta, GA and then in two Florida cities, Miami and Orlando, with the subtitle for the second episode ('Hot! Hot! Hot!') offering a clue to the hot, steamy temperatures. However, as the band reveal in the series' third episode – which you can watch in full below – the weather suddenly took a turn for the worse as they hit the US capital, Washington DC.
DEF LEPPARD - Behind the Stadium Tour - Episode 3: "The heavens just opened!"
"The tour's been great, so far", guitarist Phil Collen reflects in the new 'Behind The Stadium Tour' video. "We've been down to Florida and Atlanta, GA, but while the audiences have been very different, one thing's that's been consistent is the weather. It's been raining all the time and they're expecting a thunderstorm tonight – probably just as we go onstage. We shall see!"
As it turned out, Def Leppard's gig in Washington was indeed hit by extreme conditions, but it didn't stop these rock stalwarts from owning the stadium – at least until they were into the final strait of their live set.
"It rained again!" vocalist Joe Elliott laughs. "So much so that when we were finishing "Pour Some Sugar On Me", I got a message in my ear telling us to get off because there was a storm over our head and lightning too.
"But I have to say that when we did our acoustic set, the response from the audience tonight was phenomenal", he adds. "Thank you guys. See you in New York!"
So, did the weather hold for Def Leppard when they hit New York City and Philadelphia, PA on their tour? Watch the rest of this episode of 'Behind The Stadium Tour' to find out what happened next.
Watch every episode of 'Behind The Stadium Tour' on Def Leppard's official YouTube channel.