Def Leppard Shares New Video Blog From UK, European Leg Of 'The World Tour'
The band's stadium tour with Mötley Crüe began in Leppard's hometown of Sheffield, UK.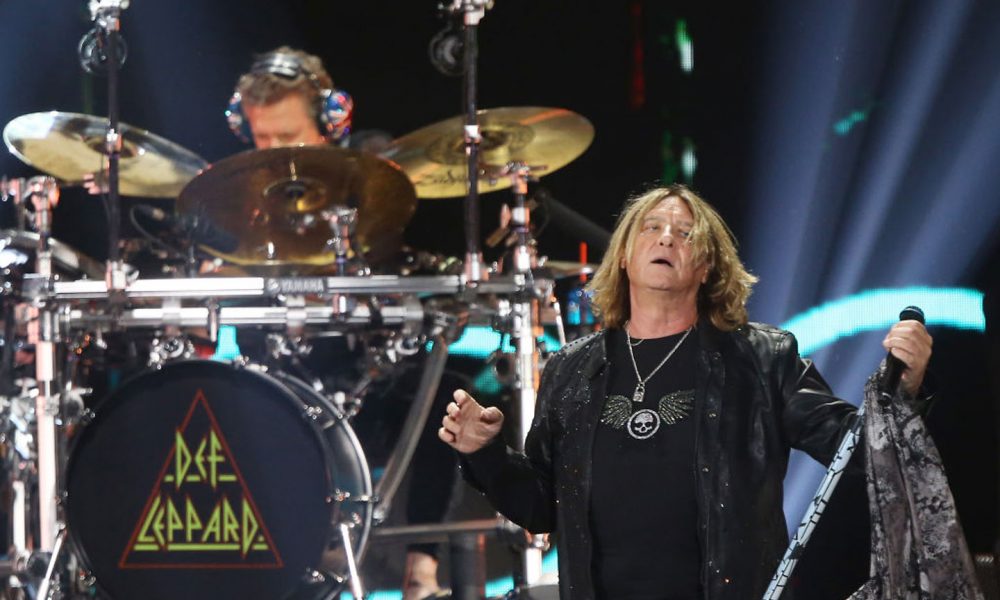 Def Leppard has shared a new video blog taking in the first three shows of the European leg of the band's "The World Tour" with Mötley Crüe, which saw them touch down in Sheffield, United Kingdom (May 22); Mönchengladbach, Germany (May 25); and Munich, Germany (May 27).
Shop the best of Def Leppard's discography on vinyl and more.
In the video blog – which you can watch in full on the band's official YouTube channel – vocalist Joe Elliott speaks of how it felt to return to the band's native Sheffield to open the UK and European leg of "The World Tour" at the Bramall Lane Stadium – also home of his favorite football team, Sheffield United.
"I don't live here anymore, but I was born here and Sav (Rick Savage) still lives here, so there's always a huge connection," Elliott muses.
"It's been an insane ten days here. Piano room performances, the [gig at] the Leadmill, book signings, record signings and rehearsals. It's really been a hardcore 10 days and what a way to nail it – we got promoted tonight, just like Sheffield United just got promoted back to the Premier League!"
Following on from "The World Tour's European leg, Def Leppard and Mötley Crüe will team up with Alice Cooper for a U.S. mini-tour this summer. The trek will kick off on August 5 in Syracuse, New York and include stops in the Midwest before concluding in El Paso, Texas on August 18.
Just prior to the UK and European leg of "The World Tour", Def Leppard released Drastic Symphonies, the much-anticipated new album which sees the legendary rockers teaming up with the UK's widely-renowned Royal Philharmonic Orchestra.
The new album finds some of the band's best-loved songs deconstructed and rebuilt with the majestic accompaniment of the iconic orchestra. However, while the record largely presents the original audio of Leppard classics, newly combined with the RPO, Drastic Symphonies also includes new vocals and guitars to create stunning new symphonic arrangements.
The album is now available on CD, 2LP black vinyl, limited edition 2LP colored vinyl, limited 2LP picture disc, CD/Blu-Ray (Atmos), and on digital platforms.