See Duke Ellington Play Movie Theme 'Anatomy Of A Murder' On 'Ed Sullivan Show'
The bandleader is seen playing part of the title piece, as well as the soundtrack's following song 'Flirtibird.'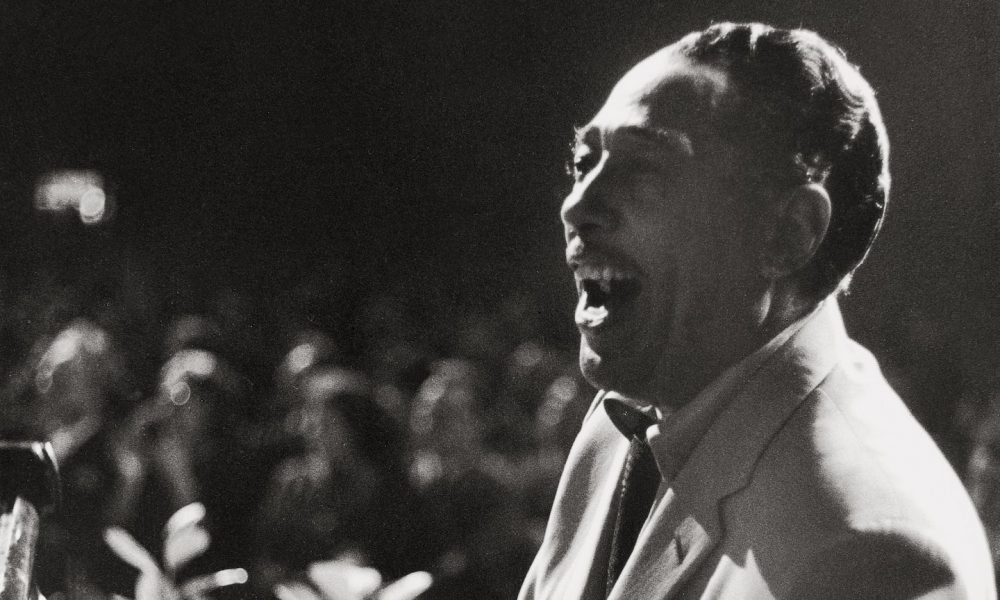 Duke Ellington's performance of two themes from a big movie score of 1959 has been newly remastered from the archive of The Ed Sullivan Show. The bandleader is seen playing part of the title piece from Anatomy of a Murder, as well as the soundtrack's following song "Flirtibird," on the June 28 edition that year of the celebrated variety series.
Ellington takes to the piano after greeting Sullivan at the top of the clip, in a show that also featured appearances by Frankie Avalon, Lloyd Price, and Jean Carroll. Duke would become a frequent visitor to the Sullivan show throughout the 1960s.
The courtroom drama Anatomy of a Murder, directed by Otto Preminger, was about to be released at the time of Ellington's booking on the show. Starring James Stewart, Lee Remick, and Ben Gazzara, the film opened in New York on July 2, 1959 at the Criterion and Plaza cinemas. It featured an uncredited appearance by Ellington himself, as "Pie-Eye."
Duke Ellington "Anatomy Of A Murder & Flirtibird" on The Ed Sullivan Show
Bosley Crowther wrote of the film in his New York Times review: "It is well nigh flawless as a picture of an American court at work, of small-town American characters and of the average sordidness of crime."
The soundtrack album, composed by Ellington with Billy Strayhorn, was recorded in May and June 1959 at Radio Recorders in Los Angeles. The players on the sessions included multiple saxophonists, Johnny Hodges among them, as well as Ray Nance on trumpet and violin, and James Johnson on drums.
The LP went on to win no fewer than three Grammy Awards, for Best Performance by an Orchestra – For Dancing, Best Musical Composition First Recorded and Released in 1959, and Best Sound Track Album, as those awards were described at the time. Within a few weeks of the Sullivan performance, Ellington and his orchestra were at one of Chicago's best-loved jazz spots to record their next album, Live at the Blue Note.
Watch all the latest archival videos from The Ed Sullivan Show on the program's official YouTube channel.