Elvis Costello And The Imposters To Embark On 'Summer Holiday' US Tour
Nick Lowe & Los Straitjackets will open all of the coast-to-coast dates on the 23-show tour.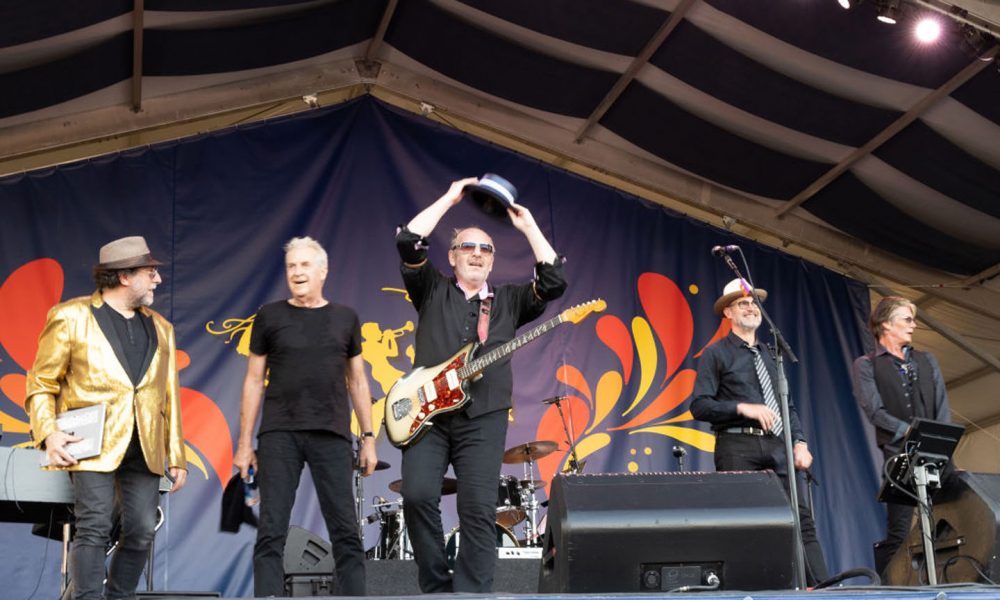 Elvis Costello & The Imposters – with their special guest Charlie Sexton – are proud to announce 'We're All Going On A Summer Holiday' – a 23 date tour produced by Live Nation. Commencing on June 7 in Vancouver, B.C. Canada, the tour includes stops at The Greek Theatre in Los Angeles and the Beacon Theatre in NYC. Nick Lowe & Los Straitjackets will open all of the coast-to-coast dates.
The general on sale for We're All Going On A Summer Holiday will begin Friday March 31, 2023 at 10am Local via Elvis Costello's official website.
Shop the best of Elvis Costello's discography on vinyl and more.
Since returning to the road in the summer of 2021, in the guise of 'Elvis Costello & The Layabouts,' E.C. and The Imposters – Steve Nieve, Pete Thomas, Davey Faragher and augmented by Texas guitarist Charlie Sexton – have undertaken three tours in the United States and one in the U.K. and northern Europe.
Most recently Costello played the highly-acclaimed "100 Songs and More", a ten-night engagement at the Gramercy Theater, NYC at which he played more than 230 original songs, repeating only three titles. The shows that began in solo performance went on to spring nightly surprises, involving everything from an ensemble including musical saw, fiddle and Uillean pipes to an eight-person Broadway vocal chorus led by M.D. Rob Mathes, duets with jazz bassist, Endea Owens and, from the halfway point, performing with Steve Nieve at the piano before adding two different horn sections, led by trumpet player and arranger, Michael Leonhart. The stand included guest vocal appearances by Rebecca Lovell, La Marisol and JSWISS and concluded with a more than three hour finale performance with the full band line-up.
The 'We're All Going On A Summer Holiday' dates will follow two headlining appearances at the Byron Bay Bluesfest in Australia, three nights at the Sydney Opera House and a show at the Palais Theatre in Melbourne. In May, Costello and Steve Nieve will return to the concert hall stage together for the first time in twenty years, in Reykjavik, Iceland. Further dates are planned for later in the year and will be announced shortly.
Since 2018, Costello has issued ten record releases; the most recent being, The Songs of Bacharach & Costello, a 4-CD, 2-LP box-set celebrating his nearly 30-year songwriting collaboration with Burt Bacharach. It was named Best New Reissue by Pitchfork. The Grammy Award-winning Elvis Costello and The Imposters album Look Now of 2018 was followed by the companion E.P., 'Purse' while a French language E.P., 'La Face Du Pendule à Coucou' followed the album, Hey Clockface – recorded in Helsinki and, Paris.
Together with co-producer, Sebastian Krys, Costello also completed work on Spanish Model – an adaptation of 1978's album This Year's Model with new vocals recorded in lyrical adaptation and translation with a cast of Latin music performers. In 2022, the latest Elvis Costello and The Imposters release, The Boy Named If, was followed into the stores by The Resurrection of Rust, – the recording debut after fifty years of Rusty – the duo of Liverpool-based singer-songwriters, D.P. MacManus and Allan Mayes, accompanied by The Imposters for new recordings of their 1972 repertoire including two Nick Lowe compositions from his days in the band Brinsley Schwarz.
Preparations for a return to the stage in 2021 (and again in the summer of 2022) led to the release of The Boy Named If (Alive at Memphis Magnetic), which found the band running down live arrangements of their new songs along with the Jagger/Richards song, "Out Of Time" and Nick Lowe's 1976 Dutch release, "Truth Drug". The collection was completed by a brand new version of "Magnificent Hurt" by the Japanese duo, chelmico.
D.P. MacManus and Lowe first met in a public house, opposite The Cavern in Liverpool in 1972. Lowe went on to produce "Elvis Costello's" largely ignored Stiff Records debut 45rpm, "Less Than Zero" and the subsequent failed singles releases, "Alison" and "Red Shoes", although the same songs received more attention upon the release of his debut album, My Aim Is True in July '77 in the U.K. and in a Columbia Records release late in the same year.
Between late 1977 and 1980, Nick Lowe produced the Elvis Costello and the Attractions albums, This Year's Model, Armed Forces, Get Happy and Trust. In the Spring of 1979, Elvis Costello and the Attractions and Mink Deville were joined by Rockpile – featuring both Nick Lowe and Dave Edmunds – and undertook a three-month package tour of the United States.
At this time, Costello's version of a song from the last Brinsley Schwarz album, "(What's So Funny 'Bout) Peace Love & Understanding" saw its first release as the B-Side of the Radar Records single, "American Squirm", credited to "Nick Lowe And His Sound" with the producer seen on the picture sleeve seated at the mixing board of Eden Studios in tinted horn-rims, cradling a Jazzmaster guitar with a newly inlaid fretboard reading, "Costello". The track was subsequently added to the U.S. edition of Elvis Costello and the Attractions, third album, Armed Forces.
In 1984, Costello took the producer's chair for the first and only time at a Nick Lowe session for the Hi Records-informed single, "L.A.F.S." which was also included on the F-Beat Records album, "Nick Lowe & His Cowboy Outfit". In the same year, the duo recorded the Burt Bacharach/Mack David/Barney Williams song, "Baby It's You" at Lowe's Am-Pro Studios in Shepherd's Bush, London, also the location for a Boxing Day (1979) recording session with Lowe's then father-in-law, Johnny Cash which yielded the hit release, "Without Love" and the Cash/Costello duet, "We Ought To Be Ashamed."
In 1986, Nick Lowe produced the Attractions' last complete album, Blood & Chocolate at Olympic Studios, before returning for a bass-playing cameo on "Hurry Down Doomsday (The Bugs Are Taking Over)" for the 1990 Warner Brothers album, Mighty Like A Rose. In 1993 Nick Lowe (or Costello himself) played bass on nine of the songs on the album, Brutal Youth, which some mistook for a full Attractions reunion. Prior to the upcoming 'Summer Holiday' tour, they most recently performed together last summer on ]The Boy Named If & Other Favorites' tour.
"We're All Going On A Summer Holiday" Tour Dates:
Wed Jun 07 – Vancouver, BC – Queen Elizabeth Theatre
Fri Jun 09 – Woodinville, WA – Chateau Ste. Michelle Winery
Sat Jun 10 – Bend, OR – Hayden Homes Amphitheater
Sun Jun 11 – Reno, NV – Silver Legacy Casino Reno
Tue Jun 13 – San Francisco, CA – Golden Gate Theatre
Wed Jun 14 – Ventura, CA – Ventura Theatre
Fri Jun 16 – Los Angeles, CA – Greek Theatre
Sat Jun 17 – Las Vegas, NV – Pearl Concert Theater at Palms Casino Resort
Sun Jun 18 – Phoenix, AZ – Arizona Financial Theatre
Tue Jun 20 – Oklahoma City, OK – The Criterion
Wed Jun 21 – Omaha, NE – Steelhouse Omaha
Fri Jun 23 – Hammond, IN – The Venue at Horseshoe Casino
Sat Jun 24 – Milwaukee, WI – Summerfest*
Sun Jun 25 – Nashville, IN – Brown County Music Center
Wed Jun 28 – Rochester Hills, MI – Meadow Brook Amphitheatre
Sat Jul 01 – Lenox, MA – Tanglewood*
Sun Jul 02 – Hampton Beach, NH – Hampton Beach Casino Ballroom
Wed Jul 05 – Bridgeport, CT – Hartford HealthCare Amphitheater
Thu Jul 06 – Boston, MA – MGM Music Hall at Fenway
Sat Jul 08 – Syracuse, NY – Landmark Theatre
Sun Jul 09 – Baltimore, MD – The Lyric
Wed Jul 12 – New York, NY – Beacon Theatre
Fri Jul 14 – Philadelphia, PA – The Met Philadelphia.
Listen to the best of Elvis Costello on Apple Music and Spotify.