Fall Out Boy Tease New Album In New Year's Fan Note
The band has been teasing new music since November.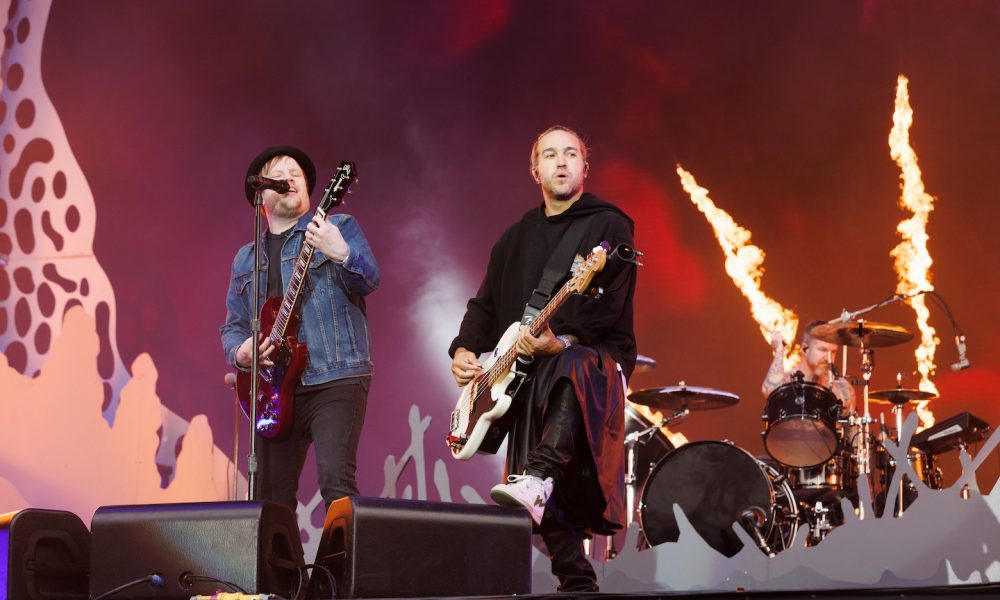 Fall Out Boy shared a new year's note to fans entitled "A Homeboy's Life," a letter that mentions new music on the way in 2023.
Shop the best of Fall Out Boy's discography on vinyl and more.
The band wrote, "We spent the last year jamming ideas in a tiny room [and] can't wait to share them with you." The letter also included a P.S. that read, "Thanks for always sticking around. Thanks for working the beat. Spoiler alert: we got more than a gold watch coming for you next year."
Last week, the band then delivered what appeared to be a preview of a new song in a video titled "A Claymation Fall Out Boy Celebration."
Back in November, the group took out an ad in the Chicago Tribune newspaper, featuring the words "FOB 8" followed by the phrase "If you build it, they will come," against a black background.
The band's mysterious, playful behavior continued in December when fans began receiving cryptic postcards with the title "Pink Seashell Beach."
Those postcards came with a message reading: "I saw you in a bright clear field. Hurricane heat in my head. The kind of pain you feel to get good in the end. Inscribed like stone and faded by the rain: 'Give up what you love give up what you love before it does you in…'"
They arrived alongside the launch of a website dubbed "sending my love from pink seashell beach," which was also promoted with the new claymation video. Upon entering the site, visitors can view the visual of a pink seashell etched with the phrase, "The answers are inside of this."
Another website, dubbed "sending my love from the other side," asks fans to "RSVP to the other side." Clicking a prompt, visitors were met with a form to send off their name, email, and physical address. A header on the site reads, "Welcome to the other side of the apocalypse," and clicking on the "O" in "other" will lead to the new FOB logo (donning a Santa hat) overtaking the splash page. More information on new Fall Out Boy music will surely be revealed soon.
Listen to the Best of Fall Out Boy on Apple Music and Spotify.