Florence + The Machine Releases Euphoric New Album 'Dance Fever'
Photo: Courtesy of Polydor Records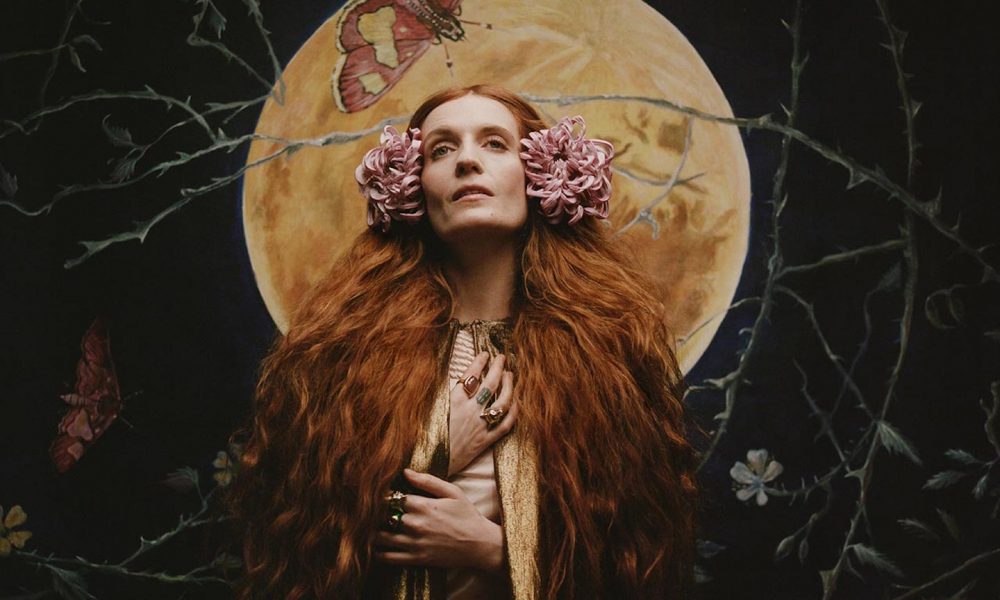 Florence + The Machine has released her new album Dance Fever, her first since 2018's critically-acclaimed High As Hope.
Following the singles "My Love," "Free," "King," and "Heaven Is Here," Florence Welch's fifth album brings ecstasy and euphoria inspired by missing clubs, dancing at festivals, and the feeling of togetherness that she missed during lockdown.
The record was produced by Welch, Jack Antonoff, and Dave Bayley, and finds its creator at the peak of her powers, coming into a fully realized self-knowledge, poking sly fun at her own self-created persona, playing with ideas of identity, masculine and feminine, redemptive, celebratory, and stepping fully into her place in the iconic pantheon.
Welch recently sat down with Apple Music's Zane Lowe to share more details about the album and discussed trying to embody Nick Cave, Leonard Cohen, and Iggy Pop on the opening track "King." "It came from a real conversation in a real kitchen, and then it went into this metaphysical archetypes world, and I think I was thinking about these male performers that I have idolized for so [long] – I was thinking about Nick Cave, I was thinking about Leonard Cohen," she explained.
"I was thinking about how, in some ways, although everyone undergoes huge changes, their physical bodies, especially moving through touring, have been allowed to remain unchanged… and they can commit their body entirely to the stage. These people that I had tried to follow in their exact footsteps, I was like, 'Oh my God, I can't do that. I'm not going to be able to do that. I'm going to have to make choices.'
"It's so funny because in the singing, I'm trying to still embody them. In the lower baritones, I'm trying to do a Leonard or a Nick, or an Iggy Pop was a really big reference, so it's this, 'I can do it.' It's this desperation of trying to hold onto this idea that I had about myself, all the while it is even being undercut by the song itself."
The musician also shared that she finds humor in the new record, alongside self-awareness – something that she has found "really liberating". Referring to "the things that perhaps I used to protect myself" that have fed into Florence + The Machine, like "mythologies and a creation", she said she could now "wink at it a bit more" and acknowledge that it's fantasy. "But it's like the self-awareness has allowed me to maybe take myself less seriously, as well, which has been kind of enjoyable on this record," she added.
In support of the record, Florence + The Machine will embark on a world tour later this year, beginning in North America in September, before moving to the UK and Europe at the end of the year, and Australia and New Zealand in 2023. View full dates and ticket info here.