George Harrison Tribute 'Concert For George' To Be Screened In US Theaters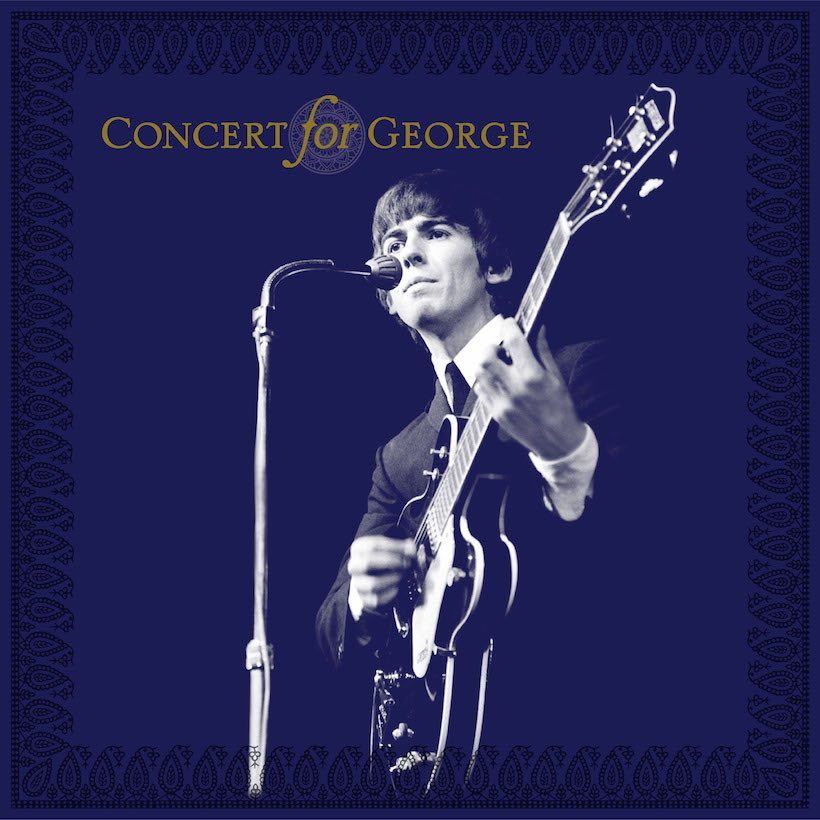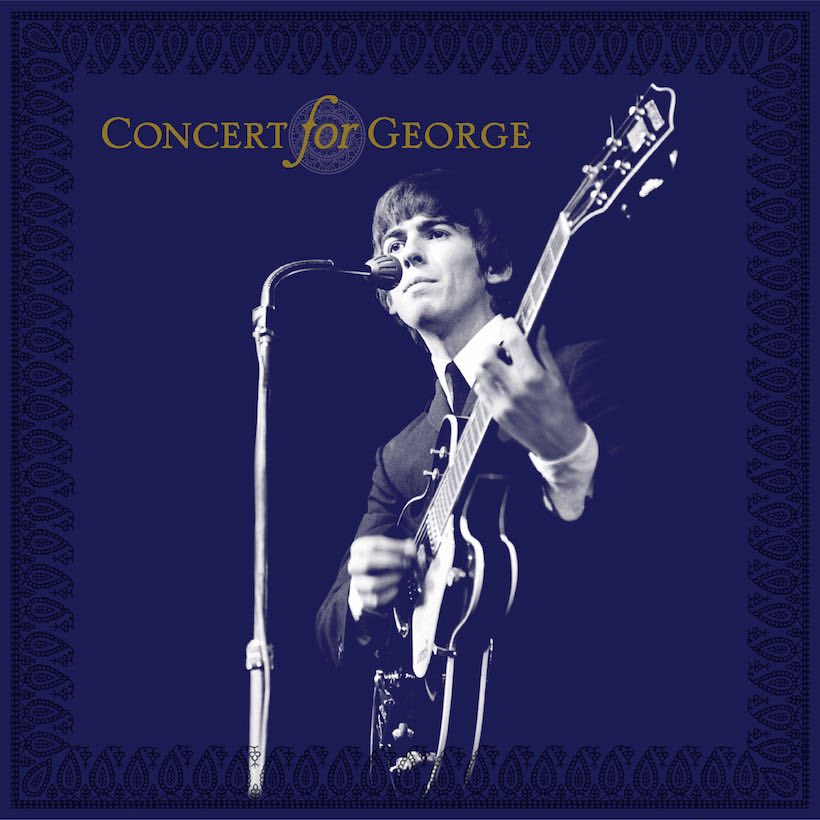 The much-acclaimed George Harrison tribute Concert For George is to be screened in a limited number of US theaters to mark what would have been Harrison's 75th birthday.
Due to an overwhelming response from venues in North America, the film has already been booked into more than 75 theaters in the US and Canada, with the list growing daily. The International roll-out of the film is due to be announced next week. Abramorama, in association with Concord Music present Concert for George, remastered in 5.1 Stereo Surround Sound, beginning on 20 February 2018. February 25th marks what would have been the legendary Beatle's 75th birthday.
On November 29, 2002, one year after the passing of George Harrison, Olivia Harrison and long-time friend Eric Clapton organized a performance tribute in his honor. Held at London's Royal Albert Hall, the momentous evening featured George's songs, and music he loved, performed by a line-up that included Clapton, Joe Brown, Dhani Harrison, Jools Holland, Jeff Lynne, Paul McCartney, Monty Python, Tom Petty, Billy Preston, Ravi and Anoushka Shankar, Ringo Starr and many more.
Directed by David Leland (Wish You Were Here, HBO's Band Of Brothers and the Traveling Wilburys' video 'Handle With Care'), Concert for George captures stunning renditions of some of the most significant music of the 20th century, including 'While My Guitar Gently Weeps' (featuring Eric Clapton on guitar, Paul McCartney on piano and Starr on drums), 'Taxman' (performed by Tom Petty and the Heartbreakers) and 'The Inner Light' (covered by Jeff Lynne and Anoushka Shankar). Lynne, Harrison's long-time friend and collaborator, produced the audio elements of the concert, while Clapton oversaw the entire proceedings as Musical Director.
Concert for George has been certified 8-times platinum by the RIAA since its initial release and earned a 2004 Grammy Award for Best Long Form Music Video.
Concert For George can be viewed at the following US theaters. The screenings are listed via state, city, date of showing and venue.
AZ – Sedona 3/12/2018 Mary Fisher
CA – Cathedral City 2/25/2018 & 2/26/2018 Mary Pickford
CA – Murrieta 2/27/2018 Reading Cal Oaks
CA – Sacramento 2/27/2018 Reading Tower
CA – San Diego 2/27/2018 Angelika Carmel Mountain
CA – San Diego 2/28/2018 Hillcrest Cinemas
CA – San Diego 2/27/2018 Reading Town Square
CA – San Francisco 2/28/2018 Embarcadero Center Cinema
CA – San Rafael 2/25/2018 Rafael Film Center
CA – Santa Cruz 2/28/2018 Del Mar Theatre
CA – Sant Ros 2/25/2018 Summerfield Cinemas
CO – Denver 2/28/2018 Esquire Theatre
CT – Mystic 2/24/2018 & 2/25/2018 Mystic Luxury Cinemas
DC – Washington 2/28/2018 Atlantic Plumbing Cinema
FL – Boca Raton 2/25/2018 & 1/3/2018 Living Room Theater
GA – Atlanta 2/28/2018 Midtown Art Cinema
HI – Honolulu 2/27/2018 Consolidated Kahala Theatre
IL – Chicago 2/26/2018 Music Box Theatre
MA – Cambridge 2/28/2018 Kendall Square Cinema
MA – Dedham 3/10/2018 Showcase Cinema de Lux Legacy Place
MA – Foxboro 3/10/2018 Showcase Cinema de Lux Patriot Place
MA – Millbury 3/10/2018 Blackstone Valley 14 Cinema de Lux
MA – Randolph 3/10/2018
MA – Revere 3/10/2018, Showcase Cinema de Lux
MI – Bloomfield 2/28/2018 The Maple Theater
NJ – Edgewater 3/10/2018 Multiplex Cinemas
NJ – Manville 2/27/2018 Reading Cinemas Manville
NM – Sante Fe 2/25/2018 Center for Contemporary Arts
NY – Farmingdale 3/10/2018 Multiplex Cinemas
NY – Holtsville 3/10/2018 Island – 16 Cinema de Lux
NY – Pleasantville 2/25/2018 Jacob Burns Film Center
NY – Schenectady 2/27/2018 Proctor's Theatre
NY – White Plains 3/10/2018City Center de Lux
NY – Yonkers 3/10/2018 Showcase Cinema de Lux Ridge Hill
OH – Cleveland 2/25/2018 Cedar Lee Theatre
OH – Springdale 3/10/2018 Showcase Cinemas Springdale 18: Cinema de Lux
OR – Eugene 3/1/2018 Broadway Metro
OR – Portland 2/25/2018 & 3/1/2018 Living Room Theater
OR – Sisters 2/20/2018 Sisters Moviehouse
PA – Bethlehem 2/25/2018 ArtsQuest
PA – McKees Rocks 2/27/2018 Parkway
PA – Philadelphia 2/28/2018 Landmark Ritz 5
PA – Pittsburgh 2/25/2018 Southside Works
RI – Newport 2/25/2018 Jane Pickens Theater
RI – Warwick 3/10/2018 Showcase Cinemas Warwick, Quaker Lane
TN – Nashville 2/26/2018 Belcourt
TX – Dallas 2/28/2018 The Magnolia
TX – Plano 2/27/2018 Angelika Film Center
VA – Fairfax 2/27/2018 Angelika Mosaic
WA – Seattle 2/25/2018 SIFF Uptown
WA – Tacoma 2/26/2018 The Grand Cinema.
Stay tuned for further news of additional screenings of Concert For George.
Explore Our George Harrison Artist Page. 
Format:
UK English