Ghost Announce North American 'Imperatour' Arena Dates
Mastodon will provide support on the tour which opens in San Diego on August 26.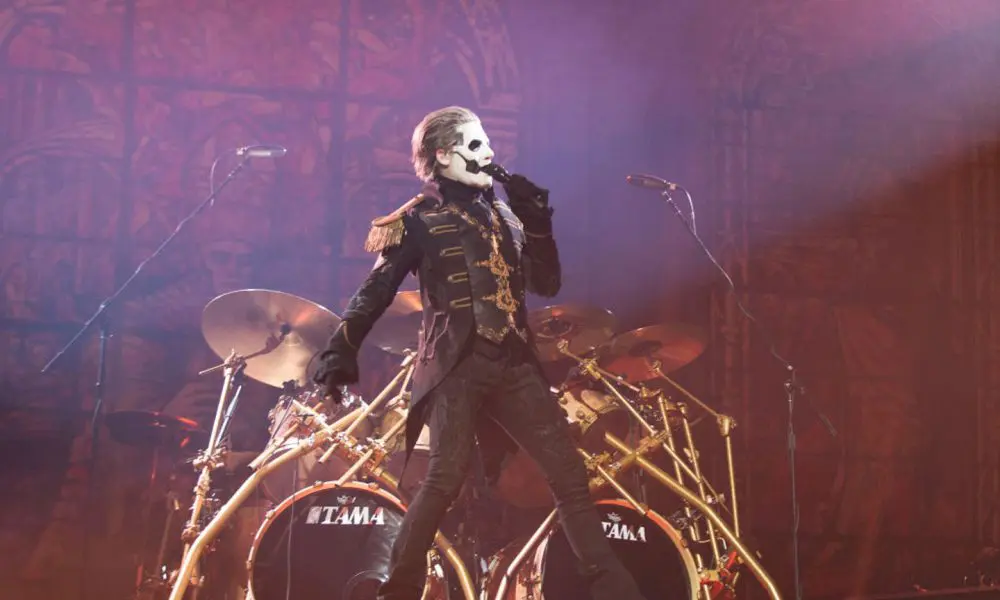 Ghost have announced the North American leg of their 'Imperatour'. The new series of 'Imperatour' shows will see the Grammy Award-winning Swedish alt-metal stars headlining 19 arenas across the U.S. and Canada (plus an appearance at Virginia's Blue Ridge Rock Fest), kicking off August 26 at San Diego's Pechanga Arena and running through September 23 at the Resch Center in Green Bay.
The newly announced dates will comprise Ghost's first North American run since the March 11, 2022 release of their fifth album Impera via Loma Vista Recordings. As reported by The Los Angeles Times in a Calendar cover story, Ghost "conquered metal and the charts" as Impera debuted at No.1 in a sweep of the U.S. album charts, entering the Billboard 200 at No.2 with first week sales of nearly 70,000.
Internationally, Impera bowed at #1 in the band's native Sweden as well as Germany and Finland, while cracking the top 5 in the UK (#2), Netherlands (#2), Belgium (#2), Canada (#3), Australia (#3), France (#5), Ireland (#5), and more.
Produced by Klas Åhlund and mixed by Andy Wallace — and featuring "Spillways", the Billboard Rock Chart (BDS) No. 1 charting "Call Me Little Sunshine," and Active Rock No. 1 radio single "Hunter's Moon" — Impera finds Ghost transported centuries forward from the Black Plague era of its previous album, 2018 Best Rock Album Grammy nominee Prequelle —or as Rolling Stone put it, "Ghost predicted the pandemic, Now the metal band is foretelling the fall of empires."
The result is the most ambitious and lyrically incisive entry in the Ghost canon: Over the course of Impera's 12-song cycle, empires rise and fall, would-be messiahs ply their hype (financial and spiritual alike), prophecies are foretold as the skies fill with celestial bodies divine and man-made… All in all, the most current and topical Ghost subject matter to date is set against a hypnotic and darkly colorful melodic backdrop making Impera a listen like no other — yet unmistakably, quintessentially Ghost.
The announcement of 'Imperatour's North American swing completes a perfect storm of Ghost mania, coinciding with this week's ascension of "Call Me Little Sunshine" to the top of the Rock Radio chart and the unveiling of 'Chapter 11: Family Dinner', the newest installment of Ghost's long-running narrative series of webisodes.
Support on all dates (with the exception of Green Bay which will feature support from Carcass, and the Blue Ridge Rock Fest) will come from Grammy Award-winning band Mastodon, who have quietly evolved into one of the most influential, inimitable, and iconic rock bands of the modern era.
Tickets for Ghost's North American 'Imperatour' will be on sale from May 20 at 10am local time. American Express Card Members can purchase tickets in select markets before the general public beginning Wednesday, May 18 at 12pm local time through Thursday, May 19 at 10pm local time. Visit the band's official website for further information.
Ghost's 'Imperatour' North American dates are as follows:
Fri Aug 26 – San Diego, CA – Pechanga Arena San Diego
Sat Aug 27 – Tucson, AZ – Tucson Convention Center Arena
Tue Aug 30 – Austin, TX – Moody Center
Wed Aug 31 – Corpus Christi, TX – American Bank Center Arena
Fri Sep 2 – Huntsville, AL – Von Braun Center's Propst Arena
Sat Sep 3 – Duluth, GA – Gas South Arena
Sun Sep 4 – Asheville, NC – ExploreAsheville.com Arena
Tue Sep 6 – Tampa, FL – Yuengling Arena
Thu Sep 8 – Danville, VA – BLUE RIDGE ROCK FEST
Fri Sep 9 – Trenton, NJ – CURE Insurance Arena
Sat Sep 10 – Belmont Park, NY – UBS Arena
Mon Sep 12 – Providence, RI – Dunkin Donuts Center
Tue Sep 13 – Bangor, ME – Cross Insurance Center
Thu Sep 15 – Quebec City, QC – Videotron Centre
Fri Sep 16 – Laval, QC – Place Bell
Sat Sep 17 – Toronto, ON – Coca Cola Coliseum
Mon Sep 19 – Saginaw, MI – Dow Event Center
Tue Sep 20 – Youngstown, OH – Covelli Centre
Wed Sep 21 – Peoria, IL – Peoria Civic Center Arena
Fri Sep 23 – Green Bay, WI – Resch Center.