Imagine Dragons' Emotional Homecoming Captured In New 'Live In Vegas' Album
The new record accompanies the recently-released HULU documentary of the same name.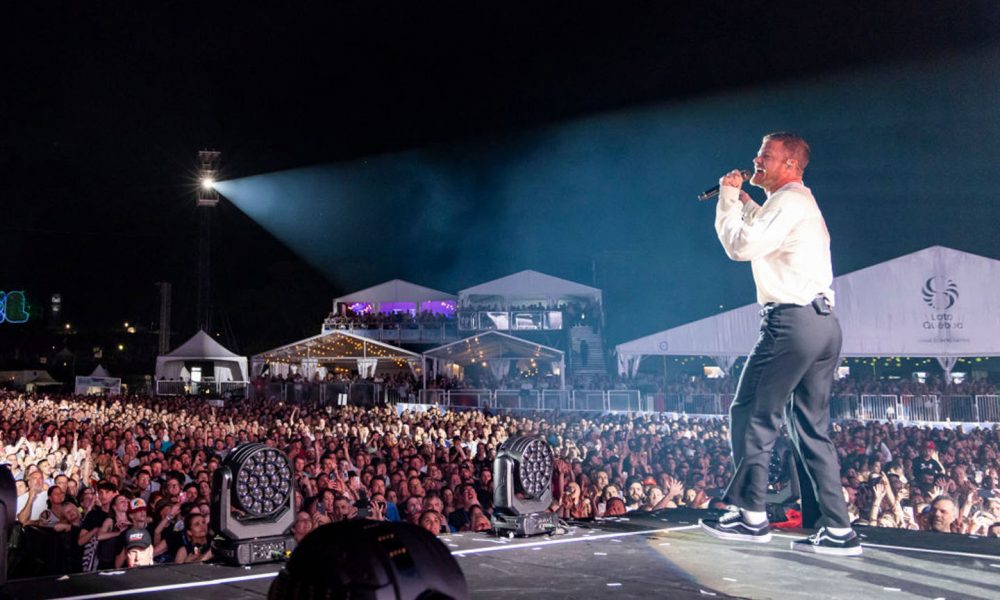 Imagine Dragons' much-anticipated new live album, Imagine Dragons Live In Vegas is out now, to accompany the band's recently released HULU Original Documentary film of the same name.
Shop the best of Imagine Dragons' discography on vinyl and more.
The new release includes the full set list featured in the documentary, capturing the live Imagine Dragons concert experience in a new format. The album is available digitally but also on vinyl in limited quantities. You can view the album's complete tracklist and also check out the band's impassioned live version of "Bones" from the show below.
Imagine Dragons - Bones (Live In Vegas)
Now streaming on HULU, Live In Vegas traces the much celebrated Nevada quartet's journey from humble beginnings in their native Las Vegas to headlining the biggest venue in their hometown— the Allegiant Stadium —during the triumphant "Mercury Tour."
The film comprises candid interviews with the band as well as live concert footage from the Allegiant show on September 10, 2022. The latter notably boasts blockbuster performances of definitive smashes "Radioactive," "Demons," and "Thunder" in addition to anthems from the recent two-part opus, Mercury — Acts 1 & 2 including "Bones," "Enemy," and "Sharks."
Buy or stream Imagine Dragons Live In Vegas.
Imagine Dragons Live In Vegas tracklist:
"My Life" (Live in Vegas)
"Believer" (Live in Vegas)
"Las Vegas, Our Home" (Live in Vegas)
"It's Time" (Live in Vegas)
"I'm So Sorry" (Live in Vegas)
"Thunder" (Live in Vegas)
"Birds" (Live in Vegas)
"Follow You" (Live in Vegas)
"Lonely" (Live in Vegas)
"Natural" (Live in Vegas)
"Next to Me" (Acoustic) (Live in Vegas)
"I Bet My Life" (Acoustic) (Live in Vegas)
"One Day" (Acoustic) (Live in Vegas)
"Whatever It Takes" (Live in Vegas)
"Younger" (Live in Vegas)
"Sharks" (Live in Vegas)
"Enemy" (Live in Vegas)
"I'm Happy" (Live in Vegas)
"Demons" (Live in Vegas)
"On Top of the World" (Live in Vegas)
"Bones" (Live in Vegas)
"Radioactive" (Live in Vegas)
"Walking the Wire / My Life" (Live in Vegas)