Jimmy Buffett's Holiday Classic 'Christmas Island' Gets First Vinyl Release
The vinyl will arrive on December 15 via MCA/UMe.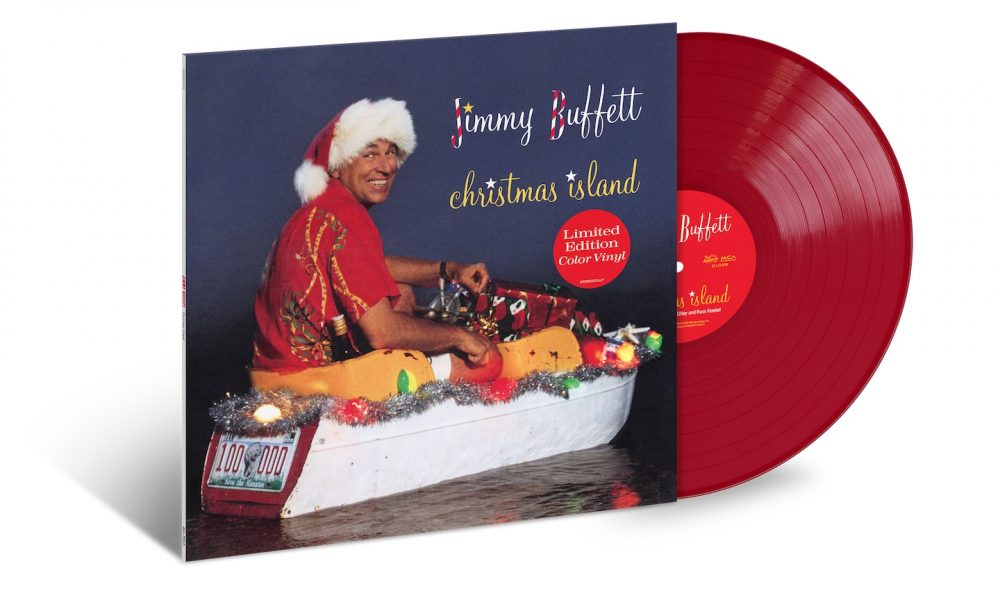 In celebration of Jimmy Buffett's life and legacy, and just in time for the holidays, the late artist's Christmas Island will be released on vinyl for the first time ever on December 15 via MCA/UMe.
The festive platter arrives with two vinyl options for fans to choose from: standard black vinyl and limited edition red vinyl.
Jimmy Buffett - Christmas Island (Audio)
Originally released in 1996 on CD, the platinum-selling Christmas Island hit No.27 on the Billboard 200 chart, where it spent 14 weeks and ended up becoming one of 1997's Top 200 albums. Meanwhile, Christmas Island also spent a staggering 81 weeks on Billboard's Top Holiday Albums chart, peaking at No. 4.
Christmas Island was Buffett's first Christmas album, his 21st studio album (of 32 studio albums total), and boasts a pair of original tunes, "A Sailor's Christmas" and "Merry Christmas, Alabama (Never Far from Home)," both co-penned by Buffett himself.
The album features covers of seasonal classics such as "Christmas Island," "Jingle Bells," and "Up on the House Top," as well as his takes on the Hawaiian-vibed "Mele Kalikimaka" (made famous by Bing Crosby and the Andrews Sisters) and John Lennon's protest tune-tuned-holiday-hit produced by Phil Spector, "Happy Xmas (War Is Over)," and more. "A Visit From St. Nicholas" (AKA "Twas The Night Before Christmas"), which was a hidden track on the original CD, also appears in these two vinyl versions.
Reflecting on the album and the significance of the holiday in his life, Buffett wrote in the original liner notes: "For those of you who didn't know, I was born on Christmas Day 1946, the day W.C. Fields died. I think this only goes to prove that God does have a sense of humor, but being born on Christmas was rough going at first. The most obvious scam was to try and double up on presents…It did not sit well with my mother, who made it known, in no uncertain terms to the aunts, uncles and cousins of the Buffett clan strung out along the Gulf coast, that she expected two presents for her bouncing baby boy-one for his birthday and one for Christmas. On the whole it worked quite well, though there were a few Scrooge-like occurrences where I would get socks for my birthday and a tie for Christmas. This probably is the reason I never have liked to wear either since."