Late KISS Drummer Eric Carr's Drum Set Up For Sale
The late KISS member's gear is yours for a price.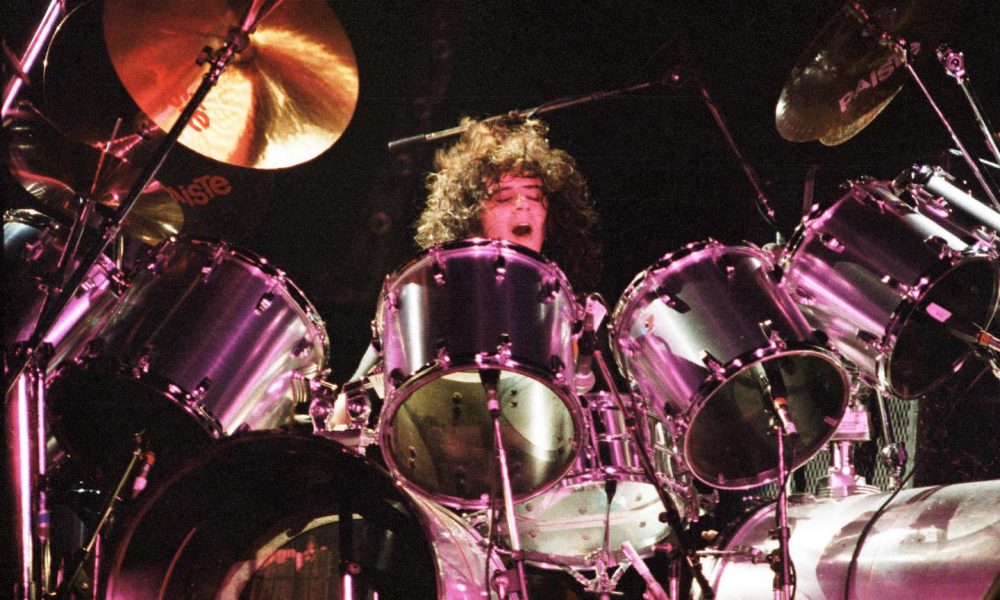 Online music gear marketplace Reverb is offering a chance to own a piece of history by purchasing the drum set played by Eric Carr, the drummer who replaced Peter Criss in KISS.
The 12-piece Ludwig kit isn't exactly being offered for a song, mind you. If you want to find out what it feels like to sit behind Carr's set, you'll have to shell out over $30,000 including shipping (and that's marked down from the original price). But there's no fanatic like a KISS fanatic, so it seems like a safe bet that the kit will find an enthusiastic taker.
The Ludwig Classic Maple Black Cortex kit comes with a certificate of authenticity from Carr's estate. The seller says it came to them via engineer and producer Paul Orofino, one of Carr's closest friends. The listing states that Orofino wanted to hang onto the snare himself, so a period-appropriate Ludwig snare has been substituted, but as far as the rest, it's all Carr's kit, including kick drums custom made for KISS's Hot in the Shade Tour stamped 1989.
Carr came into the band at a crucial point in its history, when founding member Peter Criss left in 1980. Up to that time, it seemed inconceivable that KISS could consist of anybody but the original foursome. But when Carr came on board, he proved that to be untrue, appearing on everything from 1981's Music from The Elder through 1989's Hot in the Shade.
Carr unfortunately also brought tragedy to KISS history when he died on November 24, 1991 from cancer, but fans will never forget the drummer's contribution to the band's music. And if you're among the most intense strata of Kiss fans, your opportunity to claim a piece of KISS history for your very own is just a click of the "add to cart" button away from becoming a reality.
Buy or stream the 45th deluxe anniversary edition of Destroyer.