Linda Perry, Revered Writer, Producer, And More, Celebrated In 'Let It Die Here' Documentary
The film is described as 'much more than the story of a talented musician.'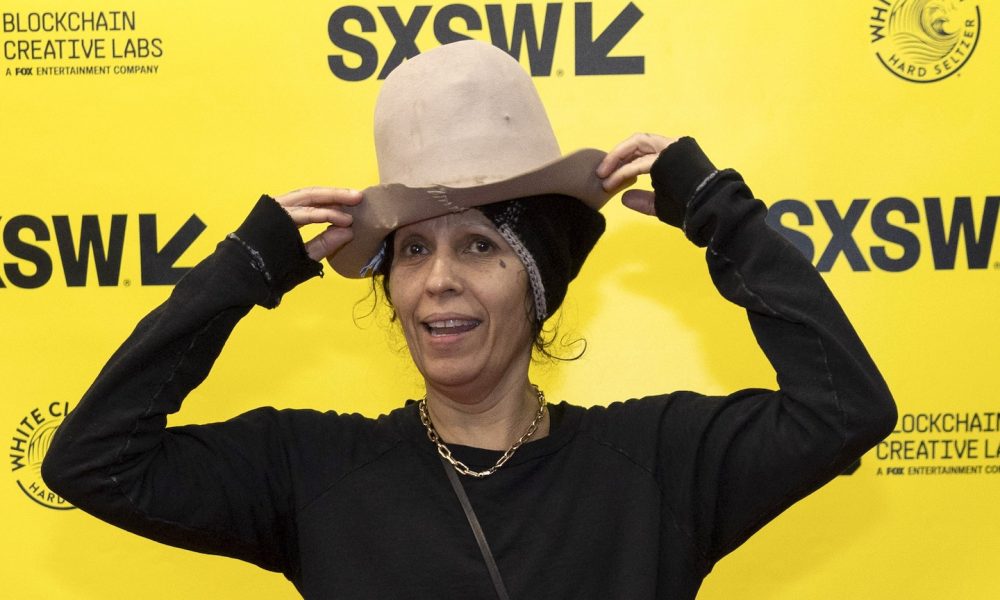 Distinguished singer-songwriter Linda Perry is to be the subject of an upcoming documentary about her life and times as a composer, producer, former bandleader, solo artist, and label founder. Deadline reports that Mercury Studios and Utopia Originals' Linda Perry: Let It Die Here is directed by the award-winning filmmaker Don Hardy, who directed the 2021 documentary Citizen Penn.
The film about the ex-frontwoman of 4 Non Blondes, who founded the labels Rockstar and Custard, is described as "an intimate look at the multi-faceted singer, songwriter and producer." After her tenure with the group from 1989 to 1995, which included their signature hit "What's Up?", Perry went on to write such hits as "Beautiful" for Christina Aguilera, Pink's "Get the Party Started," and to co-write Gwen Stefani's "What You Waiting For?"
Dolly Parton - What's Up? (feat. Linda Perry) (Official Audio)
Perry, who was inducted into the Songwriters Hall of Fame in 2015, now features on Dolly Parton's just-released cover of "What's Up?", out in advance of the latter's upcoming, all-star album, coincidentally titled Rockstar. Publicity for the documentary notes: "Linda Perry is one of the most outspoken and recognizable artists of the past 30 years. The hat, tattoos, attitude, and her massive hit single 'What's Up' with her band 4 Non Blondes made her an icon.
"But, in the decades since that song topped the charts, Perry has reinvented herself as a Grammy-nominated songwriter and producer, penning and producing hit-after-hit for artists like Adele, Christina Aguilera, Brandi Carlisle, Miley Cyrus, Celine Dion, Ariana Grande, Alicia Keys, Dolly Parton, Pink, Gwen Stefani and Weezer."
The press release observes that the documentary does far more than simply tell Perry's career story. "This film is much more than the story of a talented musician," it explains. "Linda Perry: Let It Die Here offers viewers an intimate look at Perry's personal and professional life during a particularly intense period.
"We see Perry at her most vulnerable and most courageous as she struggles with past and present, where fear, illness, loss, and the burdens of family compel her to grapple with questions all of us ask ourselves: Who am I? Am I loved? What's my purpose? What will I leave behind? Produced with the full cooperation of Perry, the film features rare access and new footage, interviews with Perry, her colleagues, family and friends."
Alice Webb, CEO and co-president of Mercury Studios, said in a statement: "Linda Perry is an extraordinarily gifted artist whose story of strength and resilience continues to reveal new truths about the human condition. Mercury Studios, in partnership with Utopia Originals, is proud to present her story."
Robert Schwartzman, co-founder of Utopia Studios, adds: "Larger than life as a songwriter and producer, Linda Perry has proven herself one of pop music's major creative forces. Don Hardy's intimate film explores Linda in all of her roles – musical genius, collaborator, mother, daughter, sister, among them, and follows her emotional journey as she searches to find her own voice and desires after a lifetime of helping others find theirs. Utopia is thrilled to work with a company of Mercury's track record and caliber to bring her story to life."
Buy or stream Dolly Parton's "What's Up?" featuring Linda Perry.