Lorde And Her Past Selves Visit The Beach In 'Secrets From A Girl (Who's Seen It All)' Video
The visuals for the Solar Power track take place at the same seaside location as her previous recent videos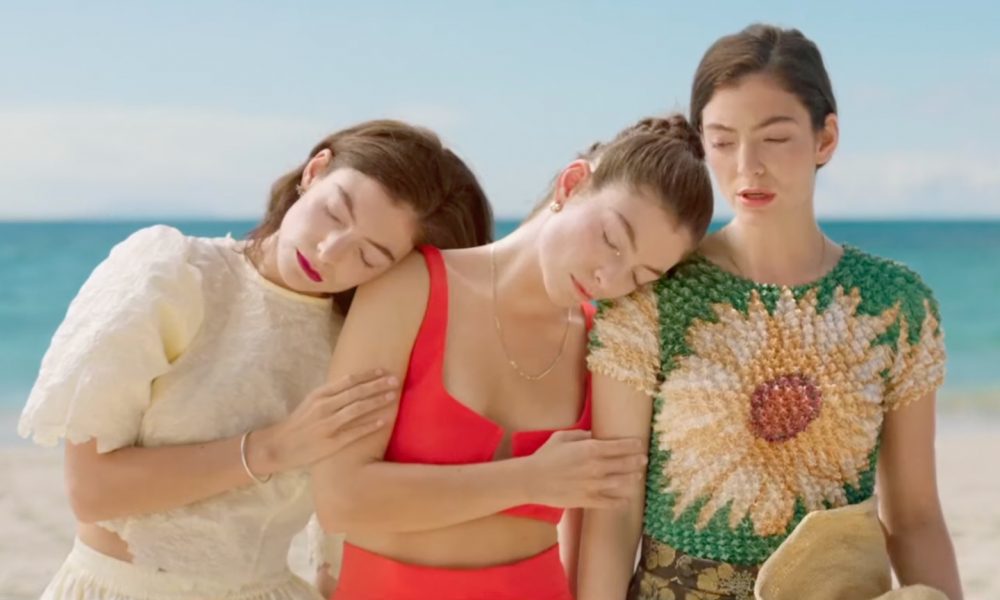 Lorde has shared a new video for "Secrets From A Girl (Who's Seen It All)," in which she hangs out, gives advice to, and dances with two versions of her past self.
The track, which featured on her 2021 album Solar Power, finds the Kiwi pop star reflecting on her life so far and giving advice to her 15-year-old self, who was flung into the spotlight with the release of her breakthrough track "Royals." "Your dreams and inner visions, all your mystical ambitions / They won't let you down," she sings. "Do your best to trust all the rays of light / Everybody wants the best for you / But you gotta want it for yourself."
The new video, directed by Joel Kefali and Lorde, features a throwback to her teen self, dressed in a white lace dress, wearing purple lipstick, and her long, wavy hair flowing freely. Current Lorde appears alongside her, hair slicked back and in a red co-ord set, while between them is a version of the star wearing a straw hat, sunflower print t-shirt, and patterned trousers.
As Robyn's spoken word verse plays out at the end, the three Lordes come together in a choreographed dance routine in the sand. The video was filmed at the same beach as other visuals from Solar Power, including the title track and "Fallen Fruit."
Lorde will kick off her Solar Power tour in North America next month, opening in Nashville on April 3. The show will then move to Europe and the UK, where she was recently added to the bill at BBC Radio 1's Big Weekend 2022. Later in the year, the critically acclaimed musician will return to the US to headline Primavera Sound Los Angeles and Las Vegas' Life Is Beautiful festivals.
Back in November, the star shared a deluxe version of Solar Power, featuring two new songs. "Hold No Grudge" and "Helen Of Troy" were previously only available on exclusive physical versions of the album, but are now on streaming services for the first time.