Fred Armisen, Jon Hamm, Ringo Starr, And More Star In Video For George Harrison's 'My Sweet Lord'
The video was written and directed by filmmaker Lance Bangs.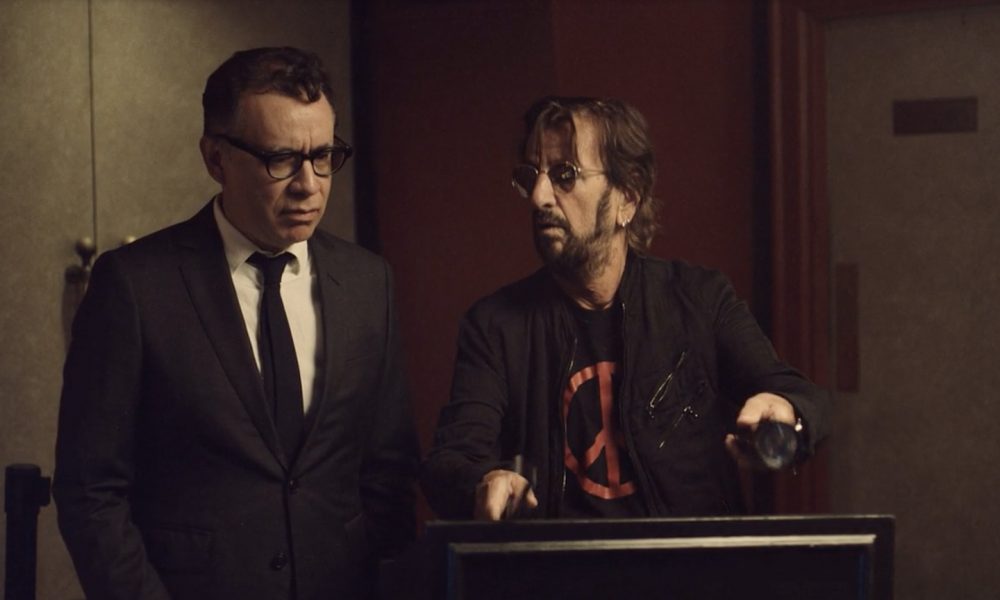 A veritable who's who of comedians and musicians including Fred Armisen, Jon Hamm, Ringo Starr, and more have gathered together to create the first official music video for George Harrison's iconic "My Sweet Lord," taken from All Things Must Pass.
The video begins with Mark Hamill taking a call, with the voice on the other line ominously saying, "It's happening again." Before he can even turn around, Fred Armisen appears, who gets set to be recruited back into the field. Armisen and Vanessa Bayer are taken to a library, which features a strange looking arc of books, stacked in a physically impossible way.
George Harrison - My Sweet Lord
The duo use scanners to inspect the entire library – they search pages of books, small children reading, and more—but remain stumped. Armisen and Bayer leave the library, only to grow more disoriented and stumped by the cosmic wonder that pervades Harrison's song. Along the way, Armisen encounters Reggie Watts, Patton Oswald, Tim & Eric, and more.
The mystery remains, though, as the search for that which can't be seen turns out to be a lifelong mission. The visual utilizes a number of iconic Los Angeles locations, from The Last Bookstore in downtown LA to the famed Vista Theatre.
"Making this was one of the most fulfilling experiences of my life," says director and acclaimed filmmaker Lance Bangs. "The approach was to represent the song visually while these agents and inspectors kept missing the metaphysical wonder around them. Images are choreographed to the sounds of vocal melodies, guitar strums, drum patterns, chord changes.
George threaded a sense of humor through all of his videos, so we kept that spirit and filled the cast with friends and admirers of his music, many coming from the current comedy landscape. I tracked down vintage prime lenses from some of the films George's HandMade Films had produced, and I hope that viewers can feel a sense of wonder and searching while they watch it, and that the song continues to add to all of our lives."
More than forty musicians, actors, comedians, directors, artists, and other creatives make appearances, ranging from Harrison's friends and former bandmates Ringo Starr and Jeff Lynne; to actors Darren Criss, Jon Hamm, Rosanna Arquette; musicians Joe Walsh, "Weird Al" Yankovic, Reggie Watts, comedians Moshe Kasher, Natasha Leggero, Patton Oswalt; comedy duos Tim and Eric (Tim Heidecker and Eric Wareheim) and Garfunkel and Oates (Kate Micucci and Riki Lindhome); and others like writer, actor, director Taika Waititi (What We Do In The Shadows, Jojo Rabbit, Thor) and visual artist Shepard Fairey.
The video also features Harrison's wife Olivia Harrison and their son Dhani Harrison, who appear in scenes with actress Aimee Mullins and actor Rupert Friend, respectively.
Buy or stream the 50th anniversary editions of All Things Must Pass.