Olivia Rodrigo Shares Camcorder Shot Music Video For Shattering Single 'traitor'
The song is the latest single from the singer's debut album 'Sour.'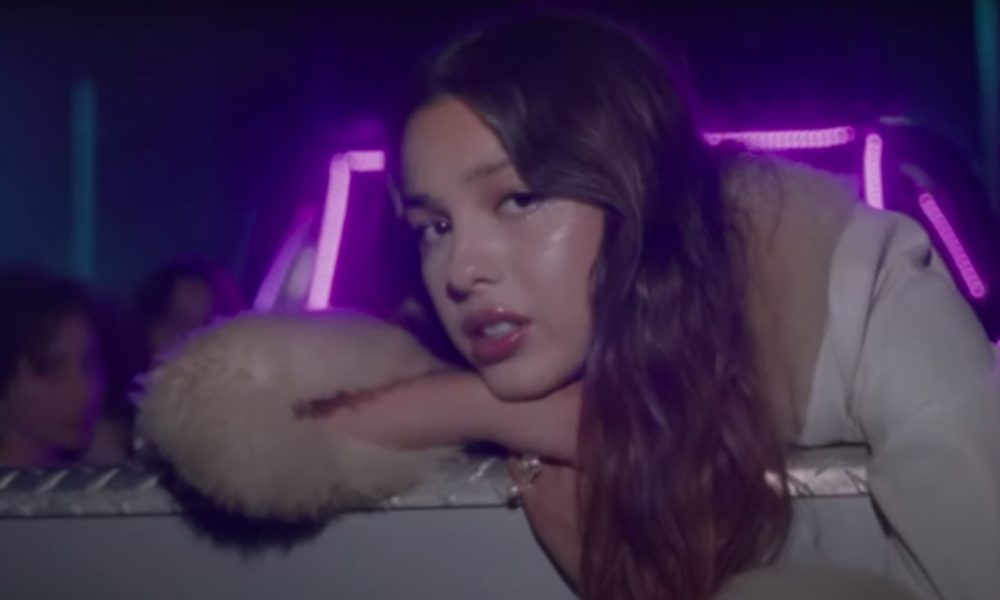 Pop music star Olivia Rodrigo has surprise-released the music video for her latest single from her debut album SOUR, the shattering post-breakup song "traitor."
The visual finds Rodrigo first in a dream-like state, then in the back of a neon-lined pickup truck with her friends as she questions the dissolution of a past relationship. Shot late at night with a camcorder-like quality, the video channels a sense of nostalgia.
It starts off simple enough with Rodrigo and company strolling into an arcade where she takes control of the camcorder, recording herself in the mirrored ceiling lounging on the surface of a pool table. The hangout takes a more mischievous turn from there as the group boosts each other over a wired fence to break into a high school pool after hours.
Throughout the video, Rodrigo seems disconnected from her friends as she reels through the warning signs that preceded her breakup, singing: "Ain't it funny/All the twisted games/All the questions you used to avoid?/Ain't it funny?/Remember I brought her up/And you told me I was paranoid." All the while, her friends are playing air hockey at the arcade and kissing underwater at the pool.
By the time the soaring bridge of "traitor" arrives, Rodrigo taps back into reality, diving into the pool and running barefoot across the football field with six of her friends as the sun comes up. The video concludes with the singer disappearing through a white door in a Twilight Zone-like illusion.
As fans speculate on the possible next SOUR single, they're looking towards potential easter eggs placed in the shared music videos, like the purple 8-ball the camera lingers on for a moment in the "traitor" visual. (The ballad "happier" is the eighth song on the album's tracklist.)
"traitor" follows "brutal" as the singer's latest single, joining "good 4 u," "deja vu," and "drivers license."
Listen to Olivia Rodrigo's Sour.