Queen Shares 'Another One Bites The Dust,' Episode 23 Of 'The Greatest Live'
The legendary band reveals how even their biggest hits evolve onstage in this week's footage.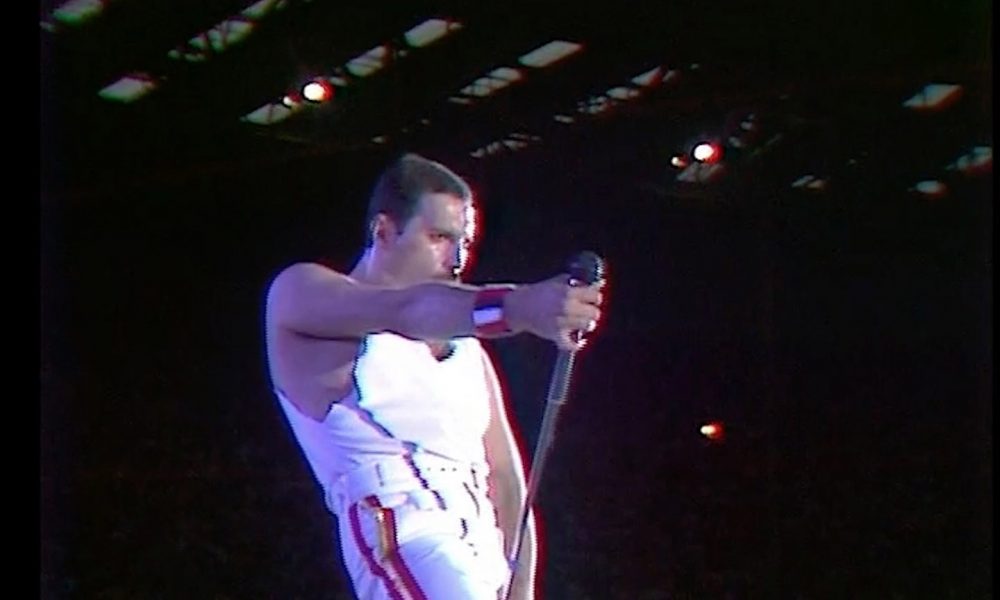 Queen has shared "Another One Bites The Dust," episode 23 in their on-going archival video series, "The Greatest Live." You can watch the footage in full below.
As Roger Taylor and Brian May have revealed in previous episodes of "The Greatest Live," the adaptation of Queen songs is not just how they transfer from studio to stage, but how their desire to make them an even more inclusive experience for the audience sees them continually evolve through new interpretations.
Queen's live musicianship means no song is set in stone. Improvisations erupt, outros are jammed out, arrangements are bent into whole new shapes and audiences are brought into the mix as backup singers – all with Freddie Mercury effortlessly controlling the impulsive push and pull.
Queen The Greatest Live: Another One Bites The Dust (Episode 23)
Nowhere is Queen's free-form approach to performance better demonstrated than in this week's archive footage from the first of their two magical nights at Wembley Stadium in July 1986, in which the band settle into an impromptu groove of fan-favourite single "Another One Bites The Dust," allowing Freddie Mercury to demonstrate his mastery at playing with a crowd.
When John Deacon first presented his iconic bassline at Munich's Musicland Studios, it was deceptively simple: just three notes played on a single string, but already pulsing with potential.
"I listened to a lot of soul music when I was in school and I've always been interested in that sort of music," Deacon told Bassist & Bass Techniques. "I'd been wanting to do a track like "Another One Bites The Dust for a while," but originally all I had was the line and the bass riff. I could hear it as a song for dancing but had no idea it would become as big as it did."
Brian May recalls that Deacon was "totally in his own world and came up with this thing, which was nothing like what we were doing". But the line-up built a classic anthem from that spare groove, with Mercury so enthused that "he sang until his throat bled." When "Another One Bites The Dust" was released as a single in August 1980 – at the suggestion of Michael Jackson – it became Queen's biggest hit of the decade.
Six years later, on the Magic Tour that proved to be Queen's final outing fronted by Freddie Mercury, the song had evolved further still, with Deacon's bassline and Roger Taylor's propulsive beat anchoring the performance while the singer led a thrilling call-and-response with the 72,000-strong Wembley crowd and May coaxed off-the-cuff funk licks from his Red Special guitar.
Watch every episode of 'The Greatest Live' on Queen's official YouTube channel.