Blondie, The Rolling Stones, Taylor Swift, And More Among Record Store Day 2022 Exclusives
Other releases include new editions from The Vince Guaraldi Trio, The Cure, Scott Walker, and more.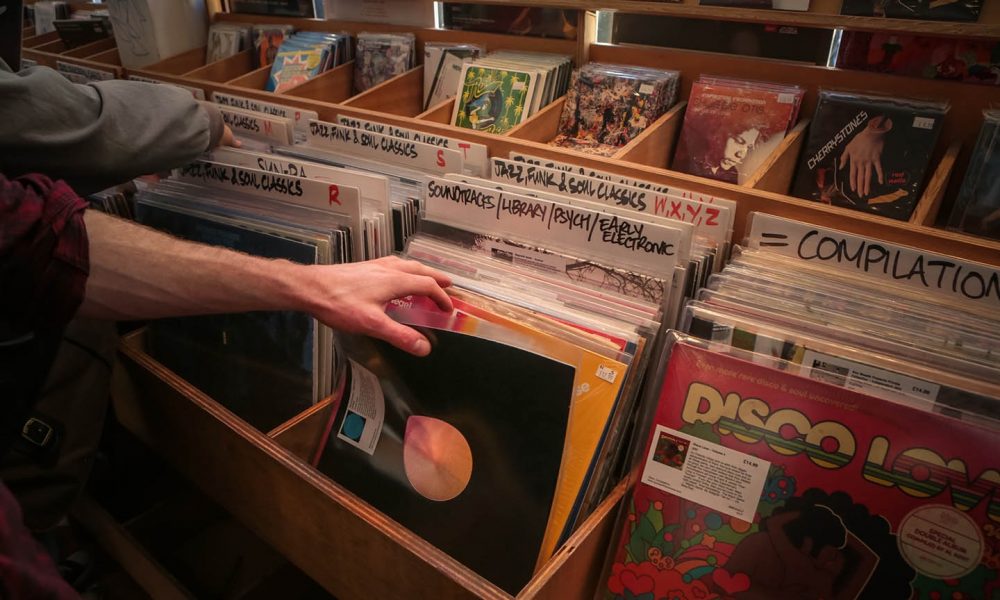 Record Store Day 2022, taking place on Saturday, April 23 at participating independent retailers, has announced a slew of thrilling releases from artists such as Blondie, The Rolling Stones, and The Cranberries, among plenty of others.
Fans of classic rock will be delighted by the new Rolling Stones reissue, More Hot Rocks (Big Hits & Fazed Cookies). The project offers hits, some of their best deep cuts, and a whole LP side's worth of rarities previously unavailable in the U.S. when it was originally released in 1972. This 25-track compilation features covers of "It's All Over Now" and "Not Fade Away," the psychedelic "Dandelion," "She's a Rainbow," "Have You Seen Your Mother, Baby, Standing in the Shadow?" "Out of Time," "Tell Me," and "We Love You."
The Who's album, It's Hard, celebrates its 40th anniversary with an expanded 2 LP set. Disc One (Orange Vinyl) contains a half-speed remaster of the album, while Disc Two (Yellow Vinyl) continues the rest of the album with additional rare and unreleased material. This edition, with art by Richard Evans, also comes with a poster from the era.
Punk and indie devotees will be delighted by the new Blondie exclusive, one of the most influential bands to a limited edition EP featuring one of their most famous, endearing and successful singles, "Sunday Girl."
Taken from the band's multi-million-selling album Parallel Lines, "Sunday Girl" was originally released in 1979 and was the follow-up single to the band's number one hit single, "Heart of Glass" and was a UK number one and a top 10 hit around Europe.
Other releases include a gold edition 10th anniversary release of Jessie Ware's Devotion, a new edition of John Williams' The Cowboy, an updated release of Scott Walker's compilation, Boy Child, a new version of The Cranberries' Remembering Dolores, and a coveted edition of The Cure's Pornography.
Kali Uchis' Sin Miedo (Del Amor y Otros Demonios) ∞ will be pressed on clear vinyl. Record Store Day 2022 package includes exclusive cover art and poster insert. Swifties will be delighted by a Record Store Day exclusive 7″ of "the lakes" and "the lakes (original version)" from Taylor Swift's GRAMMY Album of the Year, folklore. This is the first time "the lakes (original version)" will be available on vinyl. In other news,  Sam Smith's 2013 Nirvana EP will be available, which includes the title track, plus "Safe with Me," a live version of "I've Told You Now," and an acoustic version of "Latch."
Kacey Musgraves is offering a special double-sided picture disc of her latest album, star-crossed, and U2 is releasing a 40th anniversary edition of A Celebration. St. Vincent is releasing the official soundtrack for The Nowhere Inn, which she stars in alongside Carrie Brownstein. It features three original songs from St. Vincent and is pressed on orange vinyl.
Black Pumas will be releasing a Collector's Edition 7" Box Set, which includes six 7" singles with deluxe artwork and two bonus tracks. Those include "Black Moon Rising," "Colors," "Know You Better," plus remixes from BadBadNotGood and Pete Rock.
In the soundtrack world, the seminal score to David Lynch's Blue Velvet has been re-released. The long available single LP has been expanded by 60 minutes to a 2 LP Deluxe Edition with the addition of the famous 1963 recording of "Blue Velvet," performed by Bobby Vinton as well as previously unreleased film cues, alternates and outtakes entitled "Lumberton Firewood. The score was penned by Angelo Badalamenti.
Craft Recordings is also offering an array of vinyl reissues from artists like Commander Venus (featuring a teenage Conor Oberst of Bright Eyes), the Brand New Heavies (with rhymes by Gang Starr, the Pharcyde, Kool G. Rap, among others), Collective Soul, Jonathan Richman and the Modern Lovers, Art Pepper, and Esther Marrow, plus a Fania Records psych-rock rarity from Flash & the Dynamics. Additionally, the latest edition of Jazz Dispensary will take listeners on a soulful and meditative journey, with tracks from Cannonball Adderley, Houston Person, Catalyst, the Bar-Kays, and more.
For a full list of titles and participating record stores, visit Record Store Day's official website.