Stephen Marley Takes Coming-Of-Age Journey On New Single 'Old Soul'
The star has also just announced US 'Babylon By Bus' tour dates.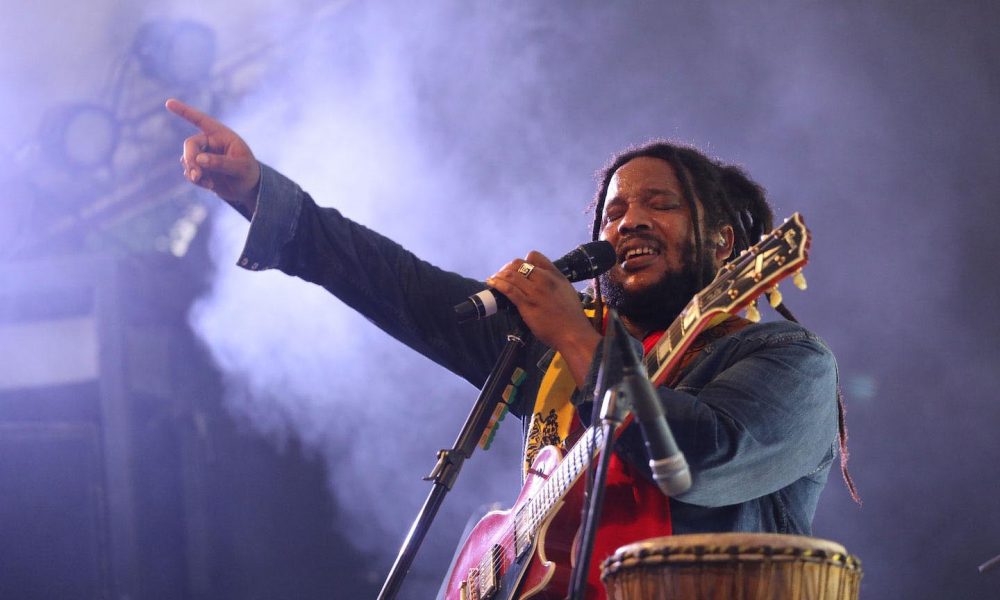 Stephen Marley has released his highly anticipated single "Old Soul," on all streaming platforms via Tuff Gong Worldwide /UMe/Ghetto Youths International. You can check it out below.
The award-winning singer, songwriter, and producer chronicles his growth and innocence as a youthful Marley kid, the second son of Bob Marley, and his personal rites of passage through the family legacy. The warm acoustic track takes the listener on a coming-of-age journey through allusions to personal legends and eras of musical influences that "made it all possible."
"Old Soul" will also be celebrated with a well-crafted retrospective lyric video, revealing never-before-seen old family photos, vintage vinyl album covers, and a collage of Jamaican music history, released next on Stephen Marley's Official YouTube Channel.
"April 1972, my mom and poppa brought me through," Stephen sings on the moving new track. "Back then, I was the favorite, so they say." The song arrives simultaneously as Bob Marley's second oldest son celebrates his 51st year of life. "I'm an old soul, living in the body of a 9-year-old," Stephen sings, sharing glimpses of his past. "Guess I've been here before." The song was co-written with Jamaican pop star Omi, whose manager, renowned producer Specialist, brought it to Stephen, saying it fit him. "I had to change up the years to place my life in it," Stephen says, "but really, Omi gave me the first inspiration."
To celebrate the single release and Stephen's birthday on 4/20, Bob Marley's Tuff Gong Radio (SiriusXM channel 19) plans to air "Old Soul" all day, every hour on the hour, beginning at 12am ET and appropriately on both coasts at 4:20. Tune in to catch the premiere live on Tuff Gong Radio and the SXM App on April 20.
Stephen's 51st Earthstrong becomes the ultimate 'Soul Shakedown Party' as the Marley Brothers make their first-ever appearance at Red Rocks Amphitheatre in Morrison, CO, presented by Kaya Fest. The performance on 4/19 includes opening sets from Sean Paul and Protoje. On 4/20, the Marley Brothers bring night 2 of their Soul Shakedown Party to the iconic venue and welcome opening sets by Steel Pulse and a special Lee "Scratch" Perry Memorial Set by the Subatomic Sound System and Mykal Rose.
Before the pandemic, Stephen "Ragga" Marley and his band toured incessantly, sharpening their live show while tackling material from Stephen's dense catalog of Grammy-winning albums and the coveted Bob Marley songbook. During the COVID lockdown, Stephen set up a new make-shift studio on a remote family farm in the Florida countryside, holding nightly jam sessions in a converted garage studio. With a stripped-down ensemble of binghi drums, bass, acoustic guitar, and flute, he played whatever he felt like—original compositions, old favorites, and both soul and reggae rarities.
"Irie vibration," Stephen says of the sounds he and his friends made together on the farm. "Old Soul" was recorded during these unplugged jam sessions, the spirit of which will permeate the vibe of his upcoming tour dates and his forthcoming solo album. "You have to be true to yourself," he says. "I refuse to be put into any category. I am inspired by everything. So, if I feel like I want to play some jazz music, I will play some jazz music. Who dig it, dig it."
"Old Soul" showcases Marley's versatility, and the message within his music remains consistent. "We come to free the people's minds," says the multi-Grammy-winning singer, songwriter, and producer Stephen Marley. "Only way you can free your soul is to free your mind. My father said, 'No chains on my feet, but I'm not free,' and then he come to say, 'Emancipate yourselves from mental slavery.' Anywhere the music calls us, we are going to be there to spread the message of love and unity."
Summer 2023 marks the triumphant return of Stephen's 'Babylon By Bus Summer Tour,' which includes a cavalcade of hand-picked support artists appearing at various venues across the country including Fortunate Youth, Skip Marley, Jesse Royal, Hirie, Arise Roots and Roots of Creation. The tour will begin in San Diego, CA in June with multiple stops in California before heading to Colorado, Salt Lake City, Las Vegas, Chicago, Cape Cod, Brooklyn, NY and more – and ending in Florida in August. Tickets are on sale this Friday, April 21, at 10am local time.
BABYLON BY BUS SUMMER TOUR DATES:
Sat 6/24 Del Mar, CA – San Diego County Fair
Sun 6/25 Paso Robles, CA – Vina Robles Amphitheatre
Sat 7/1 Costa Mesa, CA – OC Fair
Sun 7/2 Saratoga, CA – Mountain Winery
Mon 7/3 San Rafael, CA – Marin County Fair
Sat 7/8 Buena Vista, CO – The LAWN
Sun 7/9 Gunnison, CO – I Bar Ranch
Thu 7/13 Las Vegas, NV – Virgin Theatre
Fri 7/14 Tempe, AZ – Marquee
Sat 7/15 Santa Fe, NM – The Bridge at Santa Fe Brewing
Mon 7/17 Wichita, KS – Wave Outdoors
Tue 7/18 Memphis, TN – Minglewood Hall
Thu 7/20 Chicago, IL – Millennium Park Music Series
Fri 7/21 St. Louis, MO – The Big Top
Sat 7/22 – Cincinnati, OH – Riverfront Live Outdoors
Sun 7/23 Kalamazoo, MI – Bell's Outdoors
Wed 7/26 Hyannis, MA – Cape Cod Melody Tent
Thu 7/27 Webster, MA – Indian Ranch
Fri 7/28 Cohasset, MA – South Shore Music Circus
Sat 7/29 East Hampton, NY – The Clubhouse
Sun 7/30 Brooklyn, NY – Brooklyn Steel
Tue 8/1 Nantucket, MA – Nantucket Dreamland
Wed 8/2 Nantucket, MA – Nantucket Dreamland
Fri 8/4 Asheville, NC – Salvage Station
Sun 8/6 Charleston, SC – The Refinery
Thu 8/10 Orlando, FL – Hard Rock
Fri 8/11 St. Augustine, FL – St. Augustine Amphitheater Backyard
Sat 8/12 St. Petersburg, FL – Jannus Live