The Roots' 'Things Fall Apart' Celebrates 20th Anniversary With Deluxe Reissue
The three-disc 20th anniversary edition of The Roots' classic comes with 10 bonus tracks.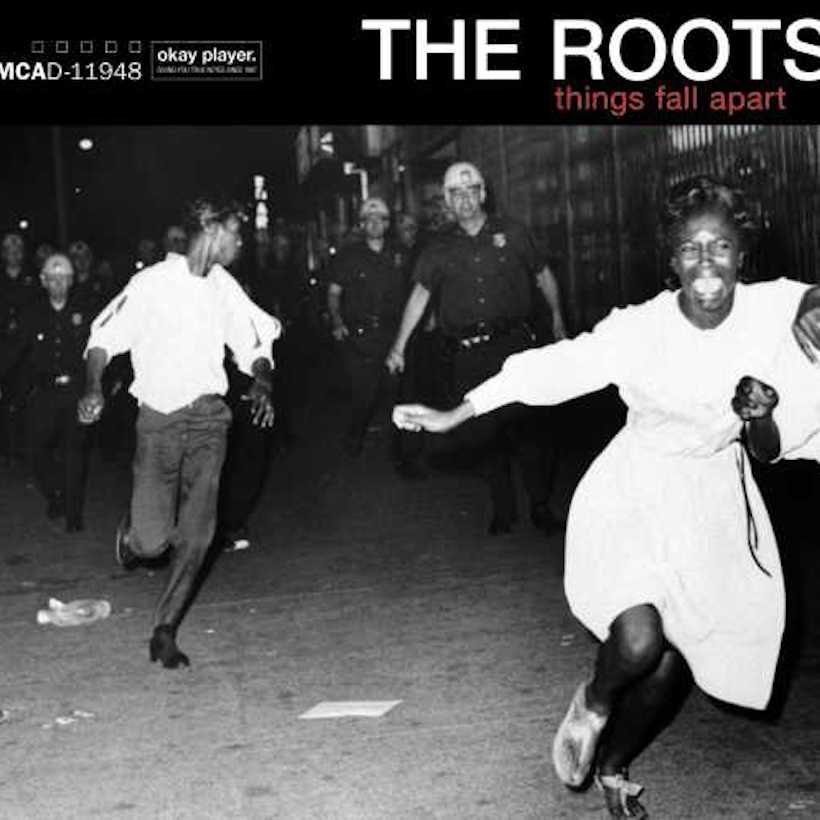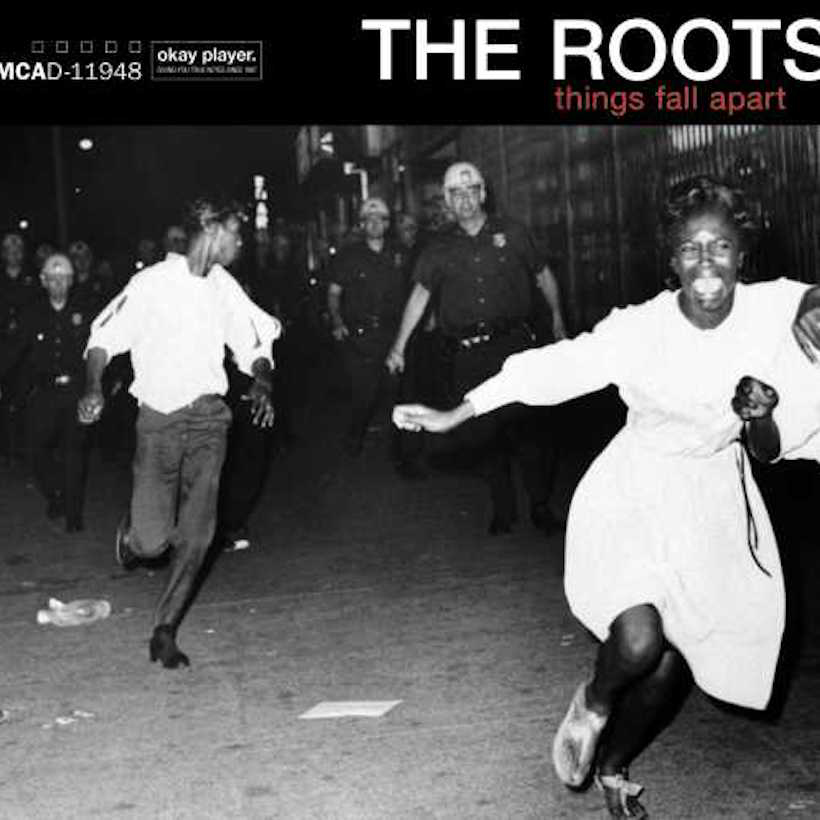 The Roots are commemorating the 20th anniversary of their 1999 breakthrough album Things Fall Apart with an expanded reissue.
The 3LP collection is set for release on 27 September via Geffen/Urban Legends and includes a remastered version of the album on double vinyl with a third LP of bonus tracks curated by Questlove, a 24-page booklet featuring rare photos, retrospective essays by Black Thought and Questlove and track-by-track liner notes from Questlove.
The 3LP collection will be available on a standard black vinyl, crystal-clear as well as digitally, that includes 'New Years @ Jay Dee's' that's being available digitally for the first time.
The limited Collector's Edition features all of the bonus features on crystal-clear vinyl and a die-cut slipcase of the primary cover art plus the four original alternate covers as interchangeable lithographs plus a sixth, brand new bonus cover.
Named after Chinua Achebe's 1958 masterpiece Things Fall Apart, The Roots' career-upending album built upon the legendary Philadelphia rap crew's underground success of their first three albums – Organix, Do You Want More?!!!??! and Illadelph Halflife and earned them the kind of mainstream success that previously eluded them and signalled a sea change in hip-hop.
The Roots - Things Fall Apart Unboxing
During this time, the Soulquarians collective descended upon Electric Lady studios in New York, resulting in legendary collaborations and all-star features from Erykah Badu, Common, Yasiin Bey (Mos Def), J Dilla, DJ Jazzy Jeff, Dice Raw, Eve, Beanie Segal, Jill Scott, Lady B and Ursula Rucker.
"Dilla was too brilliant for you to ever get jealous or for you to feel a certain way," Questlove told Urban Legends in a previous interview. "He was so brilliant that you knew he was God and you just accepted it."
Things Fall Apart both helped to legitimise neo-soul but was still gritty enough to appeal to hip-hop fans. Thanks to a pioneering fusion of live instrumentation, sampling, and Black Thought's provactive wordplay, Things Fall Apart remains one of the most influential albums in hip-hop history.
The album was a critical and commercial success, garnering the group their first Grammy win, platinum-certified status and the No.4 spot on the Billboard 200.
All this acclaim propelled the Roots to the next level, setting them on a course for future success and eventually landing them the house band position on The Tonight Show Starring Jimmy Fallon.
Things Fall Apart will be available on 27 September and can be pre-ordered here.
Things Fall Apart
Side A
A1       Act Won (Things Fall Apart)
A2       Table Of Content (Parts 1 & 2)
A3       The Next Movement
A4       Step Into The Realm
A5       The Spark
Side B
B1       Dynamite!
B2       Without A Doubt
B3       Ain't Saying Nothin' New
B4       Double Trouble
Side C
C1       Act Too (The Love Of My Life)
C2       100% Dundee
C3       Diedre Vs. Dice
C4       Adrenaline!
C5       3rd Acts: ? Vs. Scratch 2…Electric Boogaloo
Side D
D1       You Got Me
D2       Don't See Us
D3       The Return To Innocence Lost
D4       Act Fore… The End?
Bonus Tracks
Side E
E1        Table of Contents #3 – cut from album; previously released on The Legendary EP; available for the first time digitally
E2        What You Want – from The Roots Come Alive
E3        Quicksand Millennium – cut from the album, released on Homegrown! Vol. 2 compilation
E4        We Got You (Extended) – extended version of track from The Roots Come Alive
E5        You Got Me (Drum & Bass w/ Jill Scott) – unreleased

Side F
F1        You Got Me (Me Tienes Remix) – from "You Got Me" CD single; available for the first time digitally
F2        Act Too (Love of My Life) [Remix] – from Brown Sugar soundtrack; available for the first time digitally
F3        Y'all Know Who – from Homegrown! Vol. 2 compilation
F4        The Lesson – Part III (w/ Jaguar Wright) – from The Roots Come Alive
F5        New Years @ Jay Dee's – from "You Got Me" CD single; available for the first time digitally
Format:
UK English