Tito Puente's 'Mambo Diablo' Set For First-Ever Vinyl Reissue
The acclaimed 1985 album from the King of Latin jazz offers a lively blend of standards and originals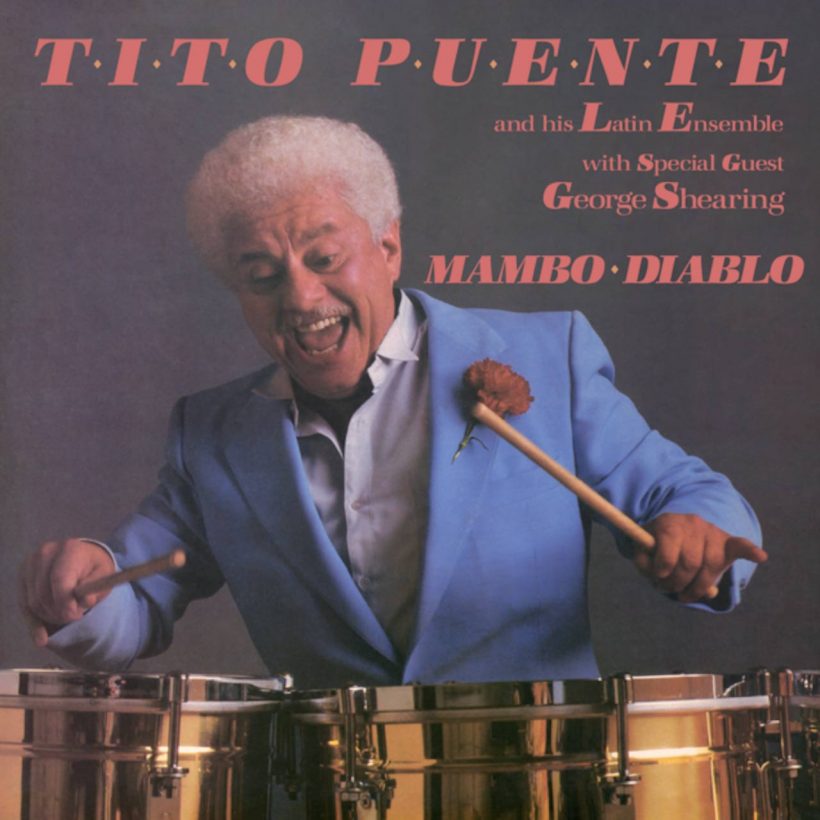 Craft Latino proudly announces the first-ever vinyl reissue of Mambo Diablo, the acclaimed 1985 album from legendary bandleader and percussionist Tito Puente. Offering a lively blend of standards and originals (including fan favorite "Mambo Diablo") this long-out-of-print classic finds the King of Latin Jazz putting his own twist on classics like "Take Five," "Lush Life" and "Lullaby of Birdland" (featuring its composer, George Shearing, on piano).
Set for release on May 26, Mambo Diablo was cut from the original master tapes (AAA) by Kevin Gray at Cohearent Audio. Pressed on 180-gram vinyl and housed in a tip-on jacket, the album also features its original liner notes by the Emmy-winning journalist and longtime New York City TV reporter Pablo Guzman. Additionally, Mambo Diablo will make its debut on hi-res audio (192/24).
This special reissue arrives as Craft Latino celebrates the centennial of Tito Puente. Throughout the year, Puente's vital contributions to Latin music will be honored through special reissues (including an April release of the bandleader's 1972 classic, Para los Rumberos), exclusive digital content and much more.
Tito Puente (1923–2000) lived countless musical lives during his five-decade-long career. When he signed with Concord Picante in 1983, the celebrated songwriter, bandleader, producer and percussionist was enjoying living legend status, with absolutely no signs of slowing down. For more than 30 years, the New York–born, Puerto Rican timbalero had reigned as the King of Latin Jazz, while his hugely popular records (and hits like 1962's "Oye Como Va") brought Afro-Cuban and Caribbean rhythms into the mainstream, popularizing styles like mambo, cha-cha-chá and son. In the '70s, Carlos Santana's hit renditions of "Para los Rumberos" and the aforementioned "Oye Como Va" introduced Puente to a new generation of fans, while the '80s ushered in yet another career resurgence for the prolific bandleader.
1985's Mambo Diablo stands as a particularly high point in Puente's catalog during this period and marks the bandleader's third release with Concord Picante (the then recently established Latin arm of Concord Records). A refreshing blend of classic and original material, Mambo Diablo deftly bridges the gap between Latin and jazz and serves as a testament not only to Puente's versatility as a musician (his outstanding work on the vibraphone can be heard throughout the album) but also as an expert arranger. "His ideas, segues, choruses, and handling of [the] ensemble's sections simply [sparkle]," praises Pablo Guzman in his liner notes.
Puente and his all-star Latin Ensemble put their magic touch on standards like Billy Strayhorn's "Lush Life," the Jerome Kern/Dorothy Fields classic "Pick Yourself Up" and Paul Desmond's "Take Five" (made famous by Dave Brubeck), while their sublime rendition of "Lullaby of Birdland" features a cameo by the song's composer, George Shearing, on piano. Rounding out the album is a classic bolero, "No Pienses Así," courtesy of the legendary Cuban composer Pérez "Pepe" Delgado. Mambo Diablo also features several originals, including "China" and the joyful title track, which opens the album. Led by Puente on the vibes, "Mambo Diablo" showcases the talents of his band members, including Sonny Bravo (piano), Bobby Rodriguez (bass), Jose Madera (congas, percussion), Johnny "Dandy" Rodriguez (bongos, percussion), Jimmy Frisaura (valve trombone, trumpet, flute), Mario Rivera (flute, saxophone) and Ray Gonzalez (trumpet, flugelhorn).
Reflecting on the album, Guzman argues that Mambo Diablo—and the diversity of its tracklist—allows fans the opportunity to witness the full scope of Puente's musicianship: "Puente is about much more than being a richly rhythmic drummer."
While Puente was in his early 60s when Mambo Diablo was released, he was still very much in the prime of his career—with plenty more to accomplish. In the following years, he would perform at the 1996 Summer Olympics' closing ceremony, appear in a variety of films (including 1987's Radio Days, 1992's The Mambo Kings and the 2000 documentary Calle 54), and even make a cameo on The Simpsons. At the time of his death, his catalog boasted over 100 albums and more than 400 compositions, while his lengthy list of collaborators included such legends as Quincy Jones, Dizzy Gillespie and Celia Cruz. During his five-decade-long career, Puente also received a multitude of honors, including five GRAMMYS, Billboard's Latin Music Lifetime Achievement Award and the prestigious National Medal of Arts from the United States government.