Tomorrow X Together Shares New Version Of 'Happy Fools' For Fourth Anniversary
The original version of the track appeared on its latest EP, 'The Name Chapter: Temptation'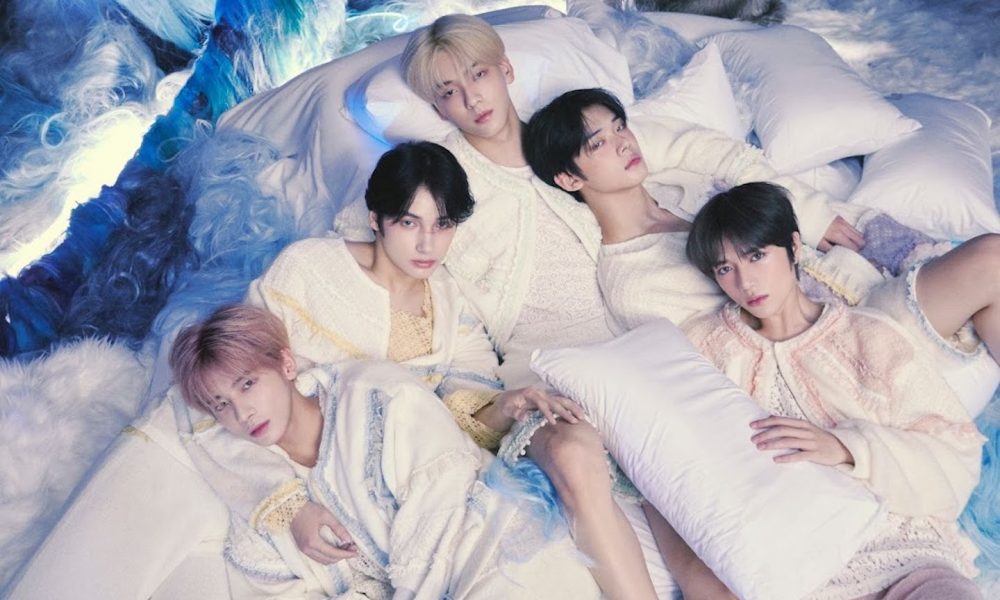 Tomorrow X Together (TXT) has shared a new version of its track "Happy Fools" as part of the celebrations for its fourth anniversary.
The K-pop group made its debut on March 4, 2019, and in the run-up to that date, is celebrating by sharing new treats with its fans, known as MOA.
"Happy Fools" originally appeared on TXT's latest EP, The Name Chapter: Temptation, and featured a guest verse from US rapper Coi Leray. The new take on the song features a new verse written and rapped by member Yeonjun in place of Leray's.
"Enough discussion/You're not my teacher, this ain't no school," Yeonjun raps in the new moment. "Some say our heads are empty, but we're happy full."
The band has also shared a new video for the song, which sees it performing the track in a garage-like space filled with amps, a retro jukebox, blankets, and more.
[2023 DREAM WEEK] TXT (투모로우바이투게더) 'Happy Fools (TOMORROW X TOGETHER Ver.)' Special Clip
The Name Chapter: Temptation – TXT's fifth EP – arrived in January and took inspiration from JM Barrie's classic story of Peter Pan. Prior to the record's release, the group shared an ambitious concept trailer, which saw them performing an interpretative dance to the tale, while the EP itself featured songs including "Farewell, Neverland."
Upon its release, The Name Chapter: Temptation debuted at No.1 on the Billboard 200, giving TXT its highest position on the chart. According to Billboard, the EP also scored the highest sales of any album since Taylor Swift's Midnights debuted at No.1 with 1.14 million copies sold on the November 5, 2022-dated chart.
Meanwhile, later this year, TXT will hold its second world tour, ACT: Sweet Mirage. It will visit 13 cities for 21 shows, kicking off in Seoul at the end of next month. It follows the band wrapping up its first world tour in 2022, during which it also became the first K-pop group to perform at Lollapalooza in Chicago.
Notably, last year also saw Tomorrow X Together be nominated at prestigious awards such as the American Music Awards and People's Choice Awards and won at the 2022 MTV EMAs (Best Asia Act) and BandLab NME Awards 2022 (Hero of the Year).
Listen to the best of Tomorrow X Together on Apple Music and Spotify.