U2's Bono And The Edge Reveal Admiration For ABBA, Cover 'S.O.S.'
Accompanied by the BBC Concert Orchestra, the pair also perform 'Vertigo.'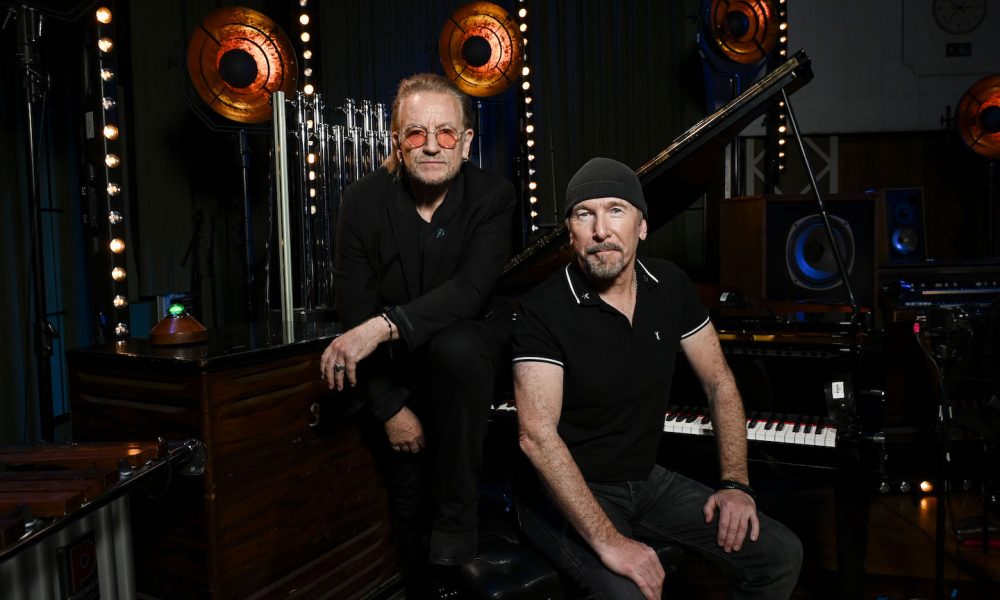 Bono and The Edge of U2 cover ABBA's "S.O.S." – and speak of their admiration for the Swedish quartet – in a new edition of BBC Radio 2's Piano Room feature. During the show, accompanied by the BBC Concert Orchestra at the famed BBC Maida Vale studio, they also perform their own "Vertigo."
Shop the best of U2's discography on vinyl and more.
In an extended interview on BBC Sounds, Edge says: "We're big fans of this Scandinavian band, appreciators of their work in a way that grew over years. We are fans of the Bee Gees which people wouldn't have imagined. We're fans of lots of great songwriters who aren't necessarily seen as very hip, and I guess we're just appreciators of their work."
The Piano Room feature is available to view for 29 days, from this writing, via the BBC iPlayer, with an extended interview with the two rock heroes available for the same time span on BBC Sounds.
Bono adds that as he and U2 set off down their own path, ABBA were something of a guilty pleasure. "I was saying to one of the cellists today that I didn't have the courage to own up to this next band when I was 16 in the middle of punk rock," he confesses. "but I did get to the Bee Gees and I was ready to own up to 'Massachusetts' and 'Tragedy,' I mean these are just crazy good. John Lennon owned up to loving the Bee Gees. But there's a bit of a macho, 'I don't want to own up to ABBA.' But I'll tell you what, they're just better songs. You can't be empirical about everything in art.
"There is something about ABBA. I can remember ABBA as like the national anthem for young mothers. Certainly at closing time at our local pub, often young women would sing 'Thank You For The Music,' and I would sing it and I was very thankful for the music! But I was like, what is this phenomenon? This is before their musicals and all that. What is going on with ABBA? And then Benny [Andersson] came to one of our shows, when we murdered 'Dancing Queen.' And [they] played with us on stage. But this is not 'Dancing Queen.'"
The pair also spoke about the Songs of Surrender album, which is released by Island tomorrow (17) and its relationship with Bono's recent book Surrender: 40 Songs, One Story. "It was a bit of opportunism because we had this thought of [an acoustic album] for a while," says Edge, "but when Bono came out with the book and it had 40 chapters, we thought hold on, there's an internal rhyme here we can use. So we loosely tied the two together – 40 chapters in the book and 40 songs on the record. But they don't correspond exactly."
"Edge and I had this phrase that we were throwing around, 'Intimacy is the new punk rock,'" adds Bono. "And I know it sounds a bit pretentious now saying it at the BBC, but the most dangerous music for me at the moment is the most vulnerable. And we let artists that we love into our life in ways that we don't let our closest friends or lovers sometimes."
Pre-order Songs of Surrender.