U2 Announce Las Vegas Arrival With Rocking New Track 'Atomic City'
The new song heralds U2's run of shows at Sin City's Sphere venue, where they are celebrating the 1991 album 'Achtung Baby.'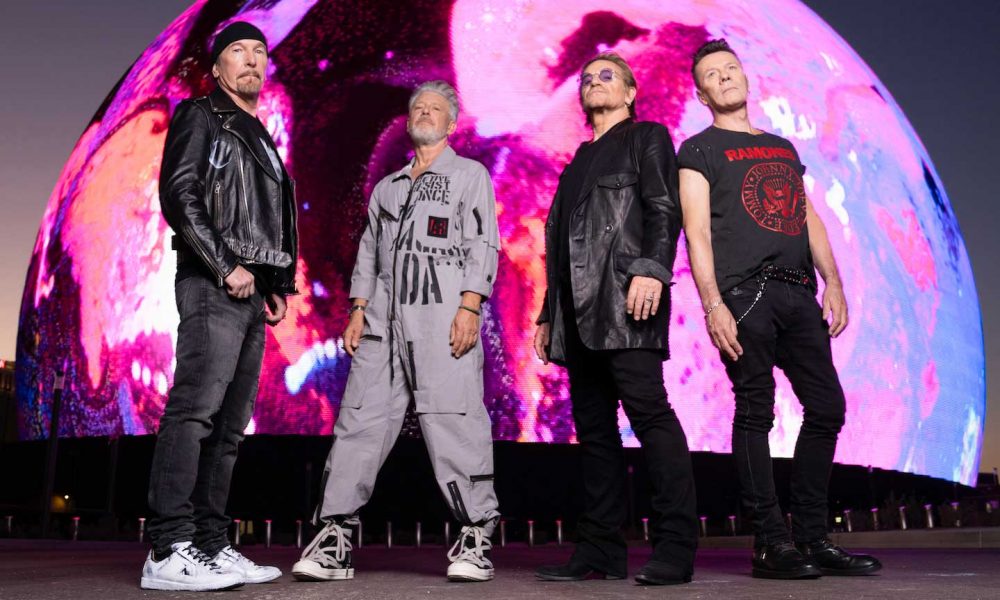 U2 have rocked back into recording action with the release of the powerful new track "Atomic City." Produced by Jacknife Lee and Steve Lillywhite, it's been described as "hard-grooving" by Stereogum, while NME says it takes the band back "to the post-punk of their heyday with a stirring guitar hook reminiscent of their 1983 hit 'Sunday Bloody Sunday' and a chorus that channels Blondie."
Shop the best of U2's discography on vinyl and more.
The song, which features a muscular guitar solo by The Edge, also makes a lyrical reference to Las Vegas, which was known in the 1950s as Atomic City, in an era when fascination with all things nuclear swept the United States. In this period, with its proximity to the Nevada Test Site, Las Vegas promoted itself as a center of "atomic tourism." The track is available as a digital single in standard audio, HD audio, and Spatial/Atmos. There's also a limited edition seven-inch vinyl format and a limited edition CD single.
The new song heralds U2's run of shows at Sin City's Sphere venue, where they are celebrating the 1991 album Achtung Baby. The Telegraph in the U.K. describes "Atomic City" as "an old school anthemic rock belter, that starts with a thunderous drum roll and distorted guitar riff and doesn't stop for three and a half minutes of glam rock thumping, new wave riffing and frontman Bono roaring about being free, 'where you always knew I'd be.'"
The video for the song is directed by Ben Kutchins, with creative direction by Tarik Mikou with Moment Factory Music. Bang up to date, it features U2's late night, surprise performance of "Atomic City" in downtown Las Vegas last week on Fremont Street, in the same location that the band filmed their famous video for "I Still Haven't Found What I'm Looking For" in 1987. U2:UV Achtung Baby Live At Sphere begins tonight (29) and will extend to 25 shows in the much-heralded Sphere, which has been described as the world's most state-of-the-art venue.