Watch Jonas Brothers Bring 'Waffle House' And 'Walls' To 'SNL'
The trio also took part in a sketch on the latest episode of the comedy show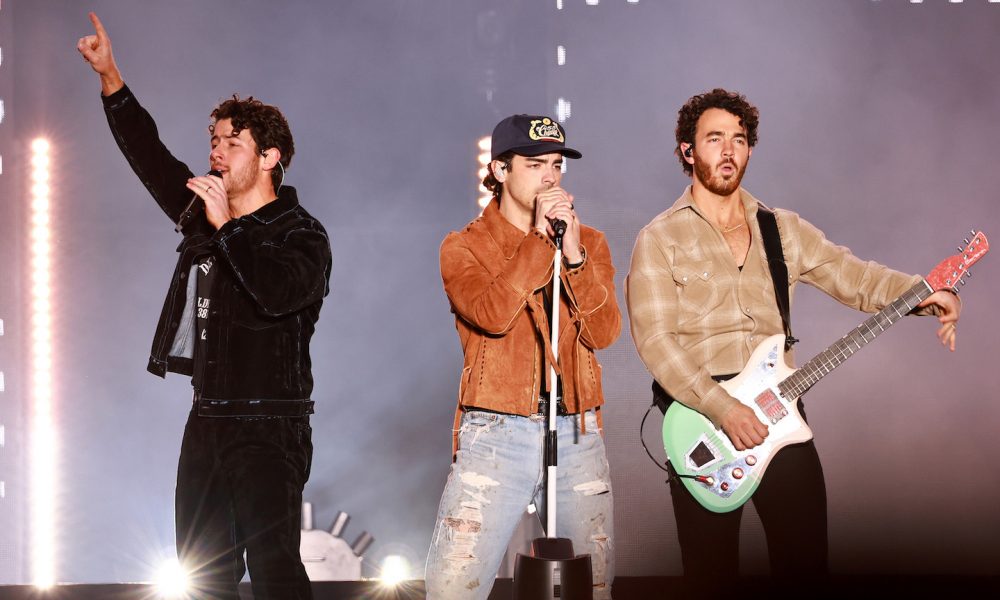 Jonas Brothers returned to SNL last night (April 8) to perform two tracks from its upcoming new album.
The trio served as the musical guest on the long-running US comedy show, joining guest host Molly Shannon in the latest episode.
For "Waffle House" – the group's latest single – Jonas Brothers were joined by a backing band and a raft of backing singers to deliver beautiful harmonies throughout the song.
The band's second performance was of "Walls," a track from The Album that is yet to be given an official release. Joined by the same band and backing singers, Nick, Joe, and Kevin revealed the track as a tender, guitar-driven ballad.
"Darling, you'd make the walls cry," Joe sang. "'Cause time is a doorframe I wanna go through/As long as it leads me back to you, yeah/If you ever left me, I would die/And even the walls would cry."
Towards the song's end, it erupted into a rock stomp with Jonas Brothers and its accompanying musicians bouncing around the stage.
Elsewhere on SNL, the trio took part in a sketch that centered around the band's choreography. After sidelining cast members Bowen Yang and Chloe Fineman as its choreographers, it instead hired Molly Shannon, playing a 50-year-old dancer called Sally O'Malley.
Jonas Brothers' sixth full-length record, The Album, will be released on May 12 via Republic Records. Three months later, the band will hold a massive one-night-only show at New York's Yankee Stadium, where it will perform five albums in one night, including the new record.
So far, the group has previewed The Album with singles "Waffle House" and "Wings." The former documented "deep conversations at the Waffle House," inspired by the band's tradition of going to the restaurant chain after shows in its youth.
"Wings," meanwhile, celebrated a loved one, with the band singing: "You gave me a reason, you got me believin'/ You're making me say/ You are the wings I need to fly away/ You are the wings I need to fly away."