The Best Jonas Brothers Songs: 20 Decade-Defying Pop Gems
As the best Jonas Brothers songs show, their pop-rock elasticity, showmanship, and charisma helped the trio establish a multi-decade career.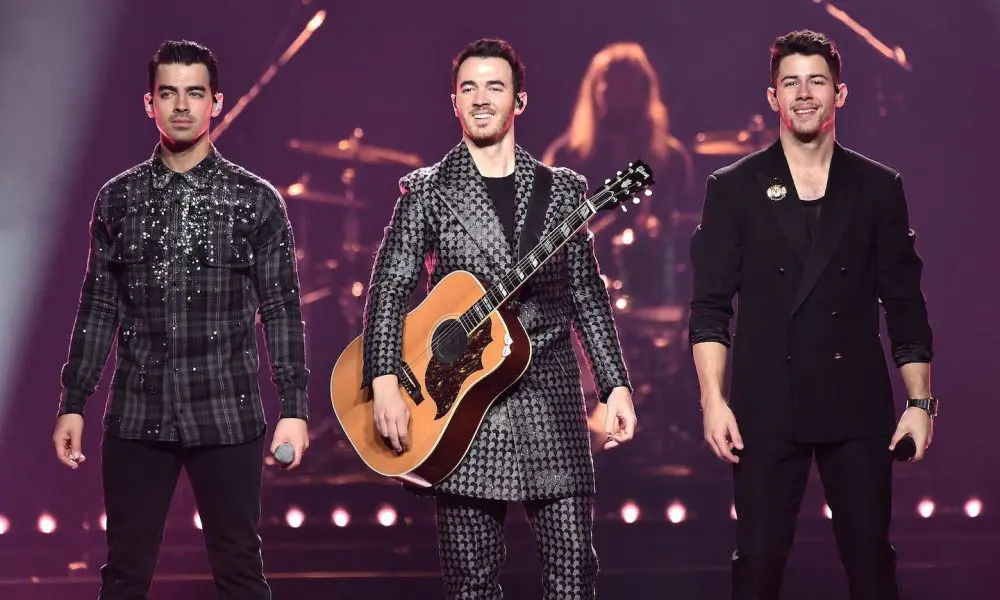 The Jonas Brothers were already punching above their weight by the time they hit the scene in the mid-00s. Marketed as a band of siblings to an audience of their peers, Kevin, Joe, and Nick Jonas exhibited a clear ambition and a creative aim beyond what many expected of them. Their pop-rock elasticity, showmanship, and charisma helped the trio establish a career to watch. And in the process, they went from Disney Channel stars and Teen Beat heartthrobs to a Best New Artist nomination at the Grammys.
At the height of their fame, the group hit an impasse and broke up, only to emerge several years later with an even more solidified and radio-ready sound. The earworm single "Sucker," spearheaded by new collaborator Ryan Tedder, announced loud and proud that the Jonas Brothers were back and all grown up. Their fifth studio album, Happiness Begins, reckoned with the past while looking to the future and reveled in the joy of the family reunion.
For those who grew up with the Jonas Brothers, it's hard to believe they've amassed such an impressive catalog. From pop-punk experiments to arena-ready anthems, the best Jonas Brothers songs chronicle their journey from musically gifted child stars to full-fledged pop icons.
Listen to the best Jonas Brothers songs on Apple Music and Spotify.
The Crowd Pleasers
("Still in Love With You," "Burnin' Up," "Sucker," "What a Man Gotta Do," "Wings")
When the Jonas Brothers returned in 2019 after a six-year hiatus, they burst through the doors with "Sucker," a love song with swagger and sex appeal that became an instant radio staple. But while their first single as a reunited band exhibited a funkiness only hinted at in their earlier music, the Jonas Brothers had crafted their fair share of scream-along smash hits in the past.
2007's "Still in Love With You," a regretful breakup song and live show favorite, fluctuates between Nick's poppy, love-sick verses to Joe's punk-fueled choruses about the girl who "left without a single word – not even 'sorry.'" The biggest impact the Jonas Brothers made during their original run was certainly with "Burnin' Up," a punchy track about the heat of love-at-first-sight with lyrics ("high heels – red dress") that have been emblazoned on many a homemade fan t-shirt. The song also boasted a rap verse featuring their then-bodyguard Big Rob, and a high-concept music video featuring cameos from Selena Gomez and the late David Carradine.
Jonas Brothers - Sucker (Official Video)
The brothers embraced more dance elements on Happiness Begins and continued to with their 2020 single, "What a Man Gotta Do." With retro flair and an irresistibly catchy chorus, the boys beg to be "totally locked up" by their objects of affection. And their latest release, "Wings," dips even further back into their influences, using a dreamy keyboard and pulsing baseline to channel both yacht rock greats and Stevie Wonder.
The Revenge Bangers
(" S.O.S.," "Paranoid," "Much Better")
The Jonas Brothers came to prominence amid a teen-pop boom, and within their new class of pop stars came many personal entanglements that would inspire some great music. Arguments were volleyed through song, in a move borrowed from rap and diss tracks, and the band proved to be remarkably good at writing the kinds of songs that would get their fans on their side.
Jonas Brothers - Paranoid (Official Music Video)
Penned by Nick, "S.O.S." conveyed a precocious anxiety about dating in the spotlight, softened by a singable chorus, while "Paranoid," from the band's 2009 album, Lines, Vines and Trying Times, used a pulsating guitar riff and Joe's wailing vocals to great effect, conveying more uneasiness. "Much Better," a fan favorite from the same record, is a piano-driven bop with low-key savage lyrics, celebrating a new love and skewering a "superstar" with "tears on her guitar" whose identity you can probably guess.
The Impassioned Ballads
("When You Look Me in the Eyes," "A Little Bit Longer," "Lovebug," "Love Her")
While the best Jonas Brothers songs were designed to get you on your feet, the band has also put out their fair share of sincere power ballads, which are guaranteed to light up an arena with cell phones. "When You Look Me in the Eyes" first appeared on Nick's 2005 debut solo album and was reworked into a single for the band's self-titled record and would solidify the brothers as early aughts heartthrobs.
Jonas Brothers - When You Look Me In The Eyes
With the title track of their third album, "A Little Bit Longer," solo writer Nick (who also carries the vocal) reckons with a personal health struggle with endearing vulnerability and a soaring chorus supported by his bandmates. Fans get the best of both worlds with "Lovebug," a quirky, hopeful love song with a soft-shoe interlude that explodes with abandon into an ecstatic final minute. And 2019's "Love Her," co-written by all three members, exhibits a newfound maturity that pays tribute to the beloved Jonas spouses, who've dubbed themselves the J-Sisters.
The Biographical Anthems
("That's Just the Way We Roll," "Play My Music," "Rollercoaster," "Cool")
In addition to the requisite tracks about love and the losing of it, some of the Jonas Brothers best songs have to do with their own identity as a band. Through the whimsical lyrics of 2007's "That's Just the Way We Roll," the boys pay tribute to their unique family and issue a friendly challenge to another famous band of brothers ("Pop and lock/Battle dance against Hanson") in a calling card of a tune. And while they may not have written it, "Play My Music," their infectious number from the movie Camp Rock, has remained one of their signature tunes: "Music's in my soul/I can hear it every day and every night/It's the one thing on my mind" a lyric that still rings true.
Jonas Brothers - Cool (Official Video)
Post-hiatus anthem "Rollercoaster" is more nostalgic ("It was fun when we were young and now we're older") and clear-eyed ("We were up and down and barely made it over"), but drivingly hopeful, inviting fans to experience both the disappointment of the break-up and the joy of reuniting along with the band. "Cool," on the other hand, is all good vibrations in a mid-tempo, beachy groove. The verses are not only packed with confidence but also with Easter eggs for only the biggest fans to find.
The Solo Efforts
("Who I Am," "See No More," "Jealous," "Cake by the Ocean")
While Kevin pursued some unrelated solo projects, both Nick and Joe have enjoyed solo careers outside of the band. The youngest brother was the first to strike out on his own, starting the side project, Nick Jonas & the Administration, in 2009, when the Jonas Brothers were still together. Their first single, "Who I Am," could hold its own against many of the singer-songwriters dominating the Top 40 at the time, but never reached the kind of commercial success as the Jonas Brothers.
By the 2014 release of his self-titled solo album, Nick had reinvented himself as a soulful R&B/pop artist. "Jealous," in which he indulges his inner green-eyed monster, is a standout from that record, and the remix featuring then-up-and-coming singer Tinashe is even more alluring.
As for Joe, his dip into the R&B pool wasn't quite as impactful, though true fans will tell you that his 2011 dance-tinged solo album Fastlife is criminally underrated and includes some gems, including the fiery lead single "See No More." That said, the singer flourished when he became the frontman of the still-active funk-pop band DNCE, whose lead party single "Cake by the Ocean" gave the world both one of the catchiest hooks of the past decade and a new euphemism for you-know-what.
Think we missed one of the Jonas Brothers' best songs? Let us know in the comments below.