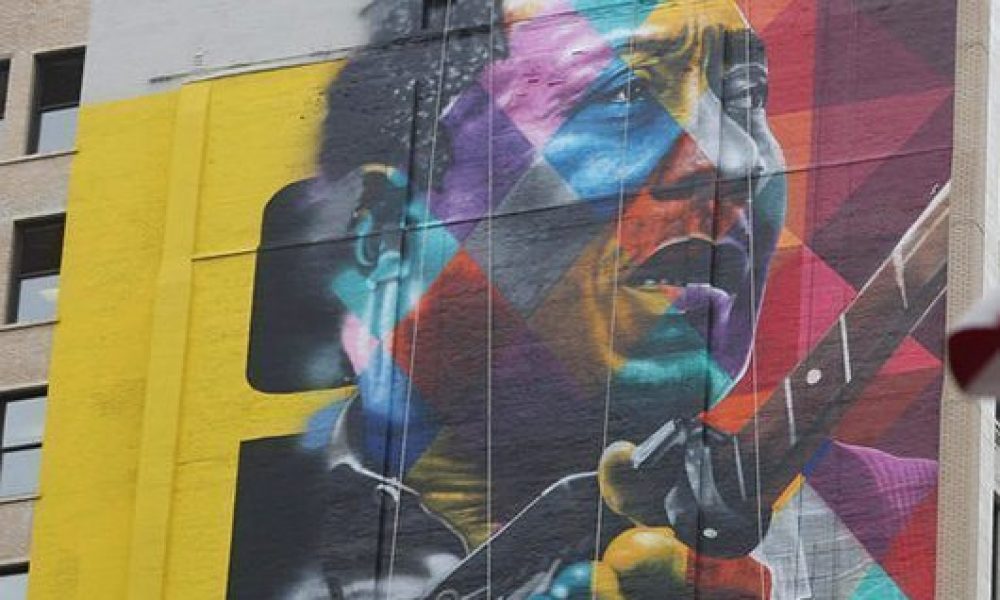 Chicago has many mural on the sides of its buildings and one of its most recognizable murals is being replaced by one of city's best-known musicians. The Brazilian artist, Euardo Kobra, and his team have been hard at work on a 100-foot-tall picture of Muddy Waters at the intersection of State and Washington streets. The 10-story high mural will cover up another site familiar to those who live and work in downtown Chicago: the big, yellow "Go Do Good" painting.
"To us, this is quintessential Chicago, and State Street is quintessential Chicago," said Anne Voshel, an owner of the 19-story tower at 17 N. State St. "We got such an icon who's bringing so much energy to the street."
The painting of Muddy is the highest-profile addition to the Wabash Arts Corridor, a Columbia College Chicago campaign beautifying blank walls Downtown. Mark Kelly, who is leading the arts campaign for Columbia College Chicago. "We can't even imagine music today without Muddy's contributions coming out of the Chicago blues scene. He's a cultural hero and maybe someone who should be better honored and remembered, and what an incredible opportunity to put Muddy Waters up front and center in the middle of Chicago."
Eduardo Kobra, who's known for colorful portraits of famous figures, including Abraham Lincoln and Bob Marley. His depiction of the iconic photograph of a World War II soldier kissing a nurse in Times Square can be seen from the High Line elevated park in New York.
Format:
UK English