The Best Boy Bands: 18 Pop Groups You Need To Hear
From New Kids On The Block to The Osmonds and B2K to BTS, we count down the biggest and best.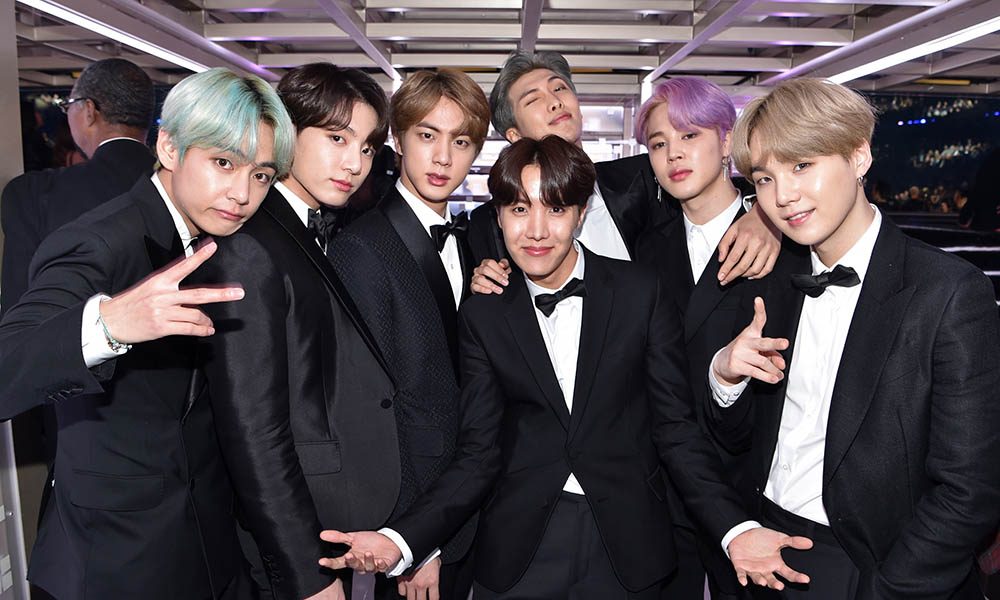 Love 'em or hate 'em, the best boy bands have always had their place in pop history. The progenitors of the form surely include choreography-friendly vocal groups from the 60s and 70s, such as Jackson 5 and The Osmonds, and the likes of New Kids On The Block and Bros were topping the transatlantic charts during the 80s, even before the term "boy band" was coined.
Boy bands as we know them, however, went stratospheric during the 90s, with UK industry moguls Nigel Martin-Smith, Simon Cowell, and Louis Walsh unleashing multi-million-selling protégés including Take That, Boyzone and East 17. In the US, meanwhile, you had Backstreet Boys, NSYNC, and B2K, among many others. It's these irresistibly catchy hitmakers we salute here, as we count down the best boy bands of all time..
18: LFO
LFO weren't a traditional boy band, by any means, but their mega-hit "Summer Girls" certainly felt like it was revisiting some of the tropes established by the greats. The song references New Kids On The Block and New Edition, further solidifying their connection to the genre.
Key track: Summer Girls
17: B2K
Like most boy bands of a certain level, the groups of the late 90s and early 00s were relatively chaste. Not so for B2K, who provided R-rated pop songs that appealed to folks that had perhaps aged out of boy band fandom.
Key track: Bump, Bump, Bump
16: The Osmonds
The Utah-based family group went through a number of phases throughout its existence (just check the unhinged "Crazy Horses"), but eventually found its greatest success with soft rock and perfectly constructed pop tunes. Donny Osmond would take this formula to even greater heights with his sister Marie.
Key track: Love Me For A Reason
15: Big Time Rush
Big Time Rush were a fictional boy band on a TV show of the same name whose songs were so good, they simply became one of the biggest boy bands of the early 2010s. With tunes like "Boyfriend" and "Big Time Rush" getting major play in the shows themselves, fans were already hungry for a BTR album by the time it eventually dropped.
Key track: Boyfriend
14: Boyz II Men
One of the great vocal groups of the 90s, Boyz II Men specialized in the ballad, with iconic tunes like "End of the Road," "I'll Make Love To You," on "On Bended Knee." Their funky side should not be forgotten though: "Motownphilly" still hits as hard as the day it was released.
Key track: End of the Road
Boyz II Men - End Of The Road
13: 5 Seconds Of Summer
One of the great boy bands from Australia, 5 Seconds of Summer are more a traditional band than most groups. They reached success based off an early tour supporting One Direction, but have since gone on to incredible heights with songs like "She Looks So Perfect" and "She's Kinda Hot."
Key track: Youngblood
5 Seconds of Summer - Youngblood (Official Video)
12: New Edition
Boston was an unexpected hotbed of boy band activity in the 80s and 90s, with New Edition and New Kids On The Block hailing from the city. Early hits from this group include "Candy Girl," "Is This The End," and "Cool It Now," but the group has had various reunions through the years, including 1996's Home Again.
Key track: Can You Stand The Rain
New Edition - Can You Stand The Rain (Official Music Video)
11: The Jackson 5
Jackie, Tito, Jermaine, Marlon, and Michael. The boy band of Motown, the Jackson 5 were a phenomenon, even by the Detroit label's lofty standards. The group, of course, served as a launchpad for Michael Jackson, who would become the biggest pop star of the 80s, but their catalogue is well worth discovering on its own.
Key track: I Want You Back
10: Jonas Brothers
The Disney Channel has been an incubator for plenty of child stars, and that's no different for Jonas Brothers, a group that rose to fame based around tours with the Disney-affiliated Aly & AJ and The Cheetah Girls, as well as writing the theme song to American Dragon: Jake Long. The group disbanded in 2013, but returned in 2019 with "Sucker," a tune that debuted at No. 1 on the Billboard Hot 100, a rare feat.
Key track: Sucker
09: Menudo
Menudo is remembered today as the group that launched Ricky Martin, but for those growing up in Latin America throughout the 70s and 80s, they were simply the best boy band of all time. The group launched in 1977 and continued on until 2002, with a few reunions taking place after that initial run. Throughout their career, they've mixed and matched members, taking a modular approach to the group's lineup.
Key track: Claridad
08: One Direction
Signed by Simon Cowell after their appearance on The X Factor, Niall Horan, Liam Payne, Harry Styles, Louis Tomlinson, and Zayn Malik were among the biggest boy bands of the 2010s. The group made five albums during their run, each one seemingly bigger than the last, until Malik left the band in 2015.
Key track: Drag Me Down
07: Backstreet Boys
The Backstreet Boys were a hit from the beginning: Their self-titled debut album was a best-seller, with songs like "As Long As You Love Me" and "Quit Playing Games (With My Heart)." What's perhaps most special about the group, though, is their longevity: They're the only boy band to top the U.S. album charts in three separate decades, earning that distinction when 2019's DNA became a hit.
Key track: I Want It That Way
06: Westlife
One of the best boy bands of all time, Westlife's studio albums arrived during the boy band explosion of the late 90s and early 00s. Coast to Coast is perhaps their finest, boasting "My Love," "Against All Odds (Take A Look At Me Now)," and "When You're Looking Like That."
Key track: My Love
04: New Kids on the Block
Jonathan Knight, Jordan Knight, Joey McIntyre, Donnie Wahlberg, and Danny Wood were among the biggest boys of the late 80s and early 90s. Put together by Maurice Starr – who helped guide New Edition to early success – the group effectively began when Starr discovered the talents of rapper Donnie Wahlberg.
Key track: Step By Step
03: The Beatles
The early years of The Beatles most definitely resembled a boy band, with the group getting chased by crazed fans, chart-topping singles, and adults complaining that the music they made wasn't even music at all. What perhaps makes The Beatles unique is that they transformed from a boy band into something else entirely, going on to even greater cultural ubiquity.
Key track: Love Me Do
Love Me Do (Remastered 2009)
02: BTS
It's hard to overstate the scale of BTS's popularity. The group has mobilized fans on social media in a way that has never been seen before. The South Korean group, composed of seven members, is what most people think about when they hear the phrase k-pop. What that means when you press play is a thrilling concoction of R&B-inspired pop music.
Key track: Dynamite
BTS (방탄소년단) 'Dynamite' Official MV
01: *NSYNC
In terms of pure sales, Justin Timberlake, Joey Fatone, JC Chasez, Chris Kirkpatrick, and Lance Bass were the biggest boy band of the late 90s and early 00s. Their second album, No Strings Attached was massive, selling more than two million records in a single week.
Key track: Bye Bye Bye
Did we miss your favorite boy band? Let us know in the comments below.