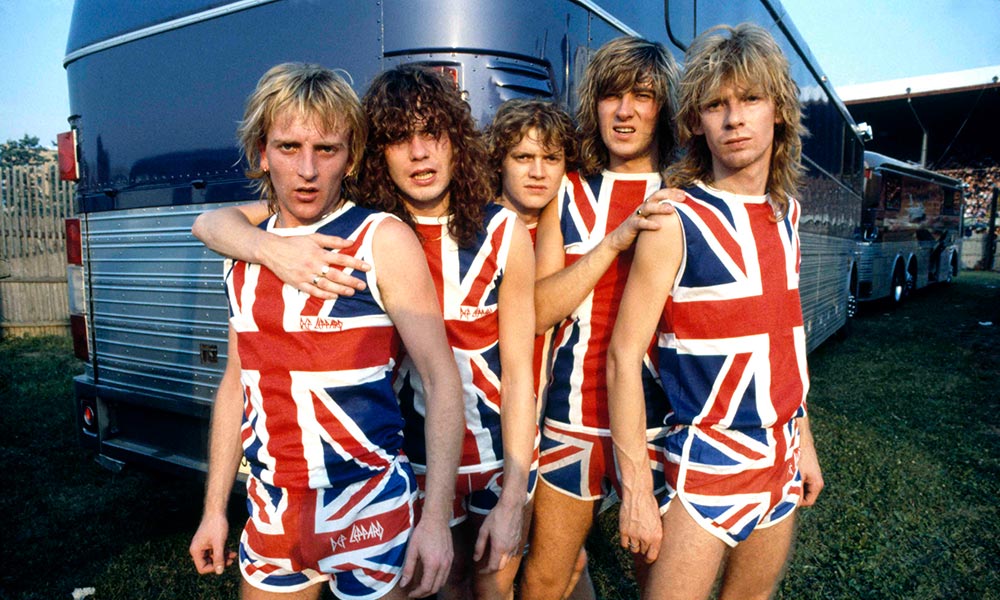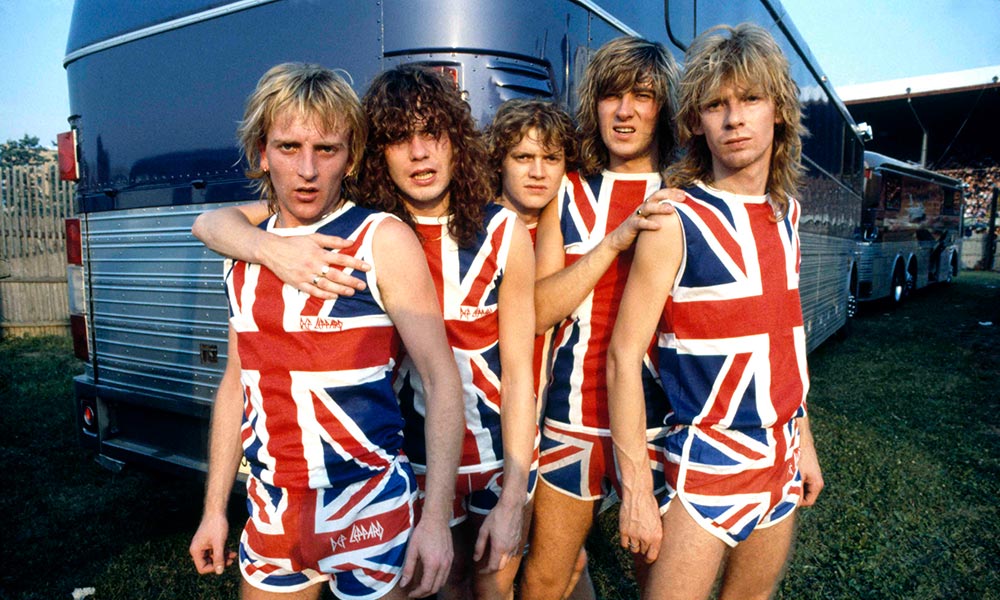 Fashioned from the highest-quality Sheffield steel, enduring Yorkshire rockers Def Leppard have surmounted all obstacles – overcoming death, disaster and even the loss of one of drummer Rick Allen's limbs – en route to selling more than 100 million records worldwide. Indeed, with Joe Elliott and the boys having spent 2017 celebrating the 30th-anniversary reissue of their landmark album, Hysteria – a record that many would say boasts the best Def Leppard songs of all time – they've opened 2018 with another major event. Finally, Def Leppard's music is now available digitally, for streaming and download on all major services.
With fans rushing to compile playlists of their own best Def Leppard songs, uDiscover Music celebrates the group's formidable body of work with a run down of Def Leppard In 20 Songs.
Def Leppard's roots can be traced back to 1977 and their alma mater, Sheffield's Tapton School. But it was only after guitarist Steve Clark and drummer Rick Allen joined the group's nucleus of Joe Elliott (vocals), Rick Savage (bass) and guitarist Pete Willis that a recognisable Def Leppard line-up fell into place during 1979.
By the time Allen enlisted, the band had self-released their initial, John Peel-endorsed The Def Leppard EP and they'd come to the attention of tuned-in music journalist Geoff Barton. Writing enthusiastically about the band in UK rock weekly Sounds, Barton cited Def Leppard as one of the leading lights of the New Wave Of Heavy Metal (usually abbreviated to NWOBHM): a term he'd attributed to a new breed of late 70s outfits – also including Iron Maiden, Motörhead and Saxon – who drew on contemporary heavy metal, but laced it with the energy and aggression inherent in punk.
Having raised their profile in the wake of the NWOBHM-related exposure, Def Leppard snared a high-profile UK tour with AC/DC and signed a deal with Phonogram/Vertigo in the UK and Mercury in the US. Starting as they meant to go on, their March 1980 debut, the Tom Allom-produced On Through The Night, presented tough but radio-friendly anthems such as 'Wasted' and 'Rock Brigade' – numbers that still rank among the best Def Leppard songs and which help helped the album crack the UK Top 20, earning the band their first Gold disc.
US tours with Pat Travers, Ted Nugent and AC/DC followed, with the latter band's producer Robert "Mutt" Lange staying on to helm Def Leppard's second album, 1981's High'n'Dry. More refined than On Through The Night, this sophomore effort spawned evergreen favourites such as the hedonistic titular song, 'On Through The Night' and the smouldering 'Bringin' On The Heartbreak'. The latter song also significantly enhanced Def Leppard's popularity stateside when it became one of the first metal videos granted heavy rotation by the nascent MTV in 1982.
High'n'Dry peaked at No.38 on the Billboard 200, but it would be Pete Willis' last stand with Def Leppard, and ex-Girl guitarist Phil Collen was drafted into the fold during the sessions for the band's third album, Pyromania. Praised by Rolling Stone's David Fricke for putting "much-needed fire back on the radio", this fine Mutt Lange-produced record found the band inching towards the pop-metal crossover sound that would shortly make them superstars. Meanwhile, its lead single, 'Photograph', turned them into a household name, even supplanting Michael Jackson's 'Beat It' as MTV's most-requested video.
Pyromania bequeathed a second US No.1 in the shape of 'Rock Of Ages', and its parent album eventually sold over 10 million copies in the US alone. Riding the crest of a wave, the band began work on their fourth album when tragedy struck, with drummer Rick Allen losing his left arm in a horrific car crash late in 1984. Against all odds, through a combination of grit, determination and a specially-designed custom drum kit, Allen remained in the band, performing on their landmark 1987 album, Hysteria.
A nigh-on perfect synthesis of hard rock thunder and infectious, mainstream pop, Hysteria overhauled the multi-platinum Pyromania, eventually moving 25 million units worldwide and spawning a remarkable six US Top 20 hits. Usually top of anyone's list of the best Def Leppard songs, and arguably their signature anthem, the mighty 'Pour Some Sugar On Me' stalled at No.2 behind Richard Marx's 'Hold On To The Nights', but the glorious power ballad 'Love Bites' went straight to No.1 and the storming, T.Rex-ian 'Armageddon It' shot to No.3.
The band had further misadventure to endure as they suffered the tragic, alcohol-related death of guitarist Steve Clark while they crafted their next album, Adrenalize. Eventually released in March 1992, the album featured stellar material such as the infectious first single, 'Let's Get Rocked', and it proved another transatlantic smash, simultaneously hitting the top spot in Britain and North America.
Def Leppard eventually chose versatile ex-Dio/Whitesnake guitarist Vivian Campbell to replace Clark. The Belfast-born guitarist came on board just before his new comrades scored another major US success with an acoustic rewrite of 'Two Steps Behind': a song written during the Adrenalize sessions. With the addition of strings from composer Michael Kamen, the track also featured significantly in the acclaimed soundtrack for the blockbuster movie Last Action Hero, starring Arnold Schwarzenegger.
Another finely-crafted power ballad, 'When Love & Hate Collide' – included on the 1995 career retrospective, Vault: Def Leppard Greatest Hits – brought the group back to the No.2 spot in the US. 1996's Slang, meanwhile, found Elliott and company reacting positively to changes in alt.rock trends with a diverse and organic-sounding record featuring intriguing stylistic departures such as the enticing, Eastern-influenced 'Turn To Dust' and the confident, INXS-esque funk of the album's title track.
Supported by a mammoth world tour stretching across 18 months and straddling the arrival of the new millennium, Def Leppard's seventh album, Euphoria, found the band back on vintage form, with the yearning, anthemic 'Promises' earning its place among the best Def Leppard songs when it took them back to the top of the Billboard Mainstream Rock Chart in July 1999.
Def Leppard's profile has remained consistently high since the turn of the millennium. 2002's underrated X peaked inside the UK Top 20, while spirited 2006 covers album, Yeah!, brokered the band's 10th consecutive US Billboard Top 20 hit. Though an unlikely pairing on paper, a highly successful collaboration with outlaw country star Tim McGraw resulted in Def Leppard getting back to their rubber-burning best on the rambunctious 'Nine Lives', from 2008's Songs From The Sparkle Lounge, which debuted at No.5 in North America.
Following a rare (and well-deserved) year out of the fray, the band returned to active duty with a spirited live double-album, Mirror Ball: Live & More, in 2011, which also included two newly-minted studio tracks, among them the defiant power ballad 'Undefeated'. Their renewed thirst for the stage led to an acclaimed series of shows at Las Vegas' Hard Rock Hotel & Casino during 2013. During this run of gigs, Def Leppard performed Hysteria in its entirety and, to document the historic residency, they issued Viva! Hysteria during 2013.
Returning to their hallmark pop-metal blueprint, Def Leppard presaged 2015's self-titled studio set with a vintage, fist-pumping anthem, 'Let's Go'. Yet another US Top 10 smash, Def Leppard the album showed that this indefatigable outfit had lost none of their customary swagger, though it also revealed they had retained the hunger to experiment, with tracks such as the electronica-tinged 'Energized' displaying a convincingly modern kick and clocking in among the very best Def Leppard songs.
Def Leppard's release was supported by another lengthy world tour, followed by the highly-acclaimed super-deluxe Hysteria reissue in 2017. With the news recently filtering through that Joe Elliott and the troops are again working on new songs, it's highly likely that the best may still be yet to come from these nigh-on invincible hard rock warriors.
Def Leppard's formidable body of work is now available for streaming and digital download on all major digital platforms.
Follow the Def Leppard Best Of playlist here.
Format:
UK English