Best Killing Joke Tracks: 20 Post-Punk Essentials
As the world outside seems to get worse and worse, Jaz Coleman's apocalyptic rantings seem more and more prescient.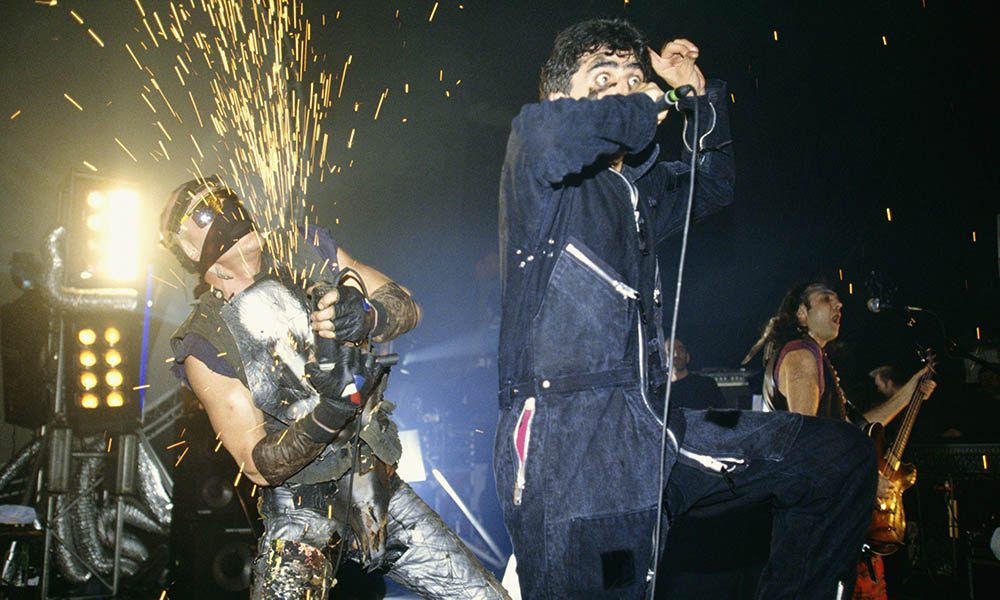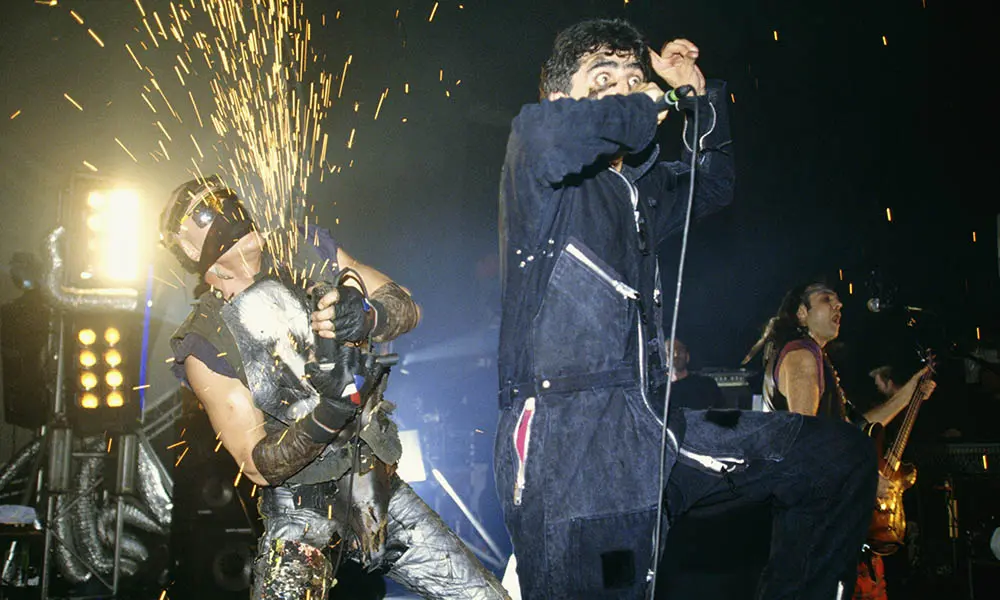 The Sex Pistols, arguably the great catalyzing force of UK's punk scene, broke up in January 1978. Less than a year later, four young men from London's Notting Hill neighborhood – singer Jaz Coleman, guitarist Geordie Walker, bassist Martin "Youth" Glover, and drummer Paul Ferguson – formed Killing Joke. The band made its debut on vinyl in October 1979 with the three-song Turn To Red EP, with its self-titled album following one year later.
Killing Joke were immediately different from their predecessors, far less interested in the "rock and roll" verities still present in the music of The Pistols and The Clash. Their music blended deep bass with fiercely aggressive guitars and tribal drumming, almost like a dubbed-out version of the raw D-beat hardcore of Discharge, with sci-fi synth zaps creeping in at the margins. Coleman was a street preacher, ranting breathlessly about the apocalypse in a manner that traced its roots back to the psychedelic sci-fi roar of Hawkwind. Even their debut's cover art displayed their end-of-days mindset; the stark black-and-white photo of seemingly feral children crawling up and over a wall pointed to a decidedly dark future for England. It was hard to tell whether the band intended it as a warning or a celebration.
Listen to the best Killing Joke tracks on Apple Music and Spotify, and scroll down for our introduction.
The band released three albums and a scorching live EP in three years, gradually shifting their sound toward a dark, almost romantic goth rock, while the electronic elements hinted toward the industrial acts that would follow in their wake. When Youth was replaced by Paul Raven in 1982, it signaled a move toward greater accessibility. On parts of Fire Dances, they sounded like an angrier Adam and the Ants. As the '80s rolled on, though, the band seemingly lost their way.
In 1990, they surveyed the landscape, saw who had taken up their mantle (Ministry, and Metallica with a cover of "The Wake"), and reemerged with the titanic, roaring Extremities, Dirt and Various Repressed Emotions. On that album and its follow-up, 1994's Pandemonium, they showed the youngsters how it was done, exploding with righteous rage and a post-industrial roar. But it couldn't last, and 1996's Democracy was both another creative falling-off and the beginning of another hiatus.
This hiatus lasted nearly seven years, but it ended with a bang. Since returning in 2003 with a self-titled album featuring Dave Grohl on drums, Killing Joke have been on a creative hot streak. Their music has maintained the feverish intensity of the old days (and since 2010, they've been back to their original lineup) while embracing enough modern touches to keep them creatively relevant. And, as the world outside seems to get worse and worse, Jaz Coleman's apocalyptic rantings seem more and more prescient and tuned-in.
The list below will take you from the first Killing Joke tracks to their most recent work, so gather around the fire.
The initial explosion
Killing Joke's debut track, "Turn To Red," was very different from what came after. It began with a throbbing, trance-like bassline and skittering cymbals, the guitar thin and piercing at the margins, Coleman's lyrics chopped off and swallowed up by echo. It was ominous and stark – a warning you could dance to. "Wardance," the first single from their self-titled album, begins with an electronically modulated cough, followed by a scratching guitar and a massive, tribal beat. Coleman's voice is electronically warped throughout, sounding almost like a Dalek, and the background vocals are a martial shout from the back of the room. Killing Joke opens with the crawling, dirgelike "Requiem," the kind of thing most bands would close an album with. A one-finger synth melody is the through-line, with Geordie Walker and Paul Ferguson building a scaffolding of noise guitar and death-march drums around Coleman.
Requiem (2005 Digital Remaster)
When Metallica covered "The Wait" on The $5.98 EP – Garage Days Re-Revisited, it felt like a relic from the distant past, the kind of song that had simply always existed. But it was only seven years old and managed to prefigure both U2 (the ringing chorus guitar) and Metallica (its grinding main riff and jackhammer beat).
The Wait (2005 Digital Remaster)
The early 80s
When you come out of the gate as strongly as Killing Joke did, the follow-up album has to be something fierce. "The Fall of Because," which opened 1981's What's This For…!, featured Ferguson's tribal drumming and Walker's scraped-nerve guitar, but Coleman's vocals were more incantatory than hectoring.
The Fall Of Because (2005 Digital Remaster)
The single "Follow the Leaders" was a foot-stomping track, a pulsing sequencer line, and Youth's thick bass line giving it an almost Giorgio Moroder-esque dancefloor energy. Ferguson erupts repeatedly in massive, tumbling outbursts like he's playing standing up. The chorus is another chant-along.
Follow The Leaders (2005 Digital Remaster)
On 1982's Revelations, the established Killing Joke sound got an early 80s polish. The guitars and drums were a thunderous roar, Coleman's vocals a lightly distorted wail, more like John Lydon than ever before. "Empire Song," the first booming single, sounded as if the band was playing in a cave. The band's fourth album marked the debut of new bassist Paul Raven. The single "Let's All Go (to the Fire Dances)" was classic Killing Joke, but the video showed them conforming (slightly) to the times, with the three instrumentalists sporting rockabilly-ish clothes and hair, while Coleman painted his face like a demented – and frightening – circus ringmaster.
Killing Joke - Let's All Go (To The Fire Dances)
The mid-'80s
Killing Joke returned in 1985 with Night Time. You don't have to listen all too closely to "Eighties," the first single, to hear Nirvana's inspiration for "Come As You Are." (N.B.: A Damned song from 1982, "Life Goes On," has basically the same melody.) "Eighties" abandons Killing Joke's then-standard tribal rhythms for a pounding hardcore beat, as Coleman shouts about capitalism.
Eighties (2007 Digital Remaster)
"Love Like Blood," also from Night Time, is one of the rare Killing Joke track that sounds like they've been listening to other bands. Between the crooned vocals, the bouncing, throbbing bassline, and Walker's guitar echoing from a distance, it's remarkably Cure-ish. On 1986's Brighter Than a Thousand Suns, Killing Joke's label took the drastic step of remixing virtually all the songs to increase their commercial potential. The result was not well received by the band or their fans. When the album was reissued in 2008, they insisted on restoring the original mixes. Songs like "Adorations" had a Gothic romanticism far from the band's grimy, bellowing origins anyhow.
Killing Joke - Love Like Blood (Official Video)
"Sanity," the second single from Brighter Than a Thousand Suns, is even more reined-in and mid-'80s than "Adorations"; it could have appeared on the soundtrack to a John Hughes movie. Still, Coleman's innate intensity comes through. You can practically hear his eyes bulging as he sings.
Sanity (Chris Kimsey Mix)
The 90s
The 80s ended badly for Killing Joke. The Pauls, Raven, and Ferguson, quit the band during the making of what became Outside the Gate. Coleman and Walker hired drummer Martin Atkins, formerly of Public Image Ltd. After working with bassist Dave "Taif" Ball for a tour, they brought Paul Raven back in. The result was Extremities, Dirt and Various Repressed Emotions, an album that added a Ministry-esque industrial edge to their pounding post-punk style. The first single, "Money Is Not Our God," was as wild-eyed and shouty a "we're back" statement as anyone could ask for. Its follow-up, "Age of Greed," hammered the theme home even more aggressively, opening with a hilariously over-the-top commercial for meat.
Four years later, Raven was gone again, but Youth was back. Pandemonium, the band's heaviest album, was released on his Butterfly label. It combined post-punk, metal and Arabic music, effectively creating a 21st century equivalent of Led Zeppelin's "Kashmir" on first single "Millennium." The follow-up, 1996's Democracy, was another band-fracturing effort. Softer than anything before (it even had acoustic guitars!), it earned mixed reviews. After a short tour, Killing Joke split up again. They wouldn't reunite for six years.
The comeback
When Killing Joke returned again in 2003, they had a secret weapon. They'd planned to use three different drummers for their second self-titled album. But when they heard Dave Grohl's contributions, he got the whole thing to himself. His thunderous beat underpins their best, most aggressive work since at least 1990. "The Death and Resurrection Show" is a ritualistic incantation that launches the album, and will fuel the most intense workout of your life (if you let it). In 2006, the band released an even heavier album, the monstrous Hosannas From the Basements of Hell. Coleman's performance on the title track was absolutely ravenous and unhinged, which the terrifying video reflected. This was bassist Paul Raven's final album with the band; he died suddenly in 2007.
Coleman and Walker – the only two members to appear on every Killing Joke record – reunited the original lineup in 2010, bringing bassist Youth and drummer Paul Ferguson back into the fold for the first time in almost three decades. The title track from Absolute Dissent had all the death-disco fury of their classic early 80s albums, with Coleman's enraged-gorilla roar making the music even more cathartic.
Killing Joke have always engaged the present moment, while simultaneously keeping an eye on the future. Sometimes that can prove to be a little bit chilling, like when you listen to "I Am The Virus" from 2015's Pylon. It begins: "Death, misery and tears/Calculated waves of fear/Drawn up by think tanks/There's a darkness in the West." This is not a band that lets you off easy.
Killing Joke - I Am The Virus (Lyric Video)
Think we've missed one of Killing Joke's best tracks? Let us know in the comments section below.