Vangelis In 20 Songs
From iconic soundtrack theme tunes to pioneering electronic work that spans six decades, the best Vangelis songs are a fascinating journey into the unknown.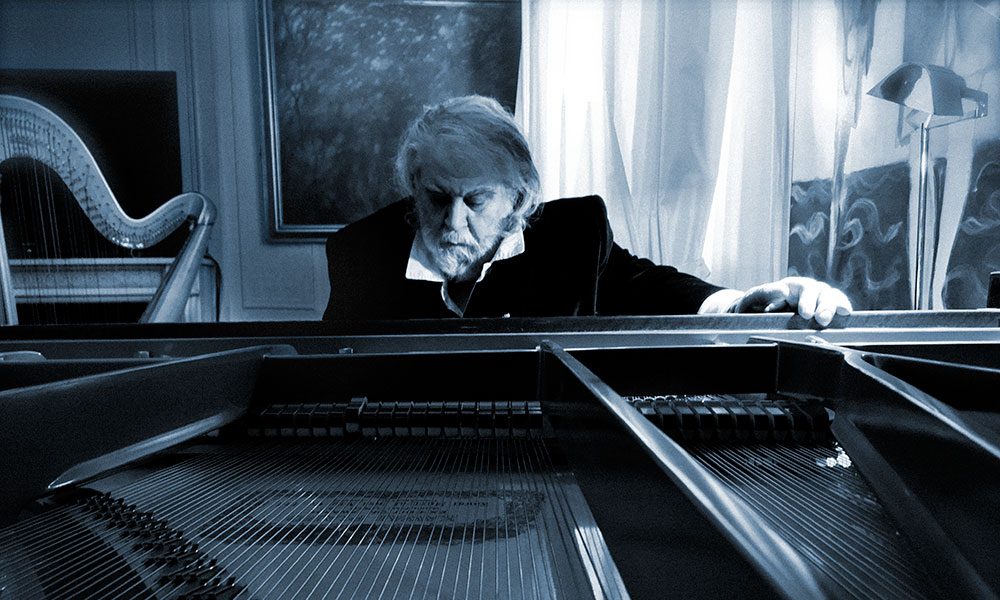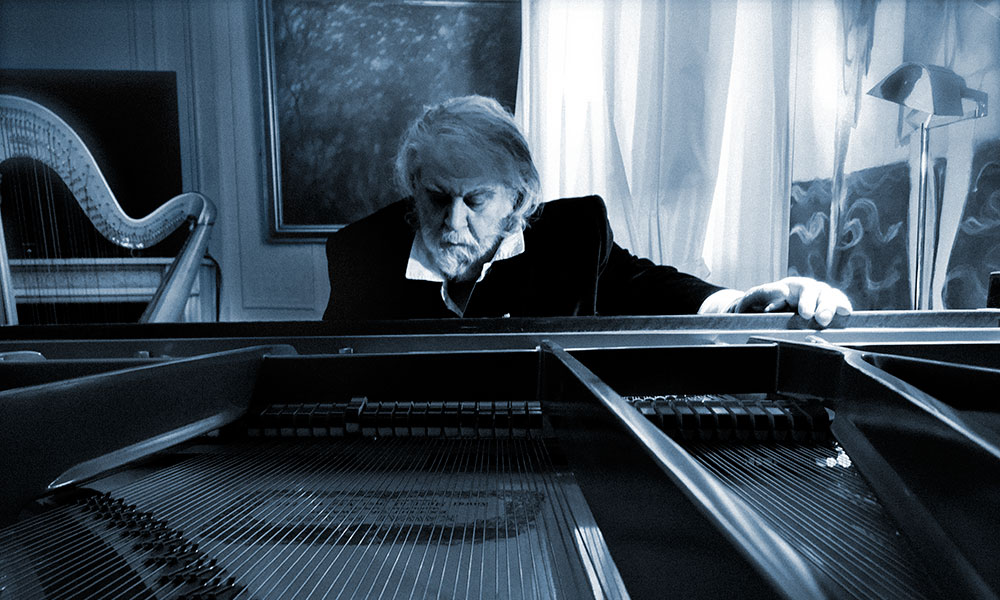 The broad perception of Vangelis tends to reside somewhere between the twin pinnacles of his scores for 1981's Chariots Of Fire and 1982's Blade Runner. If he hadn't written or recorded so much as another note, this would still constitute an enduring legacy. The unabashedly heroic and dignified soundtrack album of the former even nosed into the UK Top 5 in April 1981, and the latter is justifiably perceived as an influential benchmark of cold-wave electronic music. However, the man born Evángelos Odysséas Papathanassíou, in Greece, on March 29, 1943, has left a far more substantial footprint, beyond the aforementioned achievements. It's not overstating the case to regard him as a synth pioneer of equivalent importance to Rick Wakeman, Keith Emerson, and Kraftwerk – and the best Vangelis songs bear this out considerably.
Listen to the best of Vangelis on Apple Music and Spotify.
Vangelis was barely in his 20s when he first came to prominence in his native Greece, as the keyboardist with The Forminx. But it was the 1968 formation of Aphrodite's Child that introduced Vangelis' music to mainland Europe. With Demis Roussos on bass and lead vocals, Aphrodite's Child built their reputation on a series of huge-selling pop ballads with weeping, neo-classical cadences. The best of these, 1970's "It's Five O'Clock," sounds like Procol Harum ascending to heaven on tendrils of climbing roses.
However, Aphrodite's Child's most notable bequest to posterity is the posthumously-released double-album, 666 (1972), a weighty, proggy, conceptual treatise on The Book Of Revelation. Despite the fragmentation of the band during recording, 666 boasts their most convincing rock performances and earned instant notoriety over Greek actress Irene Papas' visceral, orgiastic vocal contribution to "Infinity." But the serenely ozone-rich "Aegian Sea" foreshadows the atmospheric, subtly intense compositions that would stand among the best Vangelis songs in his subsequent parallel solo career as a composer of film soundtrack music.
♫ Aphrodite's Child ♪ It's Five O' Clock ♫ Video & Audio Restored HD
Not that he was without form in this respect. Even before Aphrodite's Child had got off the ground, Vangelis had already scored three films in Greece; the first solo release to bear his name would in fact be his soundtrack for Henri Chapier's film Sex Power, issued by Philips in France, in 1970, under the name of Vangelis Papathanassiou. Similar nomenclature, with the appending of Vangelis' middle initial, O, would also adorn his first non-soundtrack solo album, 1973's Earth. Unreleased in the UK until 2017, the album includes sun-baked set-pieces such as "He-O," replete with a limber lute accompaniment executed by Vangelis' erstwhile Aphrodite's Child bandmate, guitarist Anargyros "Silver" Koulouris.
The first manifestation of Vangelis as a mononymous keyboard magus would come with 1975's Heaven And Hell, recorded in his own Nemo Studios after he had relocated to London. The album was a significant marker for several reasons. Firstly, the stately motif at the heart of "Movement 3" from "Symphony To The Powers B" would be repurposed to stirring effect for Carl Sagan's TV series, Cosmos: A Personal Voyage. Secondly, the ethereal "So Long Ago, So Clear" is one of the best Vangelis songs to feature lyrics and vocals by Jon Anderson. The Yes frontman had entered Vangelis' orbit when the latter was in the frame to replace the departing Rick Wakeman; Vangelis declined the offer, but cemented a lasting bond with Anderson which would result in a fruitful creative partnership in later years. Thirdly, Heaven And Hell's long-form construction, wrapped in an open-ended concept, not only fitted the tenor of the times, but also established a recurring principle in Vangelis' approach, matching classical rigour with state-of-the-art electronics. (Note the strident opener, "Bacchanale," with a striking contribution from The English Chamber Choir.)
The following year, Albedo 0.39 saw the keyboardist drifting, successfully, into space-rock territory. The album's title refers to the reflectivity of the Earth, and its cosmic theme again chimed with popular taste. Breaking into the UK Top 20 in October 1976, Albedo 0.39 included the celebrated "Pulstar," with its resolute and memorable top line.
By the time Spiral came along, a mere six months later, in April 1977, punk hadn't so much moved the goalposts as uprooted them completely, and Vangelis' synth-heavy stock-in-trade suddenly appeared out of step. However, if Spiral stalled outside the UK album chart, this didn't stop it from becoming a favorite among fans, who continue to regard is as a collection of some of the best Vangelis songs to that point. "Ballad," in particular, engenders a winningly crepuscular mood, with Vangelis' heavily processed vocal a dim presence in the ether.
As the 80s dawned, the pendulum was swinging the other way, and Vangelis' music was, just as suddenly, back in fashion. See You Later, from 1980, contained the wryly self-referential and distinctly vogueish "Multi-Track Suggestion," with Easy Street's Peter Marsh on vocals. But it was Vangelis' renewed collaboration with Jon Anderson that ring-fenced his artistic and commercial standing. Six months after the "Titles," from Chariots Of Fire, brushed the UK Top 10 singles chart, Jon & Vangelis were at No.6 with the melodious, sweetly devotional, and roundly adored "I'll Find My Way Home." The duo's 1981 album, The Friends Of Mr. Cairo, also contained the appropriately stately "State Of Independence," later to become a hit in the hands of Donna Summer.
Vangelis - Chariots Of Fire
The sunny demeanor of the Jon & Vangelis material found little purchase in the rapt and solemn surfaces of 1984's Soil Festivities, divided into five movements intended to evoke the onset of life below the ground. If the 18-minute "Movement 1" exemplifies the literal earthiness of the enterprise, "Message," from 1988's Direct, sets its creator back among the stars, and remains one of the best Vangelis songs to have emerged during the 80s.
The thematically-linked The City ushered in the 90s with moody élan (see "Good To See You"), but the decade would also see the eventual official release of Vangelis' epochal Blade Runner soundtrack, held up for 12 years owing to an unspecified disagreement. In addition, Vangelis provided a suitably epic and grandiose score for Ridley Scott's film 1492: Conquest Of Paradise (1992), suggesting that some of the best Vangelis songs would continue to appear on his soundtracks. He also created an appropriately painterly mise-en-scène with El Greco (whose standout is "Movement VI"). Meanwhile, 1995's Voices famously contained "Ask The Mountains," with a weightless vocal by Stina Nordenstam: a low-glowing career highlight.
Since the advent of the 21st Century, Vangelis has continued to tackle formidably large-scale projects. Mythodea (2001) contains music written for NASA's Mars Odyssey: "Movement 3" typifies the heady choral swirl contained within. Three years later, Vangelis composed yet another magisterial soundtrack, this time for Oliver Stone's Alexander (2004) – a suitably great undertaking for a movie about Alexander The Great. "Roxane's Veil" memorably showcases the violin of Vanessa Mae. Vangelis' most recent album, 2016's Rosetta, meanwhile, features three pieces written for the European Space Agency's Rosetta mission – and was released to coincide with the Rosetta spacecraft touching down on Comet 67P/Churyumov-Gerasimenko. The track "Albedo 0.06," referencing the comet's reflectivity, imparts a pleasing circularity back to Albedo 0.39.
Vangelis's album, Nocturne, is out now and can be bought here.